It is pie season. It may not be an official natural season but it is certainly one of our modern culture. Thankfully, we can use all our home preserved goods for pie filling rather than running to the grocery store.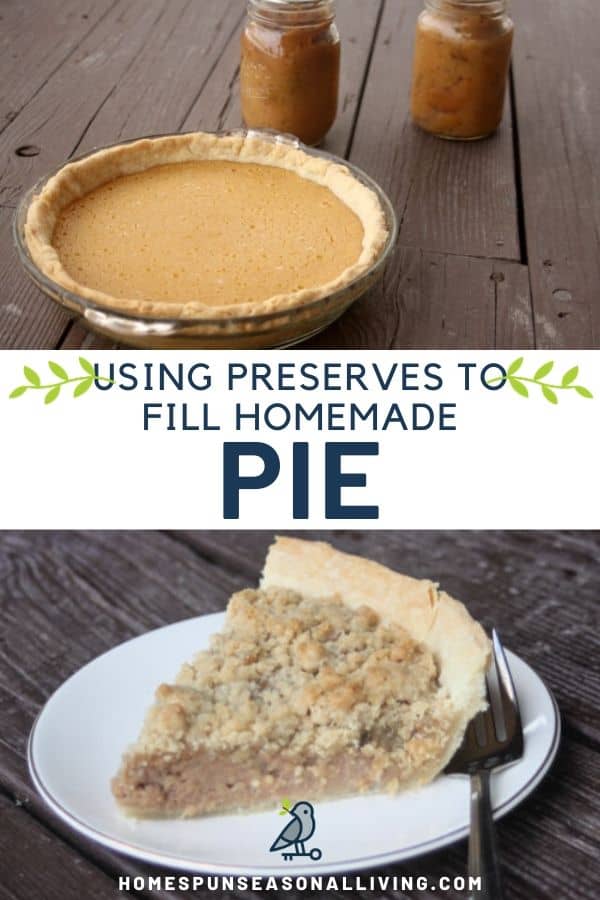 The great thing about pie is that it's relatively easy and the filling can be made of so many different things. Pie is humble and frugal and allows the harvest to shine through in every bite. Rather than run out to the store for ingredients, run to the pantry for all those items put up over the summer and fall. This holiday season use home preserved goods for pie filling that is both delicious and frugal.
Pie from the Canned Pantry
All those jars of pears, peaches, cherries, plums, and more can be used in pie filling. They simply need to be drained of all their liquid first. Drain them well in a colander over a sink to avoid a soggy pie crust, then follow-through with a favored fruit pie recipe.
If you made applesauce, combine it with some eggs and flour for a tasty smooth custard pie filling (I'm sure pear sauce or apple-pear sauce or most any other fruit sauce would work just as well in that recipe).
Apple butter too makes an amazing pie.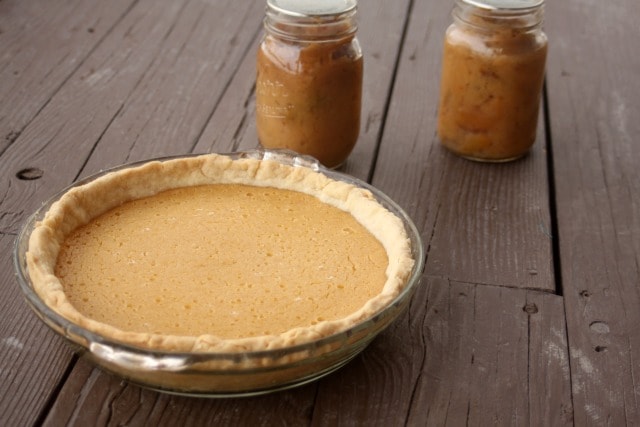 Pie from Dehydrated Goods
All those dried apricots, apple slices, prunes and more make a tasty pie. Re-hydrate first and you have a frugal, delicious pie.
Pie from the Freezer
There are numerous ways to add frozen fruit to a pie. There doesn't seem to be a uniform way to make it perfect – but pie doesn't have to be perfect, just tasty. Some folks suggest, thawing and draining off excess the water. Still, others suggest putting the berries or other fruit in there frozen and using a lattice crust to let more moisture evaporate.
A simple way to use frozen fruit for a pie is to take 3 pounds of frozen fruit and let it thaw, draining off the excess moisture. Once drained, toss that fruit with 1/3 cup of flour. Add sugar to taste. Pour filling in a 9″ pie plate lined with an unbaked pie crust, top with a lattice crust. Bake as usual. Sometimes this works perfectly, sometimes it is a little loose (runny) but still tasty.
Pie from the Root Cellar
Make your pumpkin pie from any homegrown winter squash in your stash. Cook and puree and voila – homemade pumpkin puree. Truly any winter squash will make a suitable 'pumpkin' pie filling – go with Hubbard, Butternut, Buttercup, Sweet Meat, etc. etc.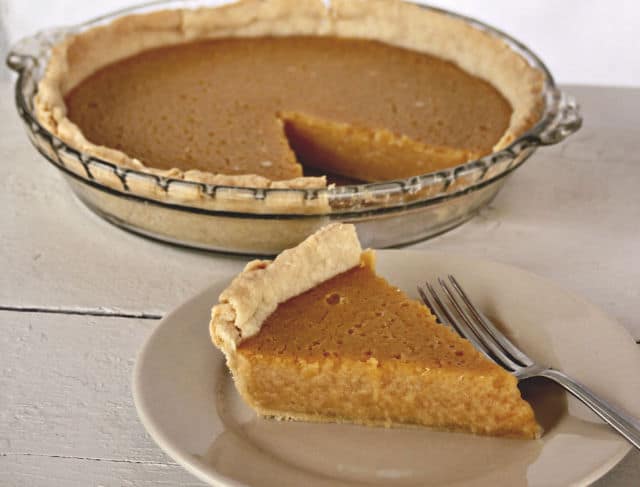 It's easy to skip over vegetables when thinking about pie but there are some incredible vegetable based pies to consider.
As the holidays and feasts draw near, look to the pantry for homegrown and home-preserved pie fillings sure to please and impress.