I fondly remember pigs in a blanket from childhood. These were completely made from processed foods, hot dogs made from questionable ingredients wrapped in dough from a can, and sometimes stuffed with processed cheese food. They were tasty but most definitely do not fit with the way I choose to eat these days. Still, the idea of them has never been far from my brain or from many adults I know. Whole food pigs in a blanket seemed like a more than doable idea and one that was completely welcomed in my home.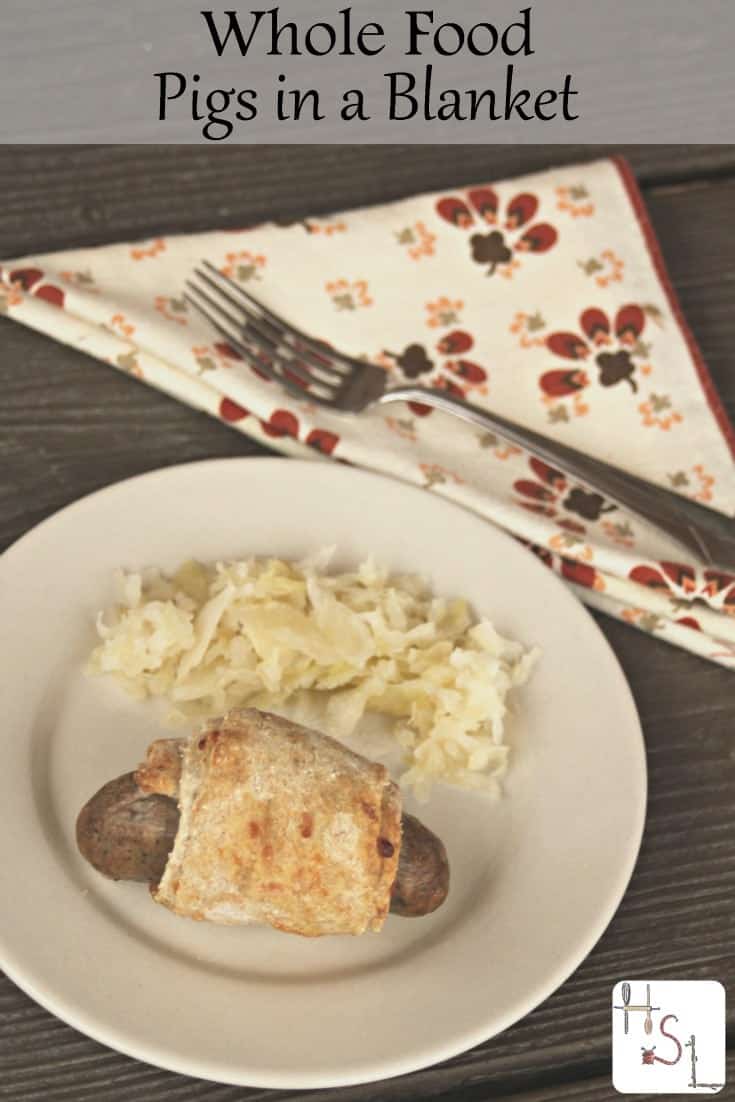 When making pigs in a blanket, the 'pig' is important and should be something flavorful and natural. I chose to use wild boar sausages from D'Artagnan foods. These sausages are made with feral swine and seasoned with shallots, sherry, and spices. They take pigs in a blanket from a common affair to something almost gourmet while still satisfying the kid inside. They are amazing and perfect for special occasions. Whatever is chosen for the pig make sure to use something full of flavor, as frugal as I am this is not the place to skimp.
The blanket needed to be something that could stand on it's own while also complimenting the pig. I opted for a variation on my homemade pizza crust with some mozzarella tossed in for extra flavor. Rolled thin and wrapped around the sausage this dough gave a crusty yet soft exterior that easily reminded everyone of the processed versions from childhood. I used a mixture of whole wheat and sprouted pastry flour in the dough but use whatever is on hand.
Serve these whole food pigs in a blanket with dipping sauces like mustard, ketchup, even barbecue sauce. A side of sauerkraut is especially nice but baked beans would be delicious as well. These are not that hard to whip up and would make a great addition to party buffets.
Whole Food Pigs In a Blanket
A healthier version of the childhood favorite, these whole food pigs in a blanket are full of flavor and completely made from scratch.
Ingredients
4 Sausages
¾ teaspoon Dry Active Yeast
½ Cup Warm Water (approximately 110 degrees)
½ teaspoon Sea Salt
½ Cup Whole Wheat Flour
1 Cup Sprouted Pastry Flour
⅓ Cup Grated Mozzarella Cheese (optional)
Instructions
Whisk together the yeast and warm water. Let sit until foamy, about 5 minutes.
Add salt, whole wheat flour, and 1/2 cup of the pastry flour. Mix together until a dough begins to form. Add the cheese, if using. Add a little bit of the pastry flour at a time until a soft dough forms. Knead until smooth and elastic.
Place dough in a greased bowl and cover with a towel. Let rise about 40 minutes or until almost doubled.
Preheat oven to 425 degrees. Line a baking sheet with parchment paper.
On a floured counter, knead the dough a bit and then roll out thin. Cut the dough into slices just narrower than the sausages. Place the sausage on one end of the dough strip and roll up so that the dough wraps around the sausage completely but the ends are left exposed.
Place the wrapped sausage with end of dough down on the baking sheet.
Bake in the preheated oven for 20 minutes or until sausage is cooked (for pork it should reach an in an internal temperature of 155 degrees) and dough is browned.
Serve hot or at room temperature.
[sc:Useadsenselarge ]