As the seasons change, we find ourselves cleaning out the freezer. We want to make sure all of last year's abundance is mostly cleared out before adding too much from this year. We move through our pantry and stores with relative ease through the long Montana winter but there are always a few things that need attention – the last bits of strawberries from the previous year, that last bag of shredded zucchini, and so on. One such thing for us always tends to be bananas. Obviously, we don't grow bananas but every now and then we'll come across a deal for some that are fairly black and we buy those for smoothies and banana bread baking. When thinking about some quick breakfast ideas, those bananas come in handy. This yeasted banana bread is lightly sweet and completely flavorful and a welcome change from the usually heavily sweetened banana quick bread.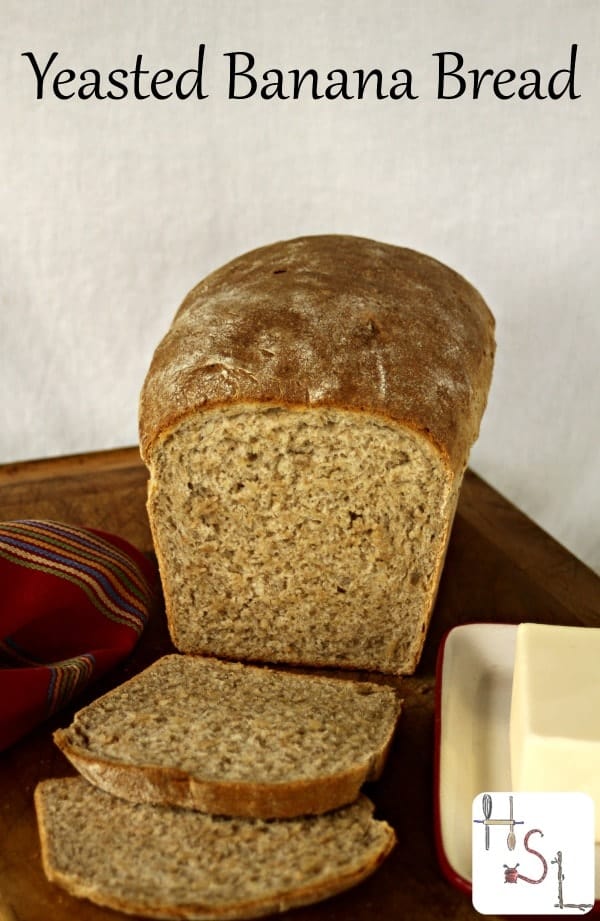 We like this bread with rye flour best but for those of you who aren't rye fans, whole wheat works just fine. Use overripe bananas for the best flavor, plus they're much easier to mash. For this bread, the bananas should be mashed completely for best incorporation into the dough. You could substitute honey for the maple syrup with great results, the maple flavor goes particularly nice with bananas in my opinion but use what's on hand or preferred in your home.
This bread toasts up delightfully, too. Don't be shy in using it for toast with peanut butter and jelly if that's a favorite breakfast or lunch meal. It also works well for french toast. Unlike banana quick bread which is more cake than bread, this yeasted banana bread can be used like regular bread in most any recipe while giving it that distinct though light banana flavor. The mashed bananas also add a good bit of moisture meaning this bread will stay fresher a bit longer than regular bread.
Yeasted Banana Bread
Use up overripe bananas for a delicious yeasted banana bread that is lightly sweetened and airy while making for delicious breakfast toast.
Ingredients
Sponge
2 Cups Warm Water (about 100 degrees Fahrenheit)
1 Tablespoon Active Dry Yeast
1 teaspoon Maple Syrup
1 ½ Cups All Purpose Flour
1 Cup Rye (or Whole Wheat) Flour'
Rest of Dough
2 ½ Cups Mashed Bananas
3 Tablespoons Maple Syrup
¼ Cup Butter, melted
1 Tablespoon Salt
1 teaspoon Ground Ginger
2 Cups Rye (or Whole Wheat) Flour
4-5 Cups All Purpose Flour, plus extra for kneading
Instructions
Sponge
Mix all ingredients in a bowl. Cover and let rise 30 minutes.
Rest of Dough
Add the maple syrup, mashed bananas, melted butter, salt, and ginger to the sponge and mix well. Add the 2 Cups of Rye flour and 3 Cups of the All-Purpose flour and begin mixing. Add 1/2 Cup of the All-purpose flour at a time as needed to form a soft dough.
Turn the dough out onto a floured board and knead until a soft, elastic dough is formed.
Place the dough in an oiled bowl and cover with a cloth. Let rise until doubled, about an hour.
Punch the dough down and turn back out onto the floured board and divide in half. Knead each half slightly and form into loaves.
Place the loaves into oiled bread pans and let rise until doubled about 30 minutes.
Preheat the oven to 375 degrees.
Bake the risen loaves for 40-45 minutes or until it sounds hollow when tapped.
Remove from the oven and immediately turn out to wire racks to cool completely.