Soup and bread is a common, simple meal around here. But not just any bread, homemade bread full of flavor is needed to make a complete meal. This garlic and herb bread is hands down a favorite.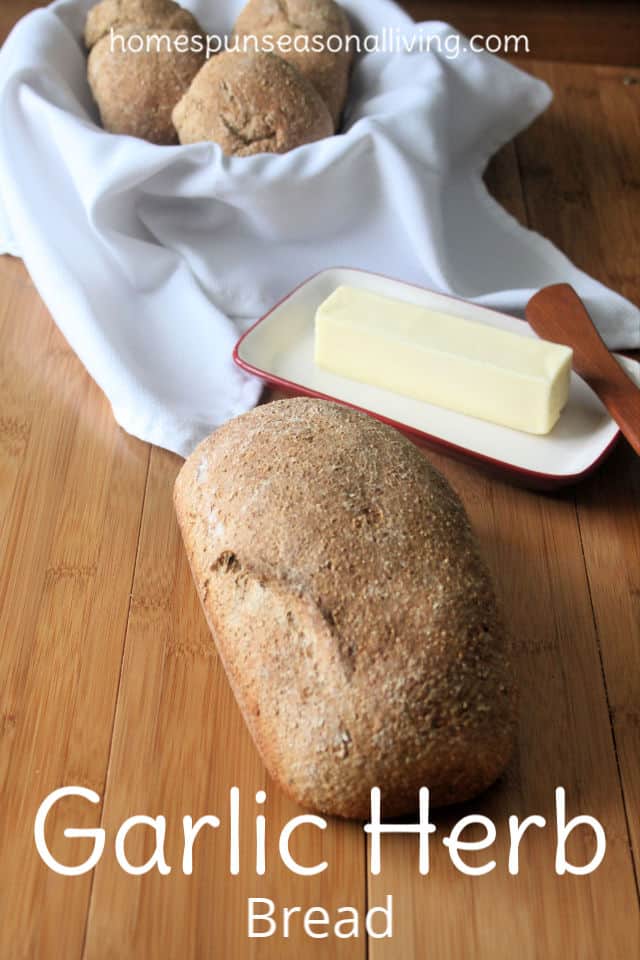 This is a hearty, flavorful bread that can stand up to dunking into hot broth as easily as it can sitting alongside slathered in butter. It also makes a delightful grilled cheese sandwich to dip into that tomato soup.
[grwebform url="https://app.getresponse.com/view_webform_v2.js?u=BsyZQ&webforms_id=9874504″ css="on" center="off" center_margin="200″/]
Hearty Whole Grain
Use any whole grain you prefer. I generally make this with about 75% whole wheat and 25% all purpose flours. But I've been known to add rye and other grains as I feel inspired.
Don't like whole wheat. It's fine to use 100% all purpose here.
Larger quantities of whole grain flours will lead to a denser bread than those made with more all purpose flour.
Strong Herbal Flavor
As always the quality of ingredients makes a huge difference in this recipe. Don't skimp on the garlic here, it is the thing that gives the bread flavor. Chop it fine, use a garlic press if preferred.
Thyme and freshly ground pepper go along perfectly with garlic and most savory soups. However, if thyme isn't a favorite substitute whatever herb or blend is more preferred or that will compliment the soup being served, rosemary or oregano for instance. A poultry seasoning blend would be great alongside a chicken soup.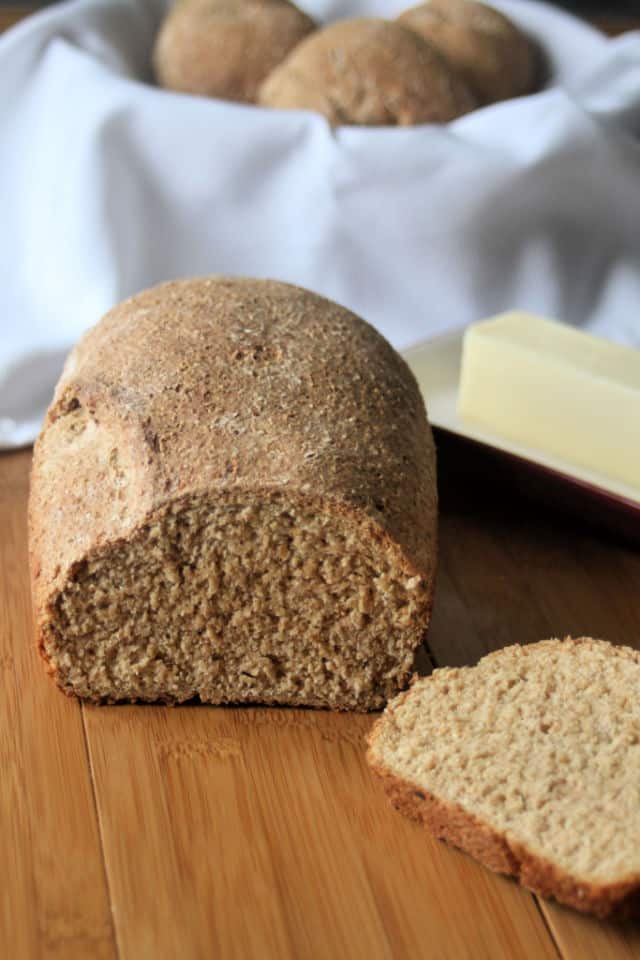 Lightly Sweetened
This recipe contains just a bit of molasses for sweetening and coloring. A person could easily substitute honey, maple syrup, or sugar instead of molasses for the sweetening. The molasses will make the bread slightly darker but that isn't any kind of requirement.
Loaves or Rolls
This dough is forgiving and can be cooked in any shape imagined. Regular loaves are always easy. Rolls are always great for easy serving at the table. Cloverleaf rolls are always fancy looking and relatively easy to make.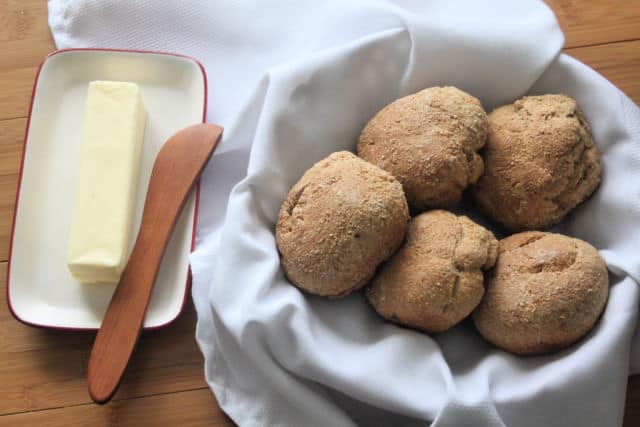 Vegan Options
I like butter and milk in these loaves. However, if you'd prefer to keep your garlic herb bread vegan, use water instead of milk (almond milk or some other substitute would likely work too). Use olive oil instead of butter.
In fact, a strongly flavored, good quality olive oil can add an extra depth of flavor to the herbs.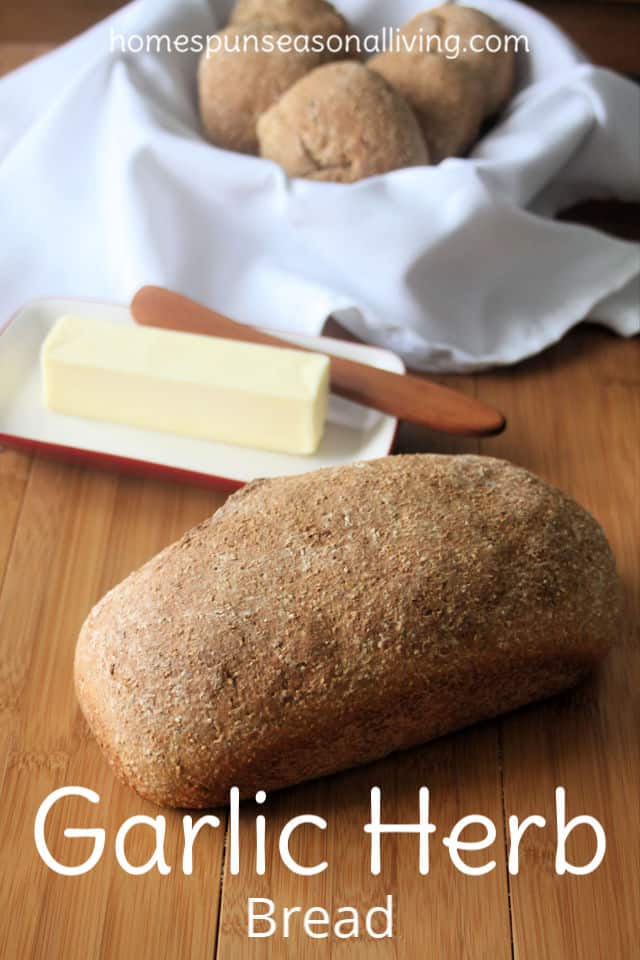 Storage
Store your homemade bread in linen bags to keep it fresh.
Garlic herb bread will freeze well too. Make a big batch of rolls and freeze some for quick meals later.
Yield: 2 Small Loaves
Yeasted Garlic and Herb Bread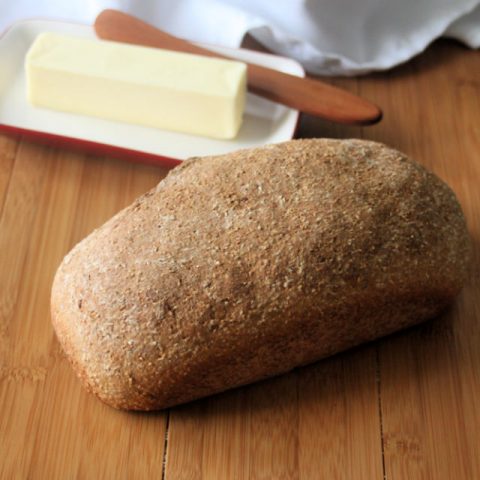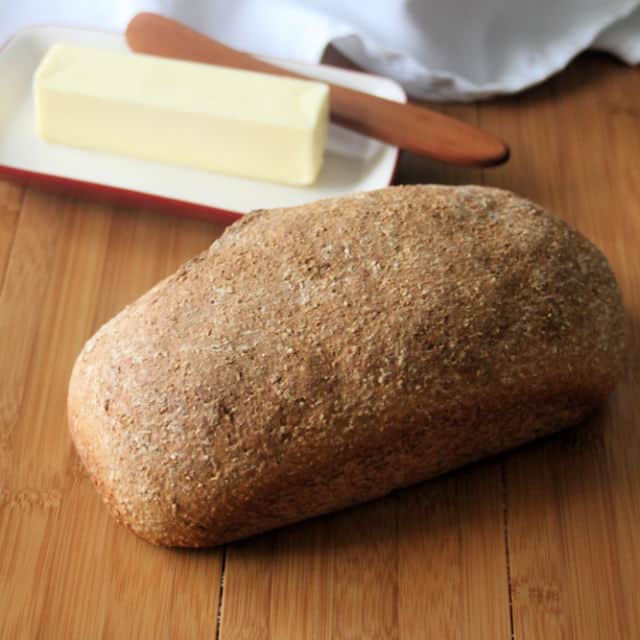 Make this garlic and herb bread to compliment fall and winter soup meals.
Total Time
3 hours
10 minutes
Ingredients
1 Tablespoon Yeast
½ Cups Warm Water (about 110 degrees Fahrenheit)
1 teaspoon Sugar
1 1/2 Cups Milk (scalded and cooled to 110 degrees)
2 Tablespoons Molasses
2 Tablespoons Butter, melted
2 teaspoons Salt
1 teaspoon Ground Pepper
3 Cloves Garlic, finely minced
1 teaspoon Dried Thyme
2 1/2 Cups Whole Wheat Flour
2 ½ Cups All Purpose Flour, plus more for kneading
Instructions
Whisk together the yeast, sugar, and water and allow to sit until foamy.
Whisk together the milk, molasses, garlic, salt, pepper, and thyme.
Add the milk mixture to the yeast mixture and stir well.
Add the whole wheat flour and stir well. Add 1 cups all purpose flour and mix slightly. Add the melted butter. Add more flour as necessary until a soft dough forms. Turn the dough out onto a floured board and knead until the dough is smooth and elastic.
Coat a bowl with olive oil, turn the dough around in the bowl to coat. Cover with a towel and allow the dough to rise until doubled, about 90 minutes.
Punch the dough down and knead again. Divide the dough in half. Fold into loaf shapes and place in an oiled 9X5" loaf pans.
Allow to rise until doubled about 40 minutes.
Preheat oven to 400 degrees. Bake for 10 minutes.
Turn the oven down to 375 degrees and bake for another 35-40 minutes or until golden brown and sounds hollow when tapped.
Immediately remove from pans and cool on a wire rack.