My zucchini was so productive last summer that I'm still trying to figure out ways to use it all. Oh, it's been tossed into soups, mixed into rice, stirred into muffins, and yet much still remains. As it's been soup weather and needing a way to round out quick meals that zucchini was pulled into service again. Zucchini Cheddar Bread is savory and flavorful bread that is tasty alongside soups and perfect lightly toasted with eggs for breakfast.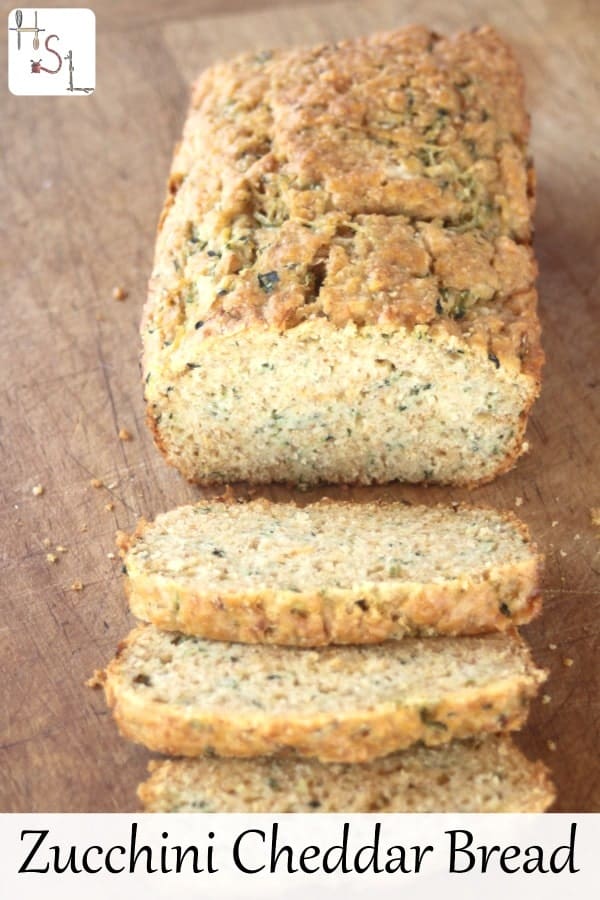 When using frozen zucchini, it's always a good idea to let the water drain off. When I freeze my shredded zucchini, I do it in 3 cup increments, because that's how much I use in my favorite sweet version and that amount worked perfect in this savory version too. Simply pull 3 cups of shredded zucchini out of the freezer, dump into a fine mesh strainer and let it thaw over a bowl. The water will drip out but help it along by pressing now and then with the back of wooden spoon. The goal is not to get the zucchini completely dry, just remove excess water. Once the shreds are completely thaw, press it just a bit more to release excess water and then use what remains in this bread.
If you're making this in the summer with fresh zucchini – shred and measure out 3 cups. Again, let it sit and drain in a strainer but about 10 minutes and a light squeeze is all you should need, then proceed with the rest of the recipe. The bread itself freezes wonderfully and once thaw can be sliced and eaten up, so don't be shy in making a double or triple batch.
Yield: 1 Loaf
Zucchini Cheddar Bread
Use up the ever productive zucchini, even frozen shreds from the summer in this tasty, savory Zucchini Cheddar Bread that is a perfect side to many meals.
Ingredients
1 Cup Unbleached Flour
½ Cup Whole Wheat Flour
1 ½ teaspoons Baking Powder
1 teaspoon Paprika
½ teaspoon Salt
¼ teaspoon Ground Black Pepper
3 Eggs
⅓ Cup Olive Oil
3 Cups Shredded Zucchini
½ Cup Shredded Cheddar Cheese
Instructions
Preheat oven to 350. Grease a loaf pan.
Whisk together the flours, baking powder, paprika, salt, and pepper. Set aside.
Whisk together the eggs and oil until emulsified.
Pour the wet ingredients into the dry and stir until almost combined. Add the zucchini and cheese, mix until combined.
Spread into the prepared pan. Bake in preheated oven for 45 minutes or until an inserted toothpick comes out clean.
Cool in pan 5 minutes before turning out to cool completely on a wire rack.