As we move through the harvest, many of us are eating salads and soups with all those fresh, tasty vegetables. While those dishes are good on their own, sometimes it's nice to have a little something on the side, too. Something that helps us take advantage of the harvest and fills out the meal in hearty fashion. This zucchini cornbread with hot peppers and cheese is just the ticket.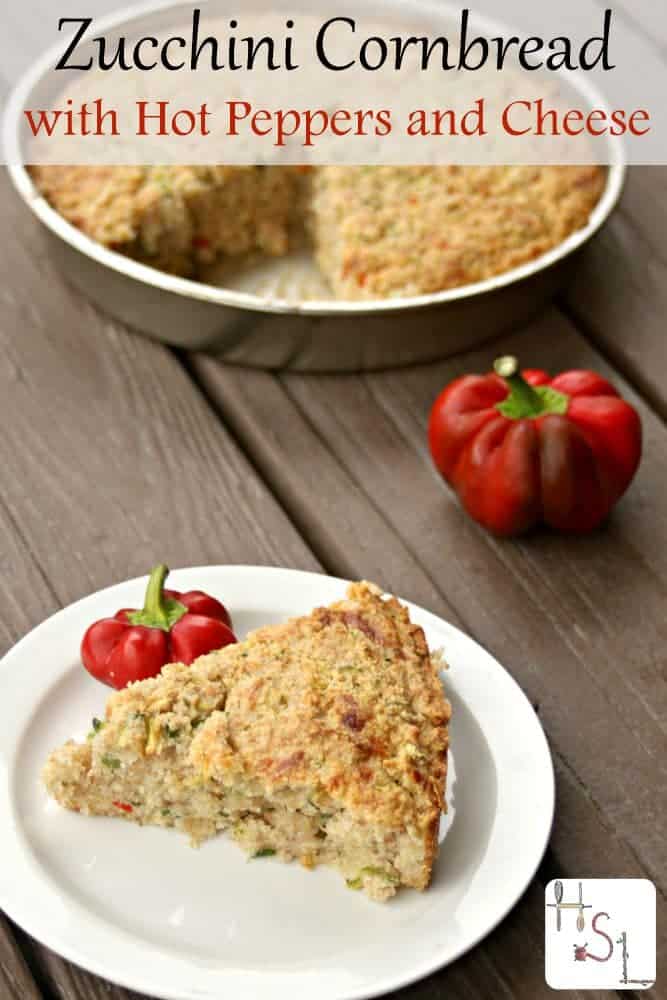 One of the great things about this cornbread is that it is hugely adaptable. Grated patty pan squash would work in place of the zucchini. Grated carrots or radishes would work deliciously too (skip the salting and draining step with those root veggies). Most any shredded cheese will work wonderfully – a good sharp cheddar is a strong choice but this recipe works well with mozzarella and provolone. If you like it hot, pepper jack can bring up the heat and flavor quite nicely. For sweet cornbread fans, a couple of Tablespoons of sugar can easily be added. Don't like it hot, use sweet peppers instead. Like it extremely hot, keep the hot pepper seeds in there and toss in another 2 Tablespoons of chopped peppers. Use what you have on hand and you can't go wrong here.
Zucchini Cornbread with Hot Peppers and Cheese
Use up garden fresh veggies in this Zucchini Cornbread with Hot Peppers and Cheese for wonderful side dish to soup or salad.
Ingredients
2 Cups Grated Zucchini, packed
¼ teaspoon Salt
¼ Cup Butter, melted
1 Egg
1 Cup Milk
1 Cup Flour
1 Cup Cornmeal
1 ½ teaspoons Baking Powder
2 Tablespoons Finely Minced Hot Peppers
1 Cup Grated Cheese
Instructions
Put the grated zucchini in a fine mesh strainer and mix in salt. Let sit and drain for about 10 minutes. Squeeze out water with the back of a spoon.
Preheat oven to 400 degrees. Grease a 9 inch round cake pan.
Whisk together the flour, cornmeal, and baking powder in a large bowl. Set aside.
In a medium bowl, whisk together the milk, egg, and melted butter until thoroughly combined.
Pour the wet ingredients into the dry and mix until almost incorporated.
Fold in the squeezed zucchini, hot peppers, and grated cheese. Stir until thoroughly combined.
Pour into prepared pan and spread evenly.
Bake in preheated oven for 50 minutes to 1 hour or until an inserted toothpick comes out clean.
Cool on wire rack. Serve hot or at room temperature.