This whole idea of handmade, do-it-yourself living is rather trendy. I know this because I saw television commercial recently talking about handmade cool. While I'm always glad to see people doing-it-themselves, the problem with trendy movements is that simple things suddenly become overwhelming in scope and design. Thankfully, that doesn't have to be the rule. In fact, it shouldn't be – handmade living should be about simple, personal priorities lived out fully and with passion. Take control of your habits and home with these 3 simple steps to daily D.I.Y living.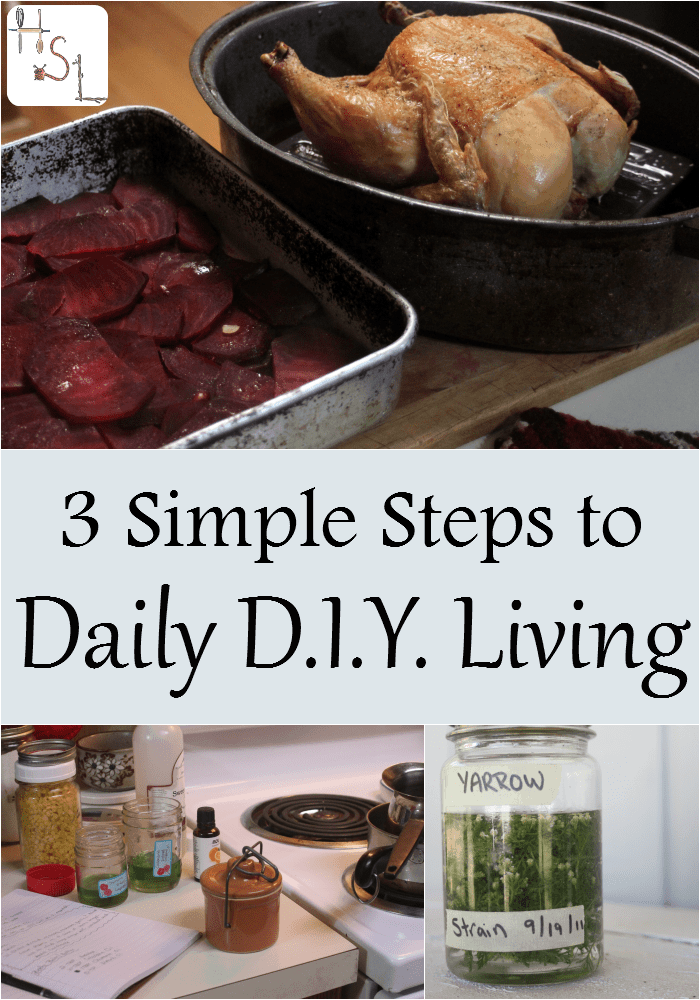 Step 1: Cook and Eat Real Food from Scratch
First, this is not about 5-course meals served several times a day on fancy china. As Julia Child said, "You don't have to cook fancy or complicated masterpieces – just good food from fresh ingredients." It is about taking control of the kitchen and creating tasty, nourishing meals. These meal can be simple. A day's meals might look like scrambled eggs with sourdough toast for breakfast, a giant salad for lunch with some fruit, and finally dinner of soup or stew cooked all day I the slow cooker. Oh, fancy I nice now and then if you like to cook but never feel like it has to take that turn.
The bonus of this step is that it helps create healthier bodies full of energy for all those other activities, like gardening or pottery, that D.I.Y. folks tend to enjoy.
Step 2: Keep the Home & Body Clean Naturally
Now cleaning toilets is not one of my favorite things, let's just be honest about that upfront. It is however, necessary, as is cleaning the rest of the house and the bodies that call it home. The D.I.Y. way means using and making natural products – often from products that are also found in our food pantries. Homemaking and grooming happens on some level every day so by making or tweaking our own products, we're making daily D.I.Y. living simple and easy without all those bits of overwhelm that comes with trends found in mainstream magazines.
Step 3: Healing with Herbs
This is not about becoming a master herbalist or finding the cure for cancer in the herb garden. (Though if that's your passion, go for it.) It is about using herbs as appropriate for simple, daily issues. Herbs, whether homegrown or purchased, provide us with numerous opportunities to take control of our health in a very hands-on way every single day. This about drinking the mint tea to help with indigestion, taking the valerian tincture as a sleep aid, and much more.
[sc:Useadsenselarge ]