Frugality serves many purposes in many seasons of a life. Sometimes it's a matter of necessity, money is simply tight and frugal habits can help make ends meet. Sometimes frugality is a means to meet an end, saving money now means a dream vacation later or a down payment (even payment in full) on a homestead later. There are big things that can be done to save money but it's the daily habits where life happens and where money is saved over the long term and in less drastic ways. Sure giving up an apartment and living in a tent can save money but for most that isn't a long term or comfortable solution. Rather than focusing on larger, maybe extreme methods focus on these simple 5 daily habits to save money over the long term.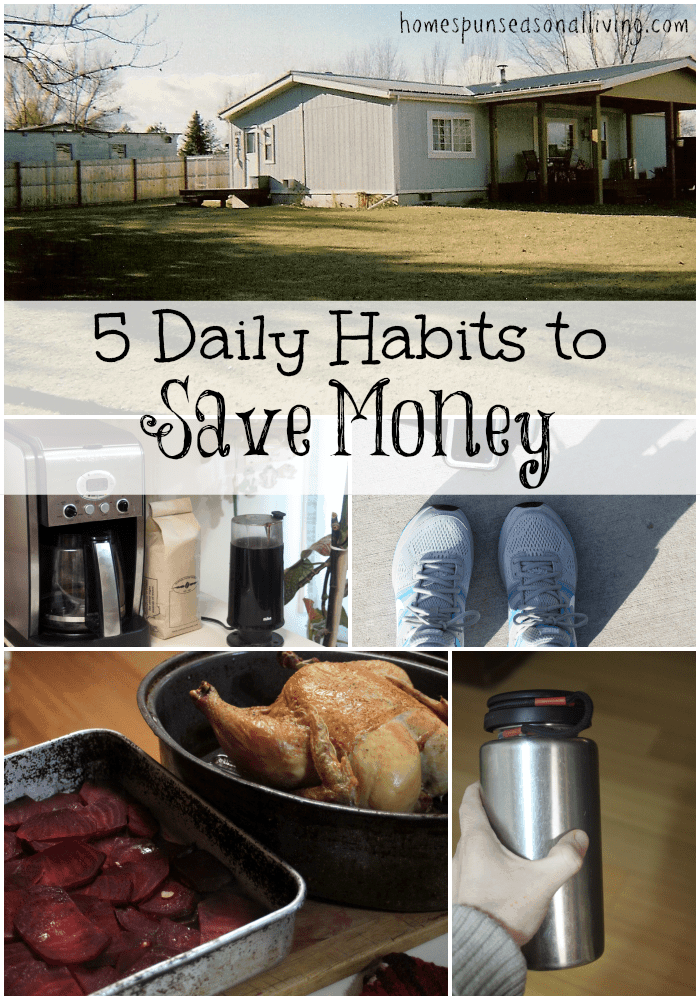 1. Eat In
Cook food at home from whole, natural ingredients. Don't waste leftovers and pack a lunch when going to work or school. Restaurant meals are naturally marked-up and not usually as healthy as a home cooked meal. Cook from scratch and learn to make things similar to favorite restaurants. Pizza is easily and frugally made at home for example. Can a hamburger for 99 cents be made at home? Not likely but what is made at home will be healthier and tastier. Eating at home can also mean better nutrition (assuming food is cooked from healthful ingredients) leading to potentially less need for expensive health care. Save eating out for special occasions and delight in those occasions as a real treat.
2. Stay Home
There's a lot to be said about being a home body. Obviously there are times when leaving home is a necessity but have planned home days and stick to them. Don't run out for those potatoes that the pot pie recipe calls for, find a way to make do at home with what's on hand. Learn to do hobbies and find entertainment, as well as rejuvenation and solace, at home.
3. Drink & Carry Tap Water
Quit buying expensive bottled water and carry stainless steel bottles of water from the home tap instead. If for some reason, the tap water isn't healthy or tasty, do invest in a purifier of some sort. That purchase will pay off in the long run in terms of actual cash and health. Don't go anywhere without that bottle full to ensure that thirst and temptation don't ruin an otherwise frugal day.
4. Go for a Walk
Take a walk around the neighborhood. Walking has so many benefits physically and mentally. The bit of exercise helps keep a body fit and healthy, helps build the immune system, and more. These healthful benefits can help us stay out of the doctor's office which can help save money. Walking also helps clear the head and gets a homebody outside which can be rejuvenating to the soul. This break in the day can also help the brain reset and prevent impulse purchases and more simply by providing time to breathe and let go. Walking outside saves money on a gym membership, too.
5. Brew Your Own Coffee or Tea
Those coffeehouse drinks are extremely expensive. Brew regular coffee at home and learn to customize it, to best suit individual tastes. Chai and other fancy teas are easily made at home, as well. Get a good travel mug – they're easily found at thrift stores and cleaned for use if one isn't already buried in a cabinet. Fill that mug up before leaving home to avoid the temptation of a drive through coffee stand.
These are small, simple habits but they do add up over the long term. Be sure to put that saved money aside for something special and have a financial plan to steer the course.
What daily habits do you practice to save money?
[sc:Useadsenselarge ]