As the holidays approach, many of us plan celebrations and feasts that can go completely over-the-top. This isn't necessarily a bad thing, a feast by its very definition is "an elaborate and usually abundant meal often accompanied by a ceremony or entertainment." However, putting together a feast on a budget can be a challenge. The thing I'm learning is that while the food is important, most of the time it's the gathering of loved ones that is more important. The feast itself doesn't have to break the bank but can rather simply be the setting for the gathering. Here are my favorite 5 ways to host a frugal feast: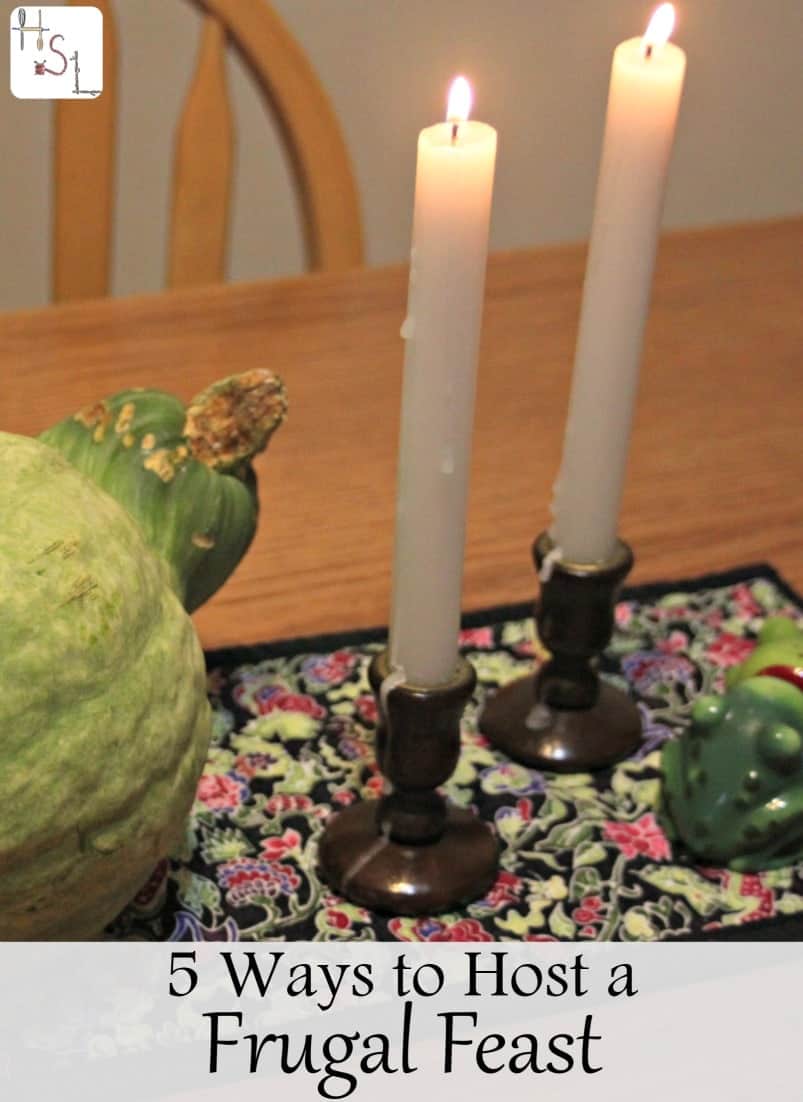 1. Scale Back
Okay, this is probably the most obvious and the most difficult to do. Sometimes tradition dictates that we have both Turkey and Lasagna for Thanksgiving, but I challenge you to decide if both is necessary. Can you cut one and still have a fantastic feast that leaves everyone's stomachs bursting? This might meet a little chagrin in families with long standing traditions, but in the case of budgeting it is one of the biggest things you can do when planning your feast. I'm willing to bet most Americans waste more food after Thanksgiving than any other time of year (though I couldn't find any concrete data to support that theory). Cut out the food waste and you'll cut out the money waste, too. What's the point of having a crudité, if everyone skips that in favor of the bacon-wrapped dates anyway?
2. Simplify
Keep the dishes simple. Simple dishes are inherently more budget friendly. Skip the green bean casserole and simply serve green beans. Forget serving both the cornbread dressing and the sourdough stuffing, pick one and call it good. Do you really need two apple pies, two pecan pies, and two pumpkin pies plus whipped cream and ice cream? You may need 6 pies (depending on how many you are feeding), but choose one variety that most suits your budget and go with that. This has the added benefit of less time in the kitchen and more time enjoying the company of friends and family.
3. Alter Expectations
Who says it has to be turkey on Thanksgiving? If it isn't too blasphemous in your family consider changing what is served. I completely understand that this will be impossible in some family situations, do what you can. When I was single and living far from family, I hosted "orphan" holiday meals in my small apartment. I couldn't afford much, so the "feast" was spaghetti with garlic bread and a variety of cookies for dessert. Trust me, no one minded, it was the companionship everyone was after.
4. Potluck it
If it is possible, consider hosting your feast potluck style. You prepare the main dish (Turkey, Ham, whatever) and ask your guests to bring the side dishes and desserts. If you do this for Christmas, consider phrasing it as a potluck in lieu of exchanging gifts. It might be necessary to have folks sign up, so that you don't end up with 14 green bean casseroles, but this is a quick fix and shouldn't deter you from having a potluck. Ask folks to bring the recipes as well, so that you can add them to your recipe collection. To go along with, altering expectations – host a soup or pizza night instead of a traditional feast. Make a giant pot of soup and ask other folks to bring bread, crackers, appetizers, drinks, and dessert, or have everyone bring different pizza toppings and get everyone involved in pizza creating.
5. Forget it Completely
This isn't for everyone, but let me just say that if the holiday feast isn't your thing, consider it bagging it and doing something else that's meaningful to you. I know there's a lot of pressure out there when we try to buck tradition, but who says we can't start our own traditions? Make your holiday traditions special to you and if that means cross country skiing and a picnic instead of a full blown feast, so be it. Do what's meaningful to you and don't succumb to the pressure of Pinterest boards or mass media to host something that simply isn't within your budget or in your style.
In the end, my wish for you is that your holiday feasting (or other tradition) be a true reflection of your priorities and a source of joy.
Have any other tips for hosting a frugal feast you can share?
[sc:Useadsenselarge ]