The apples are ripening up quite nicely on our tree. That tree and its fruit provide us with so much goodness. Goodness that we preserve in great quantities for later and deliciousness that we devour fresh in most every meal while we can. One of our favorite ways to eat apples for breakfast is in these Apple Hazelnut Muffins.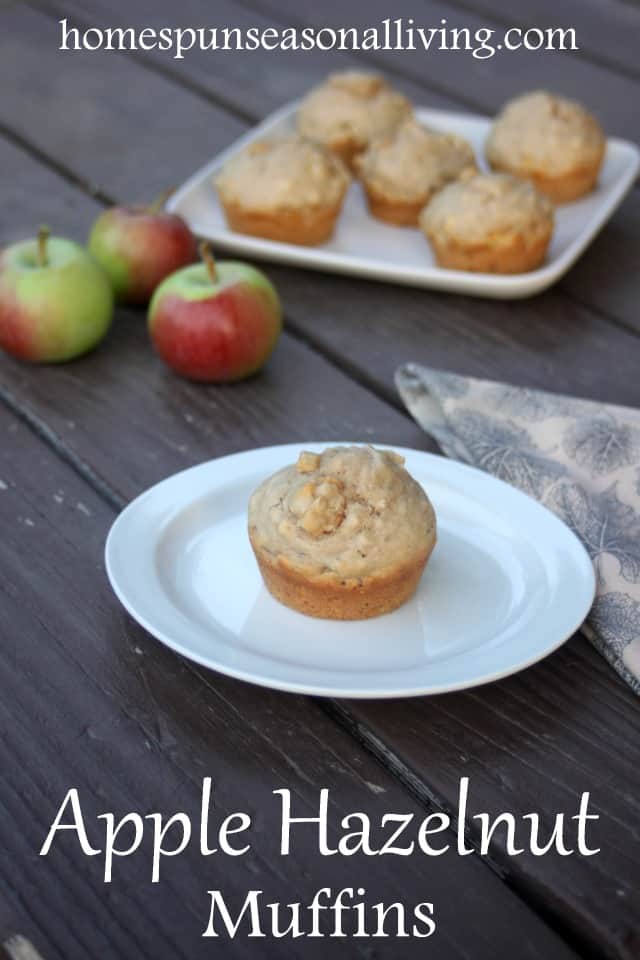 Quick, Easy, & Good Keepers
These muffins are quick and easy to pull together – the butter is melted meaning no need to wait for butter to soften. The ingredients are likely already in a well-stocked pantry. The only special bits might be fresh apples and hazelnuts which are likely easy to find in the fall.
These are a moist muffin that will keep for several days at room temperature if stored in an airtight container. Freeze them in containers for up to 6 months and thaw as needed. Pull one out of the freezer in the morning and it'll be thawed and ready to eat as a mid-morning snack.
Easy to Customize
Use this basic recipe to customize in a number of ways to best suit individual tastes:
Substitute pears for the apples
Use more or less cinnamon
Ginger, nutmeg, cardamom, clove would be excellent choices instead of cinnamon
Skip the hazelnuts or use walnuts, pecans, or almonds instead
Toasting and Peeling Hazelnuts
The peel of hazelnuts can be a little bitter. There are a couple of ways to get rid of it, including boiling. I prefer the toasting method because the nuts take on a great flavor.
Preheat oven to 325 degrees. Spread the nuts onto a rimmed baking sheet in a single layer. Roast in the oven for 10 minutes, give the pan a shake about halfway through to prevent scorching. While the nuts are in the oven, soak a tea towel and squeeze out the excess moisture. You want a damp but not dripping towel.
Remove the nuts from the oven and immediately cover the tray with the damp towel. Place another larger sheet over the towel to create some trapped steam, then let it sit undisturbed for 5 minutes.
Remove the top tray and rub the nuts against the tray through the damp towel (be careful in case it's too hot). Rub vigorously. This will remove a great majority of the skin. It won't remove it all but I've found that some removal combined with the toasting makes for great tasting nuts. Chop (I use one of these handy crank nut choppers to make this quick & easy) and carry on with the rest of the recipe.
Yield: 12 Muffins
Apple Hazelnut Muffins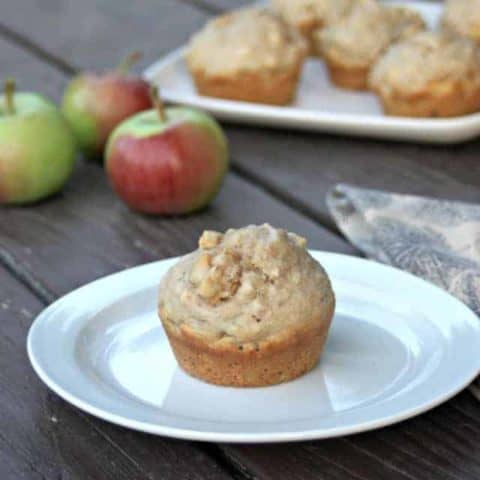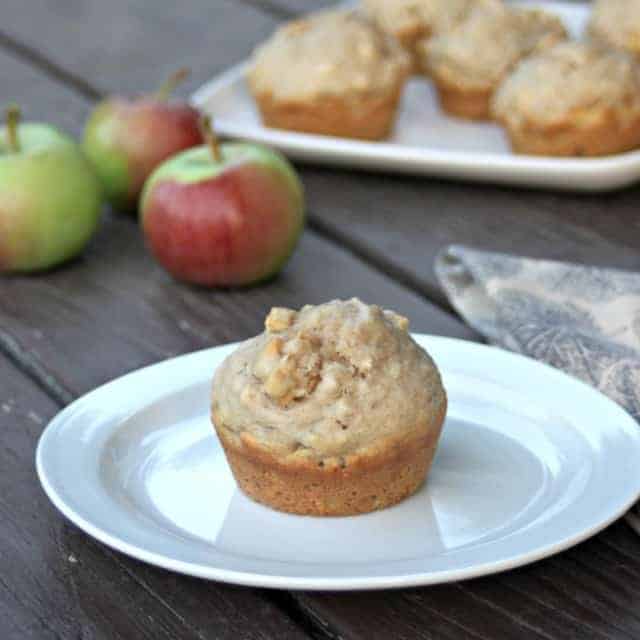 Make the most of fall produce with a quick and flavorful breakfast that's easy to grab on the go with these Apple Hazelnut Muffins.
Ingredients
1 ½ Cups Unbleached All Purpose Flour
½ teaspoon Baking Soda
1 teaspoon Baking Powder
¼ Cup Sugar
½ teaspoon Ground Cinnamon
¼ Cup Melted Salted Butter
¾ Cup Milk
1 Egg
1 Tablespoon Vanilla Extract
1 Cup Apple, peeled & diced
1 Cup Hazelnuts, toasted & chopped
Instructions
Preheat oven to 350 degrees Fahrenheit.
Grease a muffin tin.
Sift together the flour, baking soda, baking powder, sugar, & cinnamon. Set aside.
Whisk together the melted butter, milk, egg, and vanilla extract until thoroughly combined.
Pour the wet ingredients into the dry. Mix until almost combined.
Add the diced apples and chopped hazelnuts. Fold until the dough is completely mixed.
Divide the batter among 12 muffins cups, filling each about 2/3 full.
Bake in the preheated oven for 20 minutes or until edges are golden and an inserted toothpick comes out clean.
Cool in pan for 5 minutes before turning out onto a wire rack to cool completely.