It's the time of year when apples and winter squash are seemingly covering every surface of our house. Soon we'll be canning applesauce and fermenting cider, but right now we're mostly enjoying the apples as snacks. Apples with peanut butter being a particular favorite. I couldn't resist the urge to make my favorite snack into a wholesome cookie after a run the other night. These Apple Peanut Butter Cookies are gluten-free, refined-sugar free, and full of satisfying cookie deliciousness.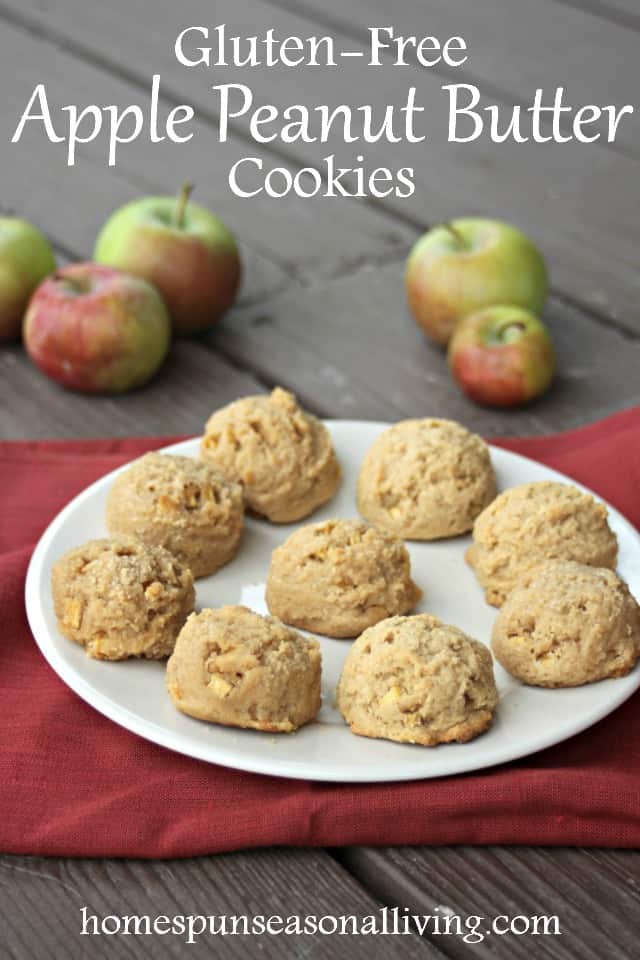 Soft Cookies
These are a soft cookie. Crunchy gluten-free cookies without using the flour blends have always escaped me. There's a good bit of peanut butter in these too, meaning that they're almost like a piece of peanut butter candy.
Any Nut or Seed Butter
Allergic too peanuts? Substitute the peanut butter with any nut or seed butter of choice. The apples and sunflower seed butter are quite good together.
Freeze for Quick Treats
Toss the finished cookies into freezer containers where they'll keep for at least 3 months. They are delightful cold and the frozen texture keeps them from getting as crumbly as they do after about 3 days at room temperature.
Add Some Crunch
Because these cookies are so soft, a little-added crunch can be very nice. Use crunchy peanut butter instead of smooth. Fold 1/4 cup chopped nuts into the cookie batter.
Yield: 18 Large Cookies
Apple Peanut Butter Cookies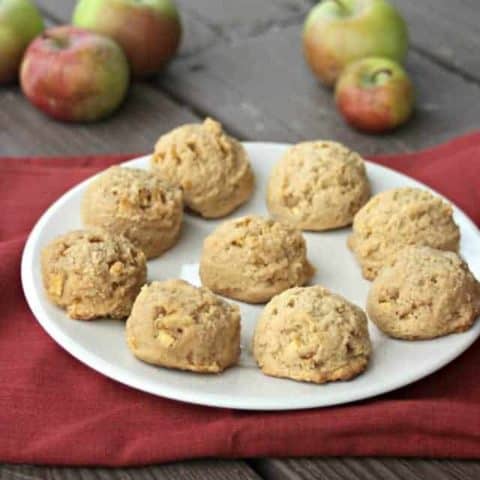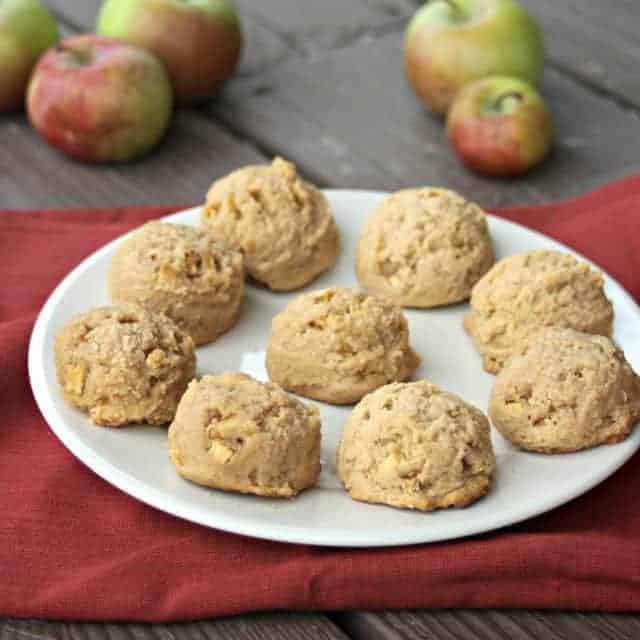 Gluten-free apple peanut butter cookies are full of flavor without using refined sugar and are a treat you can feel good about eating and serving.
Ingredients
1 Cup Rice Flour
½ teaspoon Baking Powder
½ Cup Unsweetened Peanut Butter
⅓ Cup Maple Syrup
3 Tablespoons Olive Oil
1 teaspoon Vanilla Extract
½ Cup Apples, peeled and diced
Instructions
Preheat oven 350 degrees. Grease a baking sheet or line it with a silicone baking sheet or parchment paper.
Stir together the rice flour and baking powder. Set aside.
Whisk together the peanut butter, maple syrup, olive oil, and vanilla.
Pour the wet ingredients into the dry and stir until almost combined. Fold in the diced apples.
Drop the dough by spoonfuls onto the prepared baking sheets.
Bake in the preheated oven for 10 to 15 minutes. Cool on the baking sheet for 3 minutes before removing to a wire rack to cool completely.