We are blessed with a very productive apple tree. We make hard cider, regular cider, vinegar, pies, and tons of applesauce. We like applesauce and are known to eat it straight out of the jar, but I do try to get creative in the ways I use it. I also happen to have a bunch of prunes that we dehydrated from a neighbors plum tree. In a pursuit to use what we had on hand in a hearty and warming way, I came up with this Baked Oatmeal with Chia Seeds & Prunes.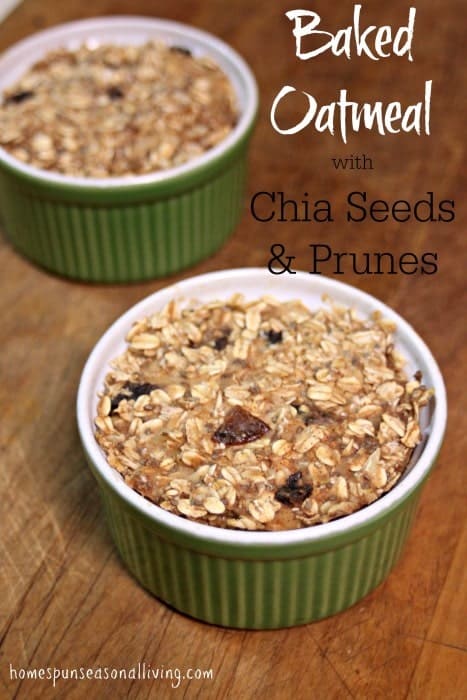 The whole grains make this immediately filling while the protein from the nuts and seeds keep a person full as they shovel snow or sit at a desk in school or at work. It's lightly sweet and full of flavor that you can feel good about serving your family on a winter day.
This makes two servings but can easily be doubled or tripled for more. You could spread the mixture into a cake pan for one large pan instead of individual servings if desired. Also feel free to switch up the prunes for other dried fruits and the walnuts for different nuts for varied but still yummy results.
Baked Oatmeal with Chia Seeds & Prunes
Lightly sweetened with maple syrup and full of nutritious whole grains and protein this baked oatmeal with chia seeds and prunes is the perfect breakfast for cold winter days.
Ingredients
1 ½ Cups Rolled Oats
1 teaspoon Ground Cinnamon
Pinch of Salt
¼ Cup Prunes, chopped
¼ Cup Walnuts, chopped
1 Tablespoon Chia Seeds
3 Tablespoons Water
¼ Cup Milk (Cow, Goat, Almond, Rice, whatever)
½ Cup Unsweetened Applesauce
3 Tablespoons Maple Syrup
Instructions
Preheat oven to 350 degrees. Oil two ramekins.
In a medium bowl combine the water and chia seeds. Set aside.
In a large bowl, mix together the oats, walnuts, salt, cinnamon, and prunes.
To the chia seed mixture, add the applesauce, maple syrup, and milk. Whisk until combined. Pour the wet into the dry and mix until well incorporated.
Split the mixture between the two prepared ramekins. Bake in the preheated oven 20 to 25 minutes until set. Serve warm topped with cream or butter if desired.
[sc:Useadsenselarge ]