Behind the scenes, I've been working with herbs in many different recipes including a number of herbal cookies. All of this playing around has been for some magazine writing clients as well as background work for some upcoming classes I'll be teaching locally. There have been some mighty successes and a few failures too. One of the successes that I just have to share with you all is these Basil Butter Cookies.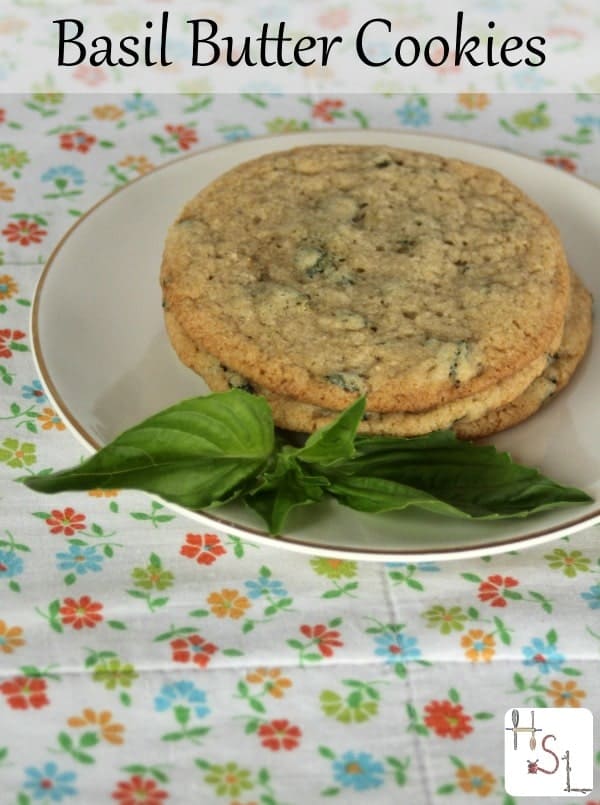 These are a delightfully rich cookie that bakes up crisp and full of flavor. It's important to cream the butter with the sugar and chopped basil. The more the basil is beaten into the butter the more flavor comes through in the final cookie. These cookies spread so be sure to give them plenty of room on the baking sheet before they go into the oven. You could substitute vanilla extract for the lemon but there is something quite delightful about the combination of lemon and basil in my opinion. Toss in some lemon zest if you have it on hand for an extra kick of lemon flavor too.
Basil butter cookies freeze extremely well, so don't be shy in making a double or triple batch of these cookies when the basil is most abundant. Simply wrap them well and they should last about 6 months (assuming they're not eaten by then).
Yield: 2 Dozen
Basil Butter Cookies
Try using up some of the abundance of homegrown herbs in a sweet, crunchy, and rich treat with these easy-to-whip-up basil butter cookies.
Ingredients
1 ½ Cups Flour
½ teaspoon Baking Soda
½ teaspoon Baking Powder
½ Cup Butter, Softened
½ Cup Brown Sugar, packed
½ Cup Sugar
1 Egg
1 teaspoon Lemon Extract
⅓ Cup Basil, finely chopped (3/8 ounce by weight)
Instructions
Preheat oven to 325 degrees. Line cookie sheets with parchment paper or a silicone baking sheet.
Sift together the flour, baking powder, and baking soda, set aside.
In a mixing bowl, beat together the basil, butter, and sugars. Cream until light and fluffy. Beat in the egg and lemon extract.
Add the flour mixture and continue mixing until thoroughly incorporated.
Drop the dough by Tablespoons full onto prepared baking sheets. Give them at least 2" of room, these cookies spread.
Bake in preheated oven for 15 minutes.
Remove from oven and allow the cookies to cool on the sheets for 3-5 minutes before removing to wire racks to cool completely.