One of the joys of a freezer and pantry stocked over the summer is finding ways to get creative with the goods in winter. This cherry coconut compote uses frozen cherries and whips up quickly with minimal ingredients. Break into that freezer and get a taste of summer for everything from breakfast to dessert.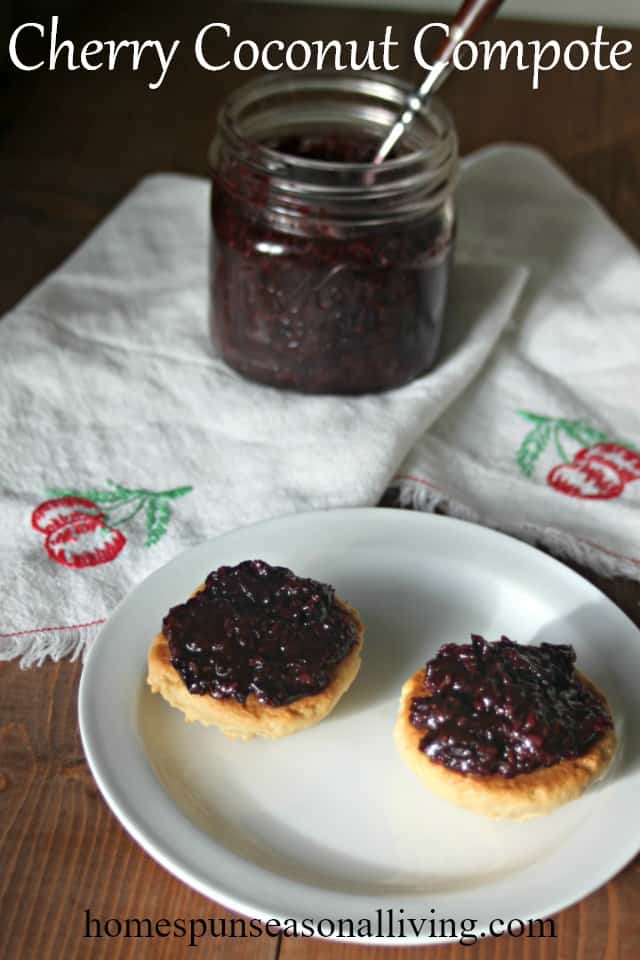 No Thawing Required
We all need easy and quick now and then. This recipe takes the cherries straight from the freezer to the pan. No need to thaw or defrost first. The only caveat – the cherries need to be pitted so if they were frozen with pits then thawing and pitting would be required.
Minimal Ingredients & Preparation
Truly the recipe is frozen cherries, water, vanilla extract, and shredded coconut. The first three ingredients are simmered and mashed until soft and thick. The coconut is stirred in after cooking. That's it, the compote is now ready to use or be refrigerated for tomorrow.
No Added Sugar
This recipe uses sweet not sour cherries meaning there's no need for additional sugar. I suggest even using unsweetened shredded coconut, the sweetened flakes would likely make this too sweet. It is sweet enough to be eaten with dessert and yet not so sweet to feel wrong at breakfast.
Potential Substitutions & Additions
Berries of any kind would work equally well instead of cherries. Almond extract would be tasty in this compote but 1 whole Tablespoon might be too much. Use 1 teaspoon of almond extract and up the water to 3 Tablespoons. Add some chopped nuts for some crunch.
How to Use Cherry Coconut Compote
This is a very versatile sauce. It is as much at home with breakfast as it is with dessert. Here are a few (but certainly not the only) ways to use it:
Mix it into oatmeal or other cooked cereal for breakfast
Spread it on toast or biscuits
Use it instead of syrup on pancakes and waffles
Slather it on or between cookies
Keep it thin and pour over cake
Use it as an ice cream topping
Yield: 2 Cups
Cherry Coconut Compote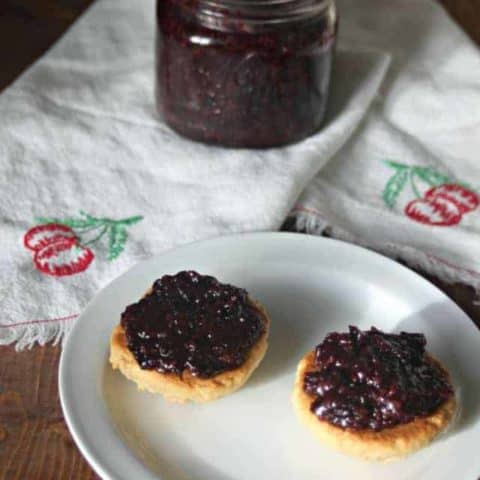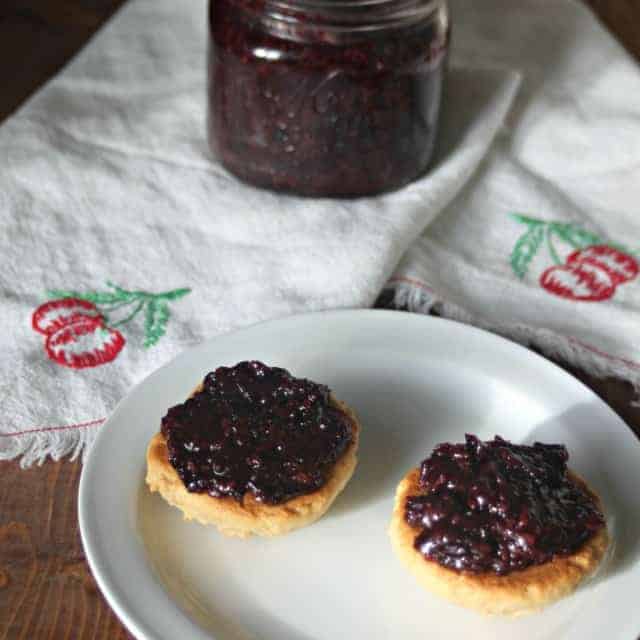 Make cherry coconut compote from frozen sweet cherries as a delicious and no-sugar added sauce that is at home on oatmeal as it is on cake.
Ingredients
3 Cups Pitted Sweet Cherries
1 Tablespoon Vanilla Extract
2 Tablespoons Water
½ Cup Shredded, Unsweetened Coconut
Instructions
Put the cherries, water, and vanilla extract into a heavy bottomed saucepan.
Bring the mixture to a simmer over medium heat.
Cook for about 10 minutes, then mash the cherries with a potato masher or the back of a spoon.
Cook for another 10 minutes or until desired thickness is reached.
Remove from heat and stir in the coconut.
Use immediately or store in an air-tight container in the refrigerate for 1 week.