We've con​cluded the 2019 session. See you in 2020!
Late fall is a time when the daylight hours shrink and the dark hours can be long. This seasonal shift is more pronounced in some locations than others but is most definitely a key feature of the fall season as we await the return of the sun in winter.
Learn to embrace these dark days and find their unique blessings with us this November.
Join us on November 4, 2019, for a free e-course to help us all embrace the dark days of late fall and find the incredible joys and blessings of intentional, seasonal living.
At the end of the e-course you'll have a set of practical tools in your seasonal living arsenal to help you:
1) embrace the dark days of late fall,
2) find joy & contentment in this season, and
3) the beginning of a path to follow into the next season and beyond.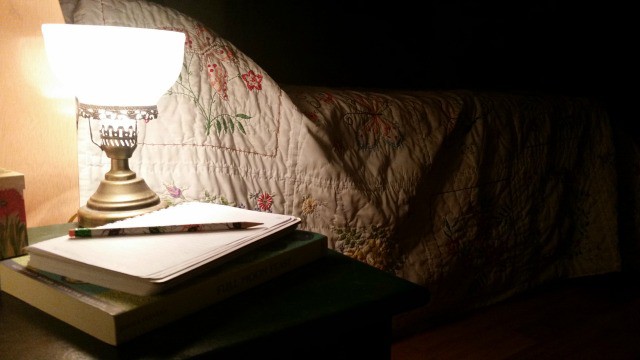 Seven lessons include these topics:
1. Creating a vision for intentional seasonal living
2. Connecting with nature
3. A craft project that highlights this season's special qualities
4. A recipe for eating seasonal food that is comforting and nourishing
5. Committing random acts of kindness to spread light and joy
6. Ideas for self-care on dark days that can sometimes darken the spirits
7. Using these principles as a method for carrying seasonal living on into winter and beyond
And a private Facebook group for students to share and interact.
About the Teacher: Kathie N. Lapcevic
Kathie herself embraces seasonal living on a daily basis and has grown to find joy and appreciation in each seasonal offering from the earth. Living her life connected to the seasons has helped her find calm and simple pleasures even within the modern electronic lifestyle. This seasonal rhythm forms a foundation for intentional living that carries throughout the rest of her life.
Kathie has been leading seasonal living courses both online and in-person for over 5 years. Her courses inspire and encourage students to live a life connected to the natural rhythms of the earth. In practical lessons easily applied and accessible to modern lifestyles, her courses are fun and engaging without being overwhelming.

---
Disclaimer : This course is not intended to treat Seasonal Affective Disorder or depression. It is merely intended to help students connect with the natural rhythms of the earth during the season of short daylight hours.