When a planning a garden, one of the most important parts is getting the timing right.  Not everything gets planted at the same time, some seeds get direct seeded right into the garden, some get started inside, some go before the last frost, some after and so on.  It's a lot to keep track of head or at least it is in my head, I don't even try.  I've found it much easier to keep track of all those important dates by creating a garden planting schedule.
This schedule allows me to keep track of what gets planted when and where (indoors or outside).  Having it written down keeps me from having to constantly look in books on the backs of seed packets. Most importantly, it makes sure I don't miss something important in my limited Zone 3-4 growing season window.  If you'd like to create your own garden planting schedule, here's how to get started and a free printable for you.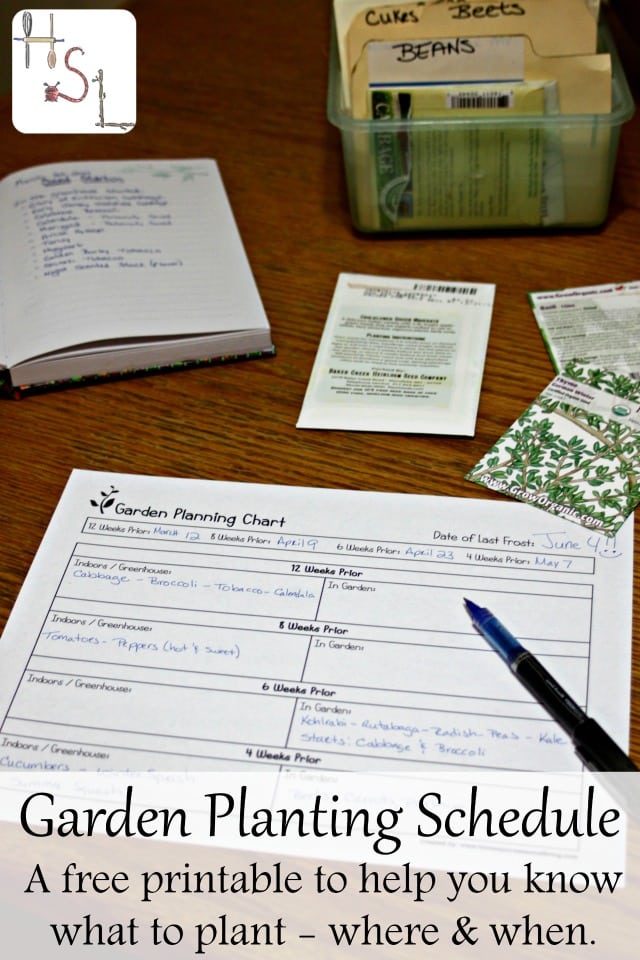 1. Find the Last Frost Date
It's important to find the approximate last frost date.  I'll be honest, I always push it a little and make sure I'm ready to cover plants in the garden if needed.  This last frost date helps you know generally when to start seeds and when to plant outside.  You can figure your specific last frost date by checking The Old Farmer's Almanac.
2. Back Date
Schedule things by  4 weeks before the last, 6 weeks, 8 weeks, and 12 weeks – that's usually plenty early enough.  This is a general outline but will help you decide what needs to be started inside and when. Next, it gives you dates to transplant outside at the appropriate time.  Don't just write 6 weeks before, however; assign it an actual date. This actual date will help you plan what needs doing and when. It also helps keep the schedule clear for planting on important days.  One or two days on either end of these dates isn't going to ruin your garden. The schedule has room for flexibility, use it as a guide, not a rule.
An example of how I use my garden planting schedule, I start broccoli and cabbage inside the greenhouse 12 weeks before the last frost and then those seedlings go outside into the garden 6 weeks prior to the last frost.  Tomatoes & peppers usually get started 8 weeks prior to the last frost and go outside right around that frost date (which is generally pushing it for me).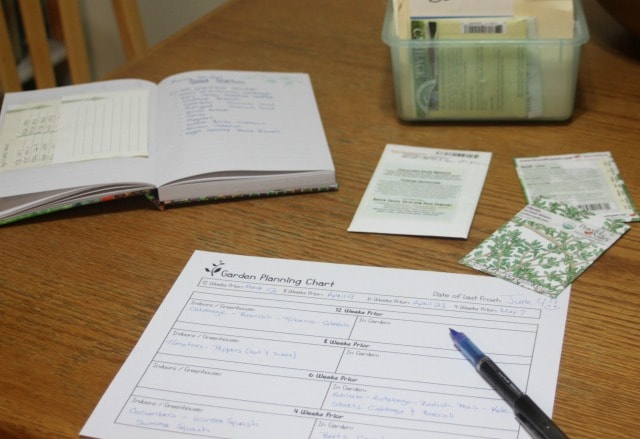 3. Plan in One Sitting
Sit with your garden journal from last year, maybe a trusted book or two, and all those seed packets to figure out what needs to get started and where indoors or outside.  Do this one time, it shouldn't take but about 30 minutes and you're ready for the season ahead.  This planning now saves so much time later.  It means no digging through seed packets and checking the back of everyone to make sure an important date isn't missed, it also means the zucchini or anything else isn't forgotten during the rush of spring gardening
Keep these schedules in your garden journal to refer to each year to make it even easier to plan. If you don't have a journal for this year be sure to check out the amazing The Gardening Notebook for not only journal space but also for tons of great gardening information.
How do you plan for your garden planting?