As is often the case, simple is best. That's true for this dish that has quickly become a favorite here at Two Frog Home. It almost feels too simple to share, garlicky roasted potatoes & asparagus, but as we love it and it's so very healthy and filling, I simply can't keep it to myself. Asparagus is currently in season here, I know for those of you in the deep south this might have to wait until next spring…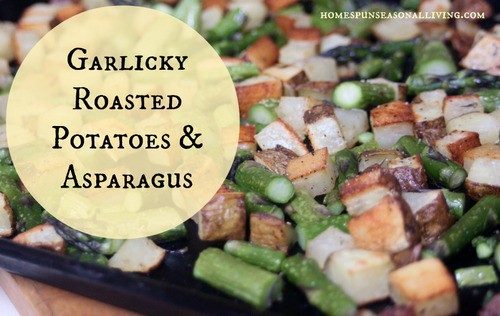 Garlicky Roasted Potatoes & Asparagus
A simple side dish garlicky roasted potatoes & asparagus is a great way to take advantage of early spring vegetables in a filling and healthy way.
Ingredients
1 Pound of Potatoes, scrubbed and chopped into 1" pieces
3 cups of Asparagus, chopped into 1" pieces
2 Tablespoons Olive Oil
3 Cloves of Garlic, minced
Salt & Pepper to Taste
Instructions
Preheat oven to 425 degrees.
On a rimmed baking sheet spread the chopped potatoes, drizzle with olive oil and season with salt and pepper. Give everything a toss and put in the oven.
Roast for 20 minutes.
Remove the baking sheet from the oven and give the potatoes a stir, scraping any sticking to the pan from the bottom. Toss in the asparagus and garlic, giving everything a good stir. Return to the oven and roast for another 15 minutes or until asparagus is tender.
Serve hot. This could easily serve 4 as a side dish, generally speaking Jeff and I split it with just a little something else for dinner.
Note:
A friend sent me a lovely bottle of
Meyer Lemon Olive Oil
– it was particularly yummy here. Plain olive oil works wonderfully but if you have some of the lemon infused type use it here.
[sc:Useadsenselarge ]