I had been cooking from scratch and preserving food for many years before I delved into the world of homebrew. I'm not exactly sure why that was, fear of screwing up I'm sure and it seemed like I needed, even more, stuff than I already had around the homestead. To be sure, homebrew does require some special equipment and containers but the initial start-up cost isn't much and while it does all require storage space, it's for a worthwhile cause if you have room. Make this the summer you get started with homebrew.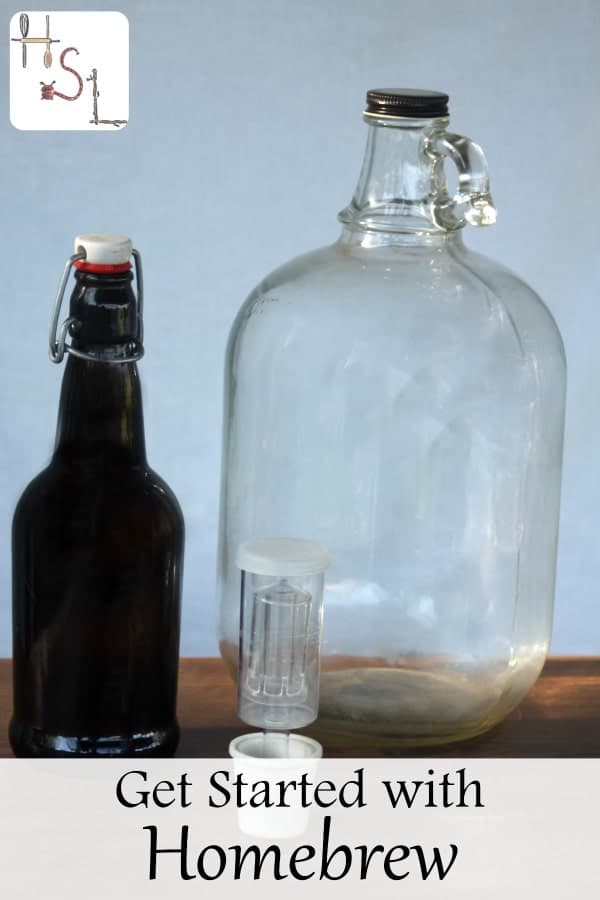 Gather Basic Supplies
Fermentation Container – A carboy is most standard but most any container will do. A few in different sizes is quite ideal. I have a couple standard 5-gallon carboys and a few gallon glass jugs that I picked up at a thrift store for small batches. Carboys come in glass or plastic. I will say the larger glass ones are heavy but I, personally, didn't like the idea of fermenting in plastic (personal choice). These carboy handles fit over the neck of the large carboys and make it easier to move around, we didn't use them the first couple of years but are so glad we made the purchase now.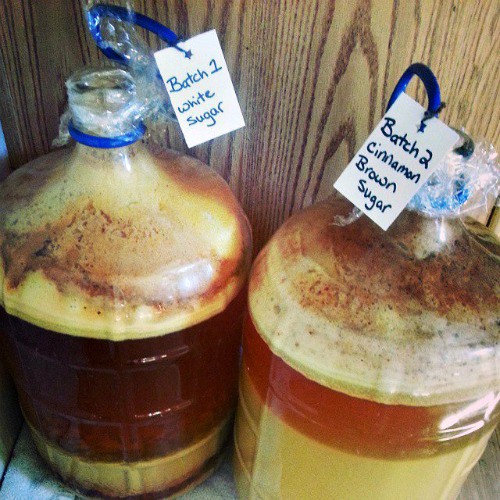 Stoppers & Airlocks – The fermentation container opening will need to be airtight at some point and for that stoppers and airlocks are necessary. There are all kinds, the most important thing is to make sure that stopper is the correct size to fit in the opening of your fermentation container and that the airlock is the correct size for the drilled opening in the stopper. I've seen all kinds of D.I.Y. methods for airlocks, some with plastic balloons, others with gloves, and on and on. While I do love D.I.Y., airlocks and stoppers are not that expensive and sometimes it's just best to have the right equipment in my opinion.
Siphon – Eventually getting the homebrew from the carboy into bottles becomes necessary. A siphon of some sort is the easiest way to do this transfer. You can create a simple siphon by sucking on a length of tubing – this isn't the most sanitary and has the potential to get the siphoner drunk before the task is finished but I've seen plenty of You Tube videos explaining how to do it. You can purchase an automatic siphon, I'm sure those work great but we purchased a very inexpensive siphon meant for use in cars and trucks at an auto supply store and it works like an absolute dream for less than $5.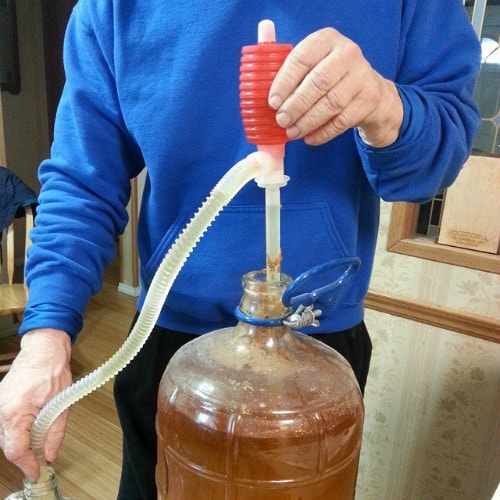 Bottles – Once the homebrew is complete, storage bottles are necessary. Look around locally in thrift shops, on craigslist, etc. for these often folks get rid of bottles when they stop homebrewing and this can be quite a deal. Depending on what you homebrew and the bottles you choose, you might need a capper or a corker too. We do mostly hard cider here at our house and choose to use flip-top bottles to store it all in with great success.
There are other supplies depending on what you're choosing to brew, but the above list is a great starting point. Once you have those decide what to brew and then look for any other necessary equipment.
Find a Good Recipe
Not all homebrew begins with a recipe, most begin with a method. Because we always have an ample supply of homegrown apples, hard cider was our desired homebrew start. We read a lot of books on the subject and followed a method from one of the books the first time and eventually started making up our own recipes. Keep track of recipes (products used, amount of yeast, sugar, etc.) in a journal of some sort as well as length of fermentation and results to refer back to year after year.
Make use of items you already have growing on your homestead or can easily find locally with these great ideas:
I always prefer using up what's homegrown first but there are plenty of other options for homebrew including the use of beer making kit. A multitude of books have been written on the subject, these are the ones we've used most often:
The River Cottage Booze Handbook – This handy little tome covers brewing wines and hard ciders as well as making infused liqueurs.
The Complete Joy of Homebrewing – Mostly covers beer but there are some mead recipes. This book will help you create a truly hand-crafted beer (stouts, ales, etc.) that will likely rival your favorite local, craft brew.
The Art of Cidermaking – If hard cider is the thing you're most wanting to do, this is the book to have, we use it every single fall. Lots of great recipes, plenty of basic explanations and more. Sadly, it's out of print but there were some used copies on Amazon, last time I checked.
Don't be intimidated by what may seem like a very involved process. Homebrew is a rewarding activity and like anything the more it's done, the easier it gets. This summer harvest some of those wildflowers, weeds, or local fruits and get busy turning it all into a delicious adult beverage.