A home preserved pantry is a wonderful thing. This gluten-free jam tart is the perfect way to use up those jars of goodness in a single tasty dessert. It's simple enough for everyday and yet fancy enough to be served at big feasts and taken to potlucks.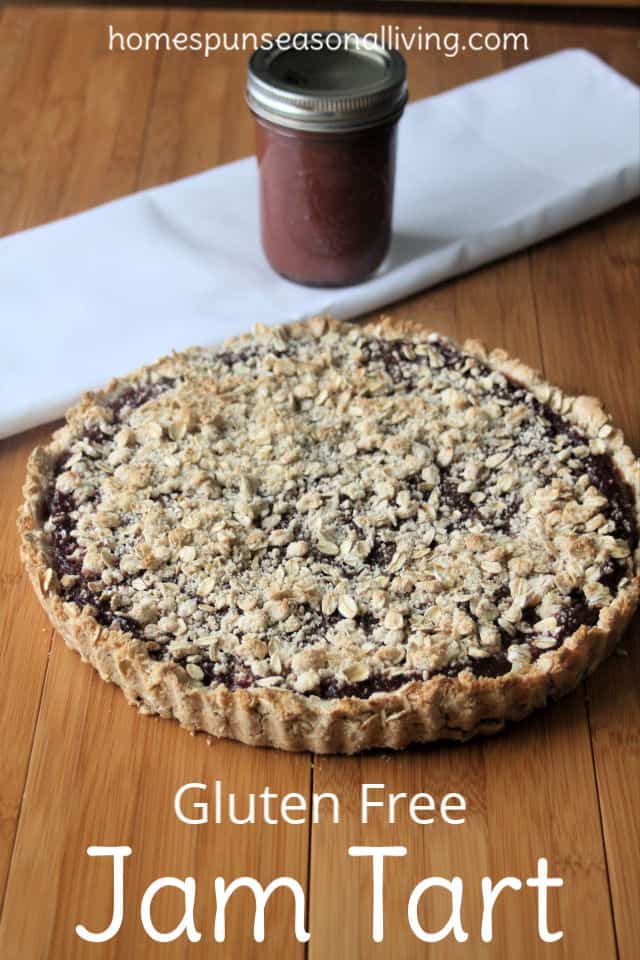 Perfect Use of Homemade Jam
I like to make jam. I enjoy the creative process, the fun of combining homegrown and foraged fruit into a tasty spread. We don't eat a ton of jam, however; and there's only so much we can give away or trade.
[mailerlite_form form_id=8]
Using it up in a dessert is the perfect answer for all those jars of homegrown and homemade goodness. This is also a great way to give away jam without actually giving a jar of jam to someone.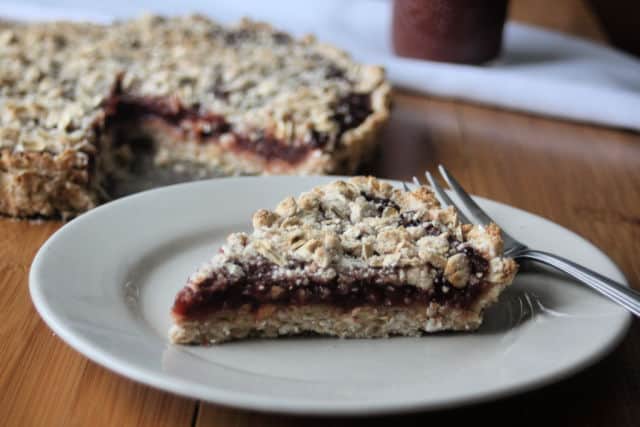 Applesauce instead of Oil
To give the crust moistness while also holding together all those dry ingredients, I used unsweetened applesauce. Applesauce is something we always have in the pantry and this is a perfect way to use some up without just serving it as a side dish.
Applesauce also keeps it lower in fat (if that's important) while also keeping it vegan. This little tweak makes this jam tart ideal for potlucks when feeding a wide variety of eating styles.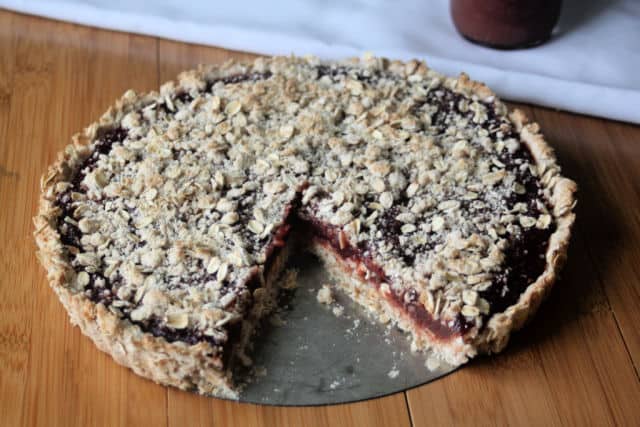 Naturally Low in Sugar
The sugar in the oat crust is completely optional. In fact, most times I skip it completely. The applesauce lends not only moistness but also a hint of sweetness. And jam tends to be sweet whether or not it's low-sugar.
The Jam
The jam is truly the ingredient that makes this tart shine. That being said, use something extremely flavorful here. This is not the place for bland spreads.
The jam can be low or no sugar just make sure it has a beautiful flavor. Spicy jams are also great here.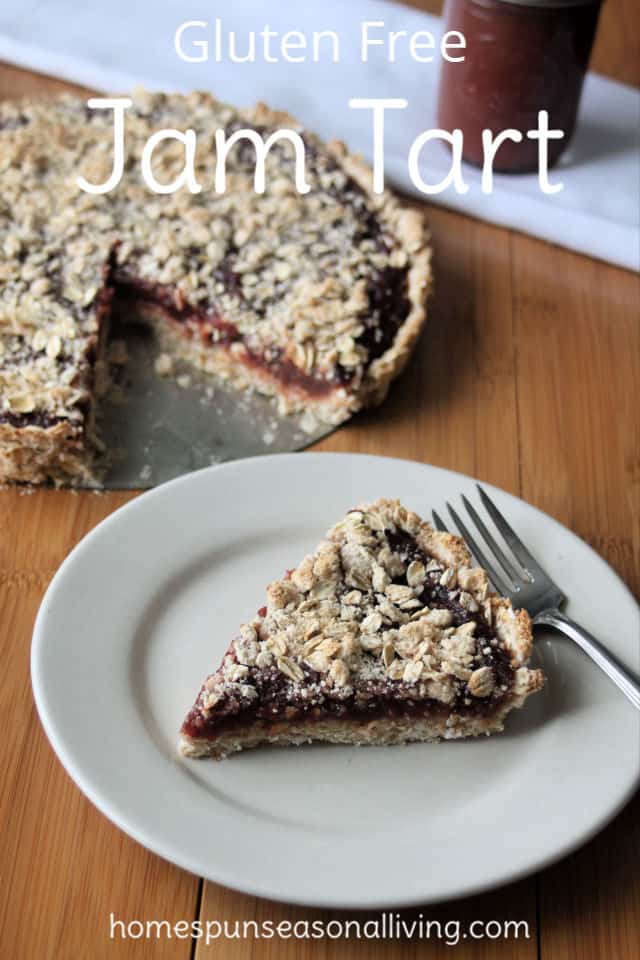 Also the jam should be thick. This isn't the place for the runny jam that doubles as pancake topping. Thick fruit butters also work well.
I used cranberry apple butter in the jam tart shown.
Yield: 8 Servings
Gluten-Free Jam Tart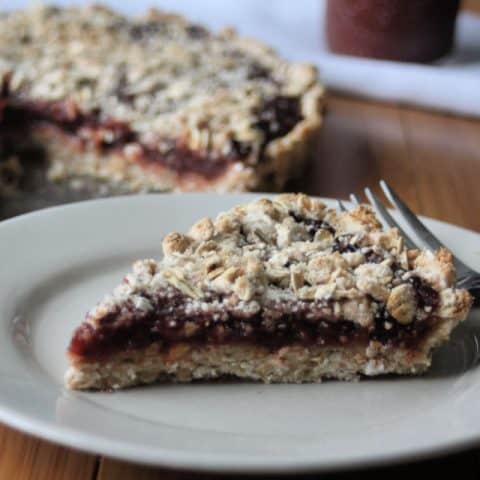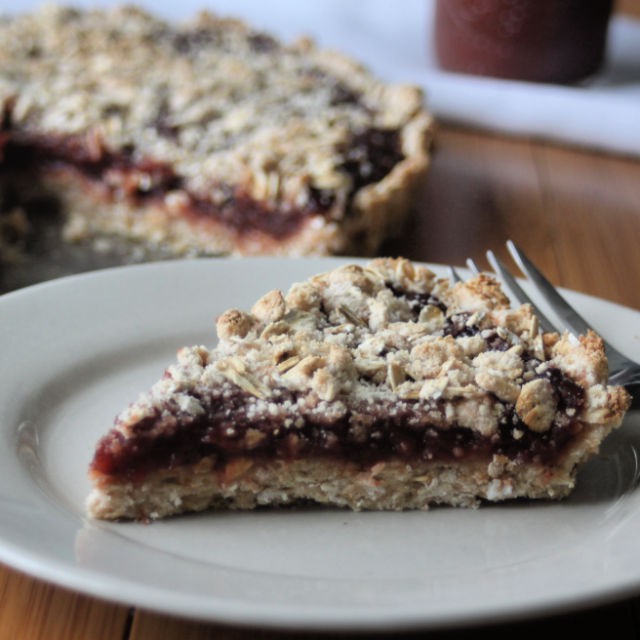 Make this gluten-free jam tart to feature homemade jams for your next potluck or dinner feast.
Ingredients
1 Cup Almond Meal
1 ⅓ Cup Oats
1 Cup Brown Rice Flour
½ Cup Brown Sugar, Packed (Optional)
1 teaspoon Salt
½ Cup Unsweetened Applesauce
2 Cups Jam
Instructions
Preheat oven to 375 degrees. Grease a 9.5" tart pan
Combine all the ingredients except for the jam and mix well. It should resemble moistened crumbs.
Press all but 2/3 cup of the crumbs into the bottom and up the sides of your tart pan.
Spread your jam over the crust. Sprinkle the remaining crumbs over the jam.
Bake in preheated oven for 25 to 30 minutes, the edges will be browned. Allow to cool completely before slicing.