We're soup people, especially in the fall and winter. A slow-cooked soup is a wonderful thing on a weekend. There are nights after work or work-day lunches when something quick is an absolute necessity. We are not pre-made, store bought canned soup people, however. The best way in my experience to get that quick fix is by home canning soup when produce is fresh and abundant.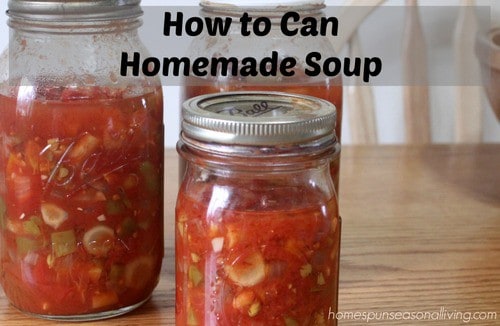 If you have a pressure canner (affiliate link), home canning soup is easy, safe, and tasty. You don't need any recipes, either. Just use whatever ingredients you have on hand and follow these very simple guidelines:
1. Proper Processing Time:
Process to the ingredient that needs the longest amount of time in the canner. In the photo above, my soup included tomatoes, carrots, green beans, onions, green peppers, and herbs. Onions are the ingredient that need to be canned the longest, so the soup was processed at 15 pounds of pressure (for my elevation) for 40 minutes. If you add meat or dried beans, those are most likely going to be the longest time but cabbage and a few other greens need long processing time. The National Center for Home Food Preservation has some great (and free) info sheets that include processing times if you need to make sure you're using the most up-to-date information for safe processing. Knowing those processing times is essential and the Ball Complete Book of Home Preserving (affiliate link) is a mighty fine resource to have in your canning library.
2. Thicken Later:
Don't pressure can with flour or other thickeners. Thicken your soup or stew with a roux or slurry when you open the jar and plan to eat it.
[sc:UBFood ]
3. No grains:
Rice and noodles will not generally stand up to the canning process (I've read articles stating they will but all the trusted sources say no). Add cooked rice, noodles, quinoa, etc. at the time of reheating.
4. Forget the dairy, too:
Dairy products aren't considered safe for canning. Add cream or cheese when you're preparing it for your meal if the particular soup needs it. While I'd love to find a homemade version of cream of mushroom soup to can myself, I haven't found a safe source yet.
Those are the basics. I tend to just make soup when I have little bits of things needing used up. Some tomatoes instead of a more traditional broth with the end of season green beans and some carrots, etc. It's a simple process, overall and makes great, frugal use of every garden odd and end without feeling like you need to eat it all before it goes bad.
Any favorite home-made soup recipes that you can for quick winter eating?
The extra large head-space in my jars is from using chunks of tomatoes with very little added juice, think of canning tomatoes with no added water. The tomatoes cook down in the canning process leaving more head-space than you had originally. It's perfectly safe and normal.
[sc:Useadsenselarge ]
Shared with Waste Not, Want Not Wednesdays & HomeAcre Hop & Simple Lives Thursday & From the Farm & Farmgirl Friday & Unprocessed Fridays & The Creative Home & Garden & Homemade Mondays & Homestead Barn Hop