Fire Cider is an herbal remedy made most famous by Rosemary Gladstar, but my understanding is that the remedy has been around for a very long time. There are bunches of different recipes and ways to make it though almost all seem to have apple cider vinegar, horseradish, ginger, onion, and garlic. There are variations that include hot peppers, citrus zest, turmeric, rosemary, ginseng, and other herbs. I imagine it's like most herbal remedies in that we use what's local and easily available to us to create something potent and easily duplicated. I started making fire cider last winter, even though I'd known about it for years. It's now become a regular part of our daily health habits and one I do believe that helps us with some particular health issues.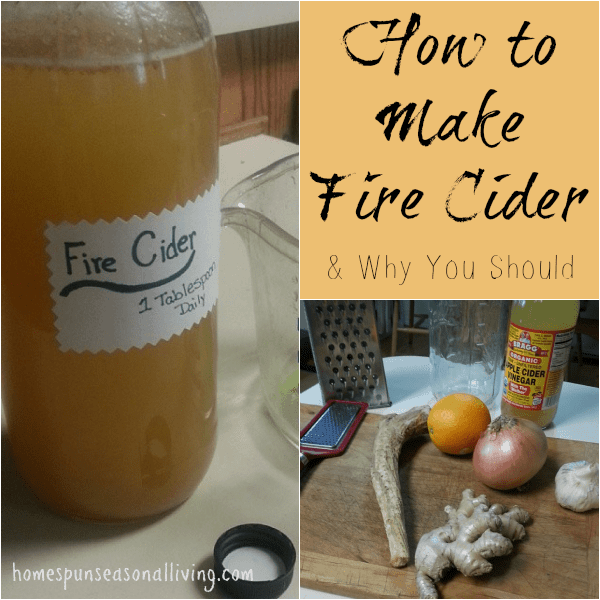 Why Fire Cider?
The ingredients are chock-full of anti-microbial and anti-inflammatory properties as well as being a decongestant and mover of circulation. It's a simple tonic, full of easy to find ingredients that when taken daily help flush inflammation from the body as well as just generally move the blood around and keep us warm. It also helps with digestion because it stimulates gastric juices, which can really help with bloating and other issues. All of it's decongestant and antibacterial properties make it great remedy to have on hand for cold & flu season.
How to Make Fire Cider
I generally make a double batch and always keep a batch infusing in the cupboard so we never run out. Here's my general recipe:
Fire Cider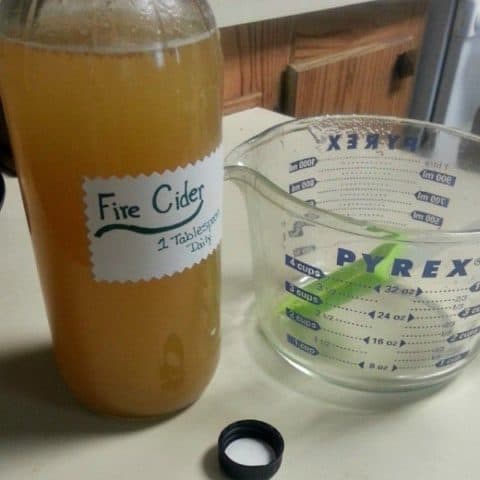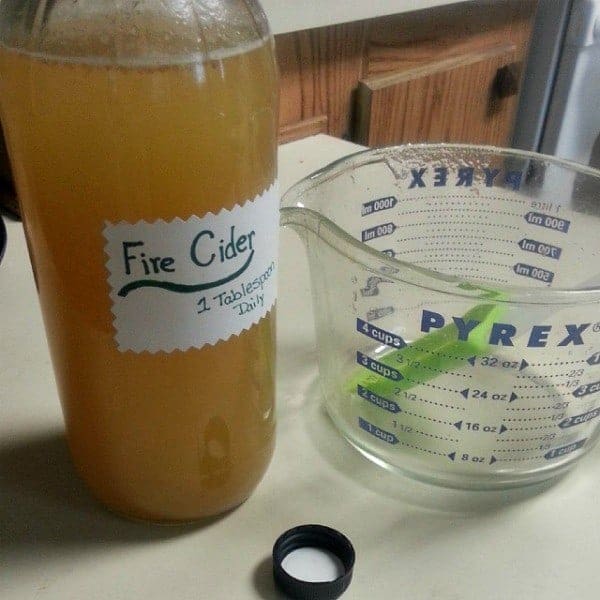 Learn how to make fire cider - an inflammation flushing, digestive aid, and antibacterial tonic for the home medicine chest.
Ingredients
½ Cup Grated Ginger
½ Cup Chopped Horseradish Root
1 Large Onion, Sliced
10 Cloves Garlic, Minced
Zest of 2 Oranges
1 Quart of Apple Cider Vinegar
¼ Cup Honey (more or less to taste)
Instructions
In a half gallon glass jar, add the ginger, horseradish, onion, garlic, and orange zest.
Pour the apple cider vinegar over all.
Put a lid on it and give it a good shake. Place in a dark cupboard for a month, giving a shake now and then when you remember.
At the end of the month, strain out the solid ingredients. Add the honey to the liquid fire cider and store in an airtight glass bottle.
Notes
Change it up by adding fresh herbs, cayenne pepper, red pepper flakes, chopped jalapenos, etc. as desired.
Using Fire Cider
Take a tablespoon every day to help with inflammation and digestion. If a cold is coming on, take an extra dose or two throughout the day until the immune system feels back to normal.
Is fire cider part of your herbal health routine? What variations do you make to your recipe?