Pansies are one of the most special blooms of summer if you ask me. They're big and colorful, bright and cheerful. They tend to be abundant blooms all summer long too, which is always quite nice. These beautiful blooms are also edible making them ideal decorations for baked goods and salads. Baked goods like these incredibly easy infused vinegar pansy cookies.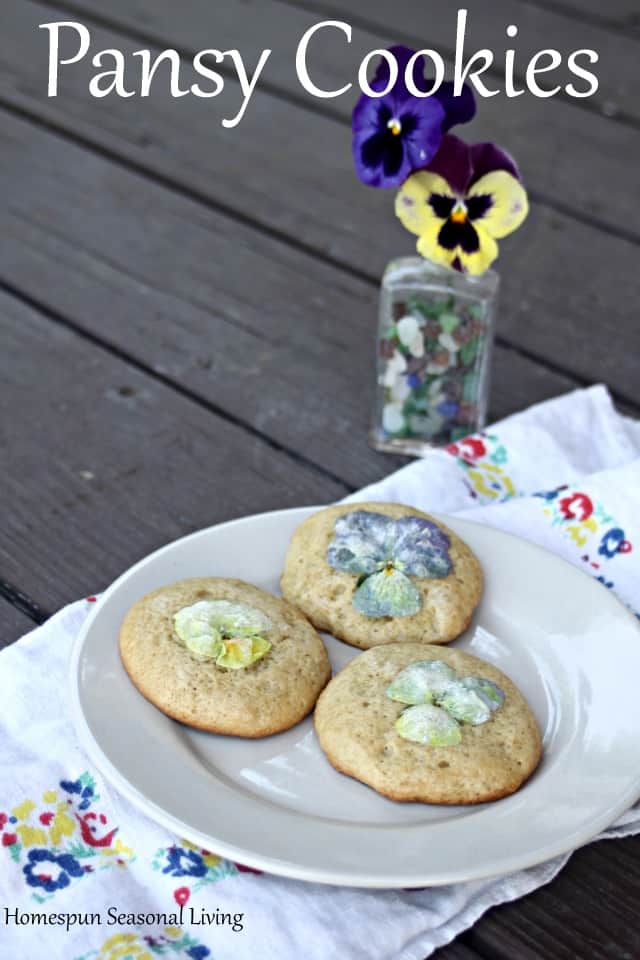 Choosing Pansies
Go with organic pansies. If you don't grow your own, find pansies being sold specifically for food – local farms and/or other gardeners are likely to be the best bet. Flowers from a florist might have some kind of preservative or other chemical sprayed on them and most likely aren't for eating.
This year, I grew my own pansies from seed, specifically for using them in food dishes. I chose a variety called Swiss Giant and they do indeed have large flowers. I wanted the large flowers for pressing and crafting as well as for showy food dishes.
If making large cookies, use large pansies. Choose smaller blooms for smaller cookies. Small blooms get lost on the large cookies. If possible, choose bright and darker colors. The pansies loose a little color in the baking process so the dark colors stand out better.
Infused Vinegar
While you can buy flavored vinegar, making your own is super easy too. It's tasty and makes for easy, wonderful gifts. Infused vinegar can be made from the peels and other scraps, frozen berries, as well as herbs and flowers. However, beyond salad dressing and maybe hot & sour soup, we don't often have a ton of use for those infused vinegars. These pansy cookies are a great way to use that infused vinegar. The flavor of the berries or herbs will come through but I promise these cookies do not taste like vinegar.
You could skip the pansy decoration and simply make the infused vinegar cookies as a delightful homegrown and homemade gift.
Options to Customize
These cookies are full of simple ingredients that come together easily for delicious and beautiful gifts. These simple ingredients also leave plenty of room for switching it up a little.
Use any vinegar, infused or not, be aware the color will come through if using balsamic or infused vinegars that take on the color of what was infused.
Substitute lime, lemon or even orange juice and for the vinegar. Add a tablespoon or so of zest as well.
Use olive oil or liquid coconut oil instead of melted butter for a different flavor profile.
Any edible flower or flower petals could be substituted for the pansies – consider wild roses, violets, calendula, even nasturtiums (though they might be a bit peppery)
While whole flowers are beautiful, consider just arranging loose petals in attractive designs on the cookie.
Infused Vinegar Pansy Cookies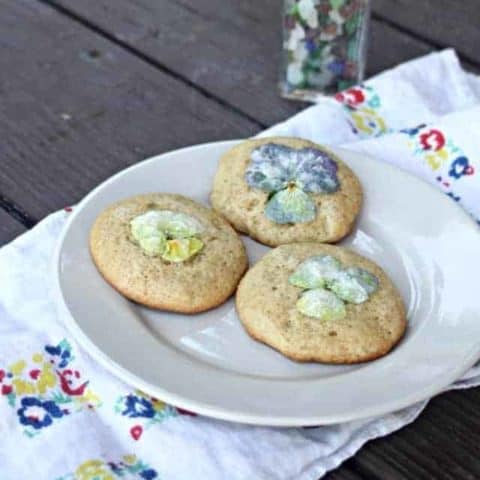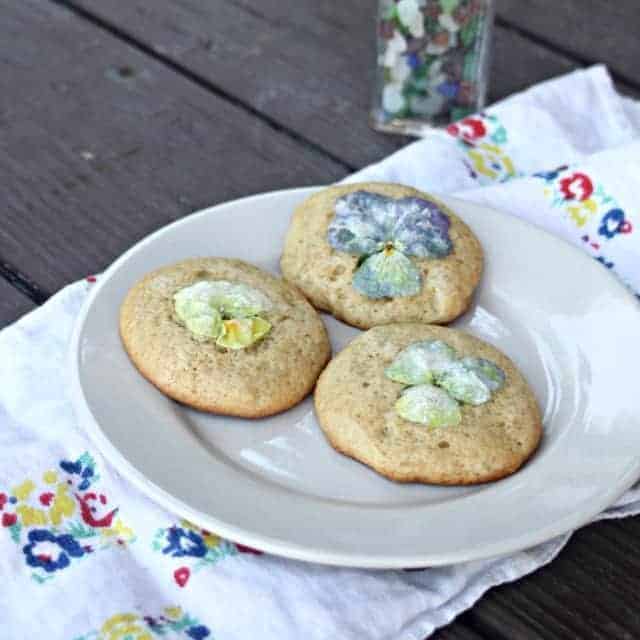 Use the edible flowers of summer as delightful decorations on easy to whip up pansy cookies that are as tasty as they are beautiful.
Ingredients
2 Cups Unbleached, All-Purpose Flour
1 teaspoon Baking Soda
½ teaspoon Salt
⅔ Cup Brown Sugar, packed
⅓ Cup Butter, melted
¼ Cup Infused Vinegar
1 Egg
Pansy Decorations:
18 Large Pansies
1 Egg White
1 Tablespoon Water
Sugar for Topping: Bakers, Dusting or Granulated
Instructions
Preparing the Pansies
Rinse the pansy blooms in cold water, then let sit on a towel until all the surface moisture has dried off. Normally, a salad spinner is a great idea to remove surface water and it can be done here but be gentle. Pansies are delicate and the salad spinner may do more harm to their natural beauty than would be desired for cookie decorating.
Trim most of the stem off the pansy. Don't cut it completely apart as the petals will likely come apart and that's not the idea. Keep the flower petals together. Set aside until ready to use.
Make the Cookies:
Preheat oven to 350 degrees. Line cookie sheets with parchment paper or silicone baking mats.
Whisk together the flour, baking powder, salt, and lemon zest. Set aside.
Whisk together the brown sugar, melted butter, lemon juice, and egg until thoroughly combined.
Pour the wet ingredients into the dry and mix completely.
Drop the dough by large spoonfuls (or a #40 cookie scoop) onto the prepared trays. Space at least 2" apart.
Decorating the Cookies:
Whisk together the egg white and water until frothy. Using a pastry brush, brush the top of raw cookie with egg white wash. Place the pansy bloom on top of the cookie, press lightly into cookie. Brush the top of the pansy with the egg white wash. Sprinkle the flower and top of the cookie with sugar. Repeat on each cookie.
Bake the cookies in the preheated oven for 10-12 minutes or until edges are golden.
Cool on wire racks.