Once a month, I'm featuring inspiring and encouraging interviews with other do-it-yourselfers. The interviews remind us to follow our passions and ignore things that aren't priorities all while giving us tips and resources for our own fiercely D.I.Y lifestyles. This month Jessica from The 104 Homestead tells us about her fiercely D.I.Y. life.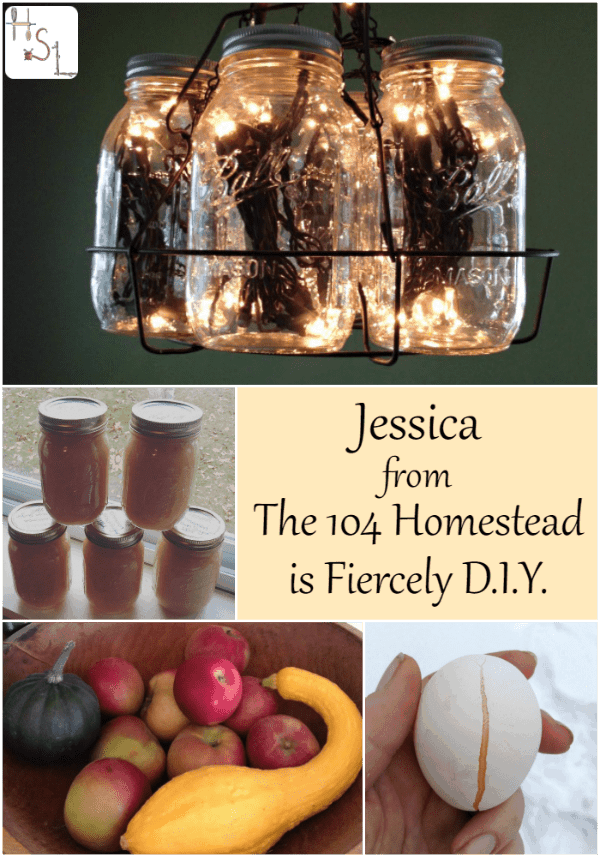 1) What's your favorite DIY project or hobby? Why? What about that gives you the most satisfaction / joy?
I truly enjoy making old things into something new. It use to be considered something cheap people would do. In recent history, it was deemed "frugal." Now they've put the label of "upcycle" on it and it's the hip new thing to do. I enjoy finding a new use for things that seemingly have no value. I enjoy window shopping and thinking "I can make something just like that with things I already have." I spend more time browsing Pinterest for ideas and inspiration than I possibly should, but there is no better satisfaction than when people ask where I got something and I can puff out my chest and say I made it from oddball things I found around the house or at the thrift store.
Some of my favorite trash-to-treasure projects involve reusing pill bottles and old bed sheets. My pride and joy is my new chandelier in the kitchen. I saw one I loved on Etsy and recreated it myself with a string of Christmas lights, some quart mason jars, and an old canning rack. It took a few tried to get it just right, but I absolutely love it.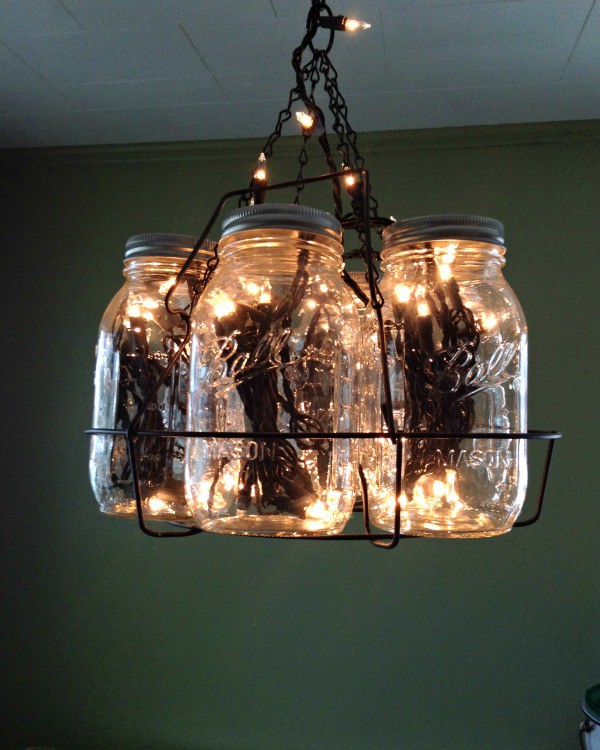 2) What's the DIY project you don't do or practice? Why? What is it about that project that makes you not want to do it or doesn't provide satisfaction / joy? Assuming it's something you need or use in your daily what do you do instead?
I don't make all the products for my home, even though I know how to. I perfected a recipe for laundry detergent that does wonders for our clothes, but I just don't enjoy the process or the time I need to invest. With three messy children and a husband that spends a lot of time tinkering in the garage, it seemed like I was making a new batch of laundry detergent ever week. I'd rather be crafting or sipping coffee with good friends.
Even though I don't want to make it from scratch, what I use for cleaning our clothes is still important to me. Chemicals in some commercial detergents can get onto or into your skin. I found a local source, a woman who makes it in her home, so I can get the benefits of homemade without the work.
3) What's best bit of DIY advice you've been given? Or the best tip you'd give someone else?
My best tip is that there is no award given to the thriftiest or DIYest person. You do what you can do, and you don't allow yourself to feel guilty if you can't do it all. A great example is cooking from scratch. I take pride in making the majority of meals at home, but I'm a mom (and a busy one at that). I use to feel guilty when I went out to buy a frozen meal. One day I confessed to my "sins" online and people applauded me. They all did the same thing and felt the same shame. It was easy for me to point out how silly they were being. Why was it so hard for me to see how silly it is when I feel that way? It's about progress, not perfection.
4) What is your most trusted DIY resource? For example, a book or website, podcast, etc. And why?
As I said, I am a huge fan of Pinterest, but beware, it's highly addictive. I also like to use my own know-how to figure things out. Often when I think of how things work, I can figure it out myself. Many times things aren't as complex as they may seem.
5) Tell us about yourself.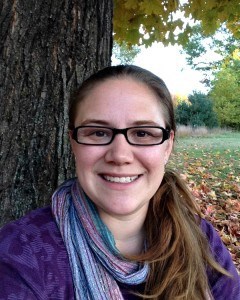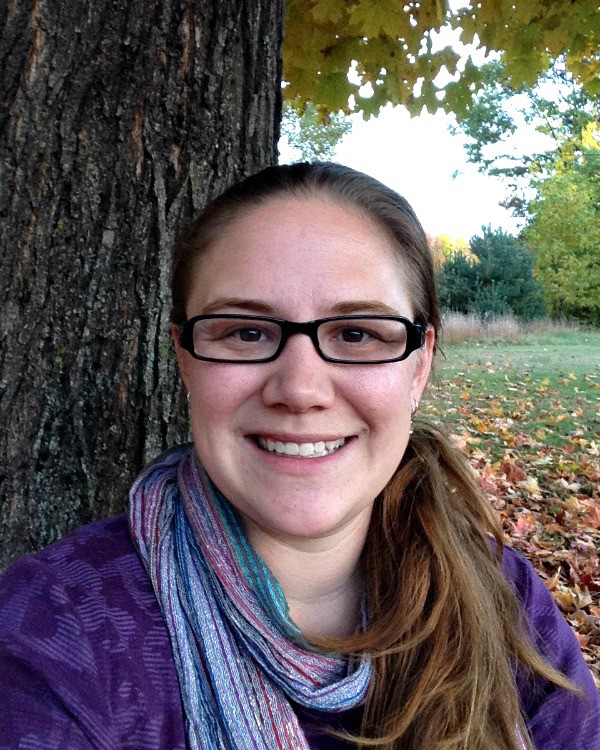 Jessica Lane is a stay-at-home mom with three young children and a husband, living in Maine. She homesteads on ¼ acre, where she has a menagerie of ducks, chickens, and quail. She is the author and owner of The 104 Homestead where she teaches readers to overcome the challenges of homesteading where they live and find their own, unique way to live simply. Jessica has written several homesteading books and teaches classes in her hometown. It is her mission to see a chicken coop and/or garden in every town.