Kristi doesn't do it all either. She's an amazing blogger and homesteader but she celebrates her simple life without feeling like she needs to do it all.
Kristi's interview is part of the ongoing I Don't Do It All Series.
1. Tell us about yourself, your homestead, your family, and what you 'do' with your days.
I'm Kristi, a 46 year old modern homesteader living in an old farming community in Southern California. I am married to Todd, my best friend and husband of 24 years, and we have three children together (2 adults, 1 teen). I homeschool my daughter who is 15 years old, she is my last one (we graduated the other two from our homeschool), which will make that job one that I have managed to keep at for 20 years even. I am a blogger at The Mind to Homestead, and a podcaster at The Survival Moms Radio Network where I spend much of my time creating content to share on the topic of homesteading and all that it entails so that aspiring modern homesteaders can follow their dreams, just like I am trying to do.
We live on .18 of an acre, and do our best to do all we can with our small piece of land. I garden portions of my 300 square feet of garden at any given time of the year, as we have a year-round growing season. We have seven or so fruit trees that we tend, and are coaxing a berry patch as well. We raise a very small herd of three rabbits, a miniscule flock of two laying hens, and we have three cats and two dogs. One of the rabbits is a retired show rabbit, one is a fiber rabbit, and one is a pet. The hens are Red Sexlinks and lay almost daily.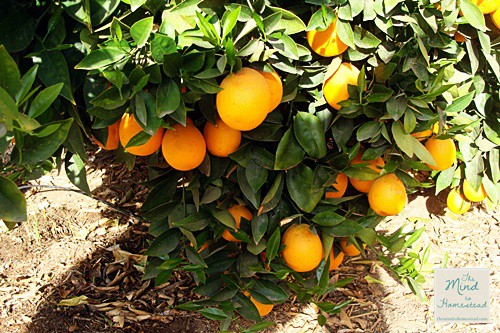 I take an herbal course and am learning to make our own medicine out of the herbs I grow and purchase online. I can and preserve some of our food and cook from scratch as much as I have time for. I love to sew and crochet.
In any given day, you can find me homeschooling my daughter, caring for our household, and blogging. On weekends is when I do most of my outdoor work, with the exception of caring for the animals' needs on a daily basis.
2. Obviously, with everything you do in a day, there has to be things you don't do. What are those things?
Yes, of course. I tend to save outdoor homesteading jobs for the weekend, so I don't do much gardening or in-depth cleaning of the coop or hutch during the week days. On a more broad basis, I don't garden all 300 square feet of garden all at the same time due to the fact that we have a year-round growing season, and it's difficult to keep each raised bed full and timed just right. I don't compost the way that most do, with the proper proportions of green and brown material—I pretty much just dump everything in and hope for the best. I don't always make my bread, though I know how very well. I don't make everything from scratch, and I still get much of my groceries from Costco, which my family prefers in some cases. I don't raise my own meat. I don't sew for the whole family, or crochet as much as I would like to. My house is clean, but cluttered in some areas, which can be difficult with a small home. I don't weed my yard until I need the space for something else, or it gets super out of hand.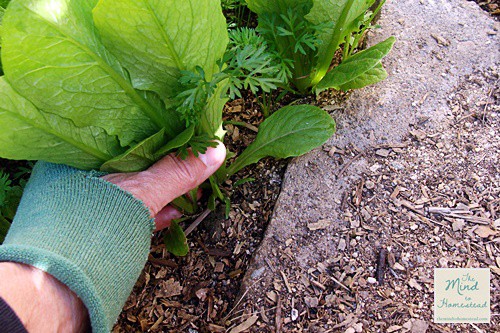 3. How do you manage your limited time? How do you choose which tasks / chores / plans become priorities while other things are discarded?
I manage my time by using a schedule and notebook for the most part. I also compartmentalize certain jobs to happen on certain days, such as outdoor work—that happens on the weekends. I figure that taking care of the daily needs of my family and the animals needs to come first.
I try my best to optimize the little time I have by using routines for my daily tasks. Keeping a regular routine ensures that everything gets done when it needs to. I also try to find easy ways to do things, like composting. Since I don't have time to study and practice the exact science of composting, I tend to throw everything into one garden plot and let it compost right in the garden, which cuts back on how much time I spend on it all from kitchen to garden. I have all of my gardens on a watering system, or they would probably all die! I even have my watering can on that same system so it refills automatically right in my greenhouse, making it easy for me to care for the plants in there.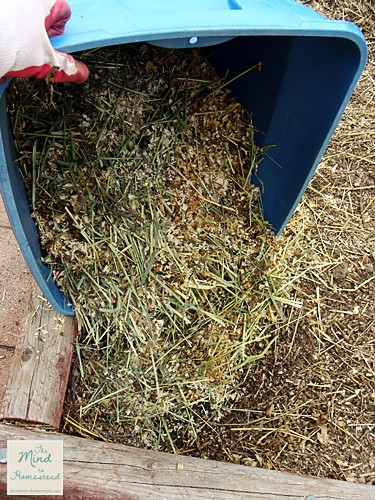 4. What words of encouragement would you offer to others looking to maximize their time while also not feeling pressure to 'do it all'?
I would suggest routines that are able to be memorized and done automatically each day. They are invaluable to getting the right things done by the right time, and freeing up your brain to move on to the next thing that needs to be done, or that you might want to do. That is the biggest key to making things more workable for me.
I also suggest letting things go. Be realistic about what you can actually do each day—what you have time and energy for. Just because there are 24 hours in a day, doesn't mean that you will have them at your disposal. Plan on the very basics, get those done, then go from there.
In the kitchen, learn that you don't have to make everything from scratch if you can find a good product to rely on. Don't cook/can/preserve foods that your family won't eat—that's wasted precious time. Surrender to the fact that you can't do it all. I promise, you won't be less of a homesteader if you don't do what everyone else is doing, or even live up to the standards that you have for yourself.