Composting has been part of my life for as long as I can remember. I've learned new things over the years, tried different methods, and improved my overall understanding of the process. On our homestead now, we practice many composting methods. Each has different benefits and reasons for us but all give us amazing compost and compost tea to keep our soil fertile.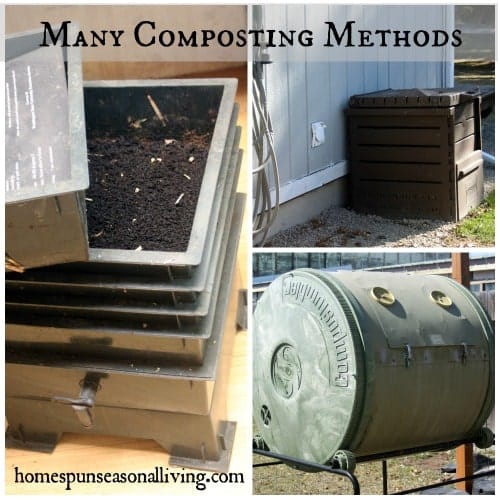 Method 1 : Vermicomposting
When we lived on a very tiny lot in town, we didn't want to take up any valuable outdoor space with a traditional compost pile. That small lot and the book, Worms Eat My Garbage, got us started with vermicomposting – composting with worms. We started by building a small bin out of wood from plans we found online. We kept this bin on a piece of plastic in our guest room. This didn't work at all for us. Worm bins need a way to drain off a lot of incredibly valuable worm water and the home made bin just didn't give us that option. We eventually upgraded to a tower model, which is a stackable system, that allows the worms to move up through the bin eating the food scraps. The bottom bin has a spout in order to pour off the worm water and easily collect in a bottle.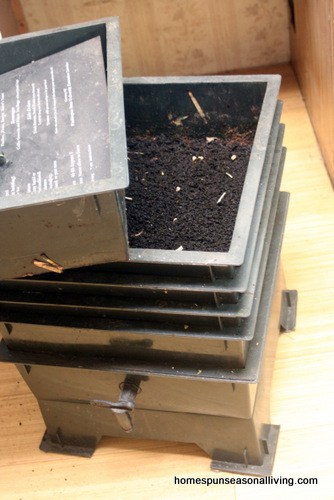 We still keep the worm bin in our kitchen. No it doesn't smell. It's a convenient and fast method of producing compost and the worm water is an amazing thing to pour on potted plants and seedlings. We learned early on, however; that fruit in the worm bin attracted fruit flies. Even with homemade traps, we found this annoying. We don't put fruit in the worm bin these days, fruit goes in one of our outdoor bins.
Method 2 : Traditional Outdoor Bin
We have this great plastic bin close to the side door nearest our kitchen. This bin gets a lot of our fruit scraps, grass clippings, leaves, egg shells, and more. This bin is more like a traditional compost pile that would get turned and emptied as possible. The great thing about this bin is that there is a little door at the bottom that slides up and lets us dig out composted material from the bottom for spreading on the garden. The other nice thing about this one is that it keeps it from getting covered in snow in winter and allows us to throw things in there all winter long.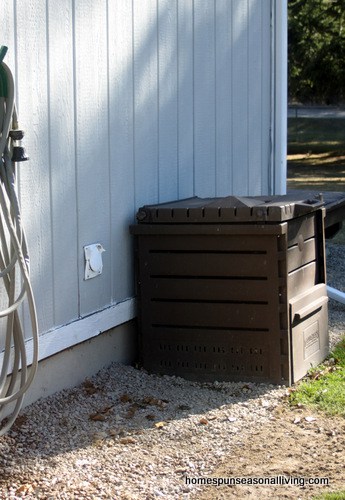 Method 3 : A Tumbler
There are bunches of different variations on this Tumbler method. Essentially, you put your food scraps, clippings, etc. in here to compost giving it a turn every day to aerate and break down more rapidly. We've found that the metal helps keep the items inside hotter in the summer which also helps it break down faster.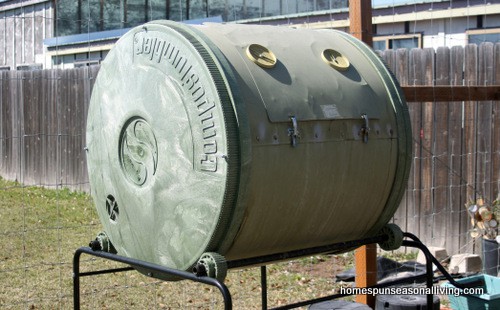 In the end, it might seem a bit like overkill to use so many composting methods on one homestead, but I haven't yet found myself worried about having too much compost to use in our food production.
What's your favorite composting method?
[sc:Useadsenselarge ]