Melons are a difficult thing to grow for me here in my northwestern Montana garden. I try it every year though because I really enjoy melons. This year was no different, I tried but didn't hold out much hope as we got into September that the melons would actually ripen. Most of the melons didn't ripen as we moved to harvest everything before more frosty weather hits us this week. A few did ripen, though they were not at all tasty. The melons were bland at best but needed using. Jam to the rescue, specifically Melon Star Anise Jam.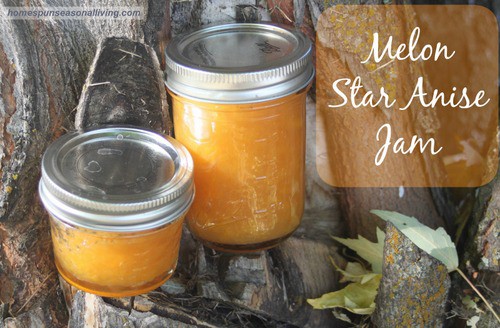 [sc:Adsense ]
Musk Melon Star Anise Jam
Melon Star Anise Jam is a great way to use up ripe but otherwise bland flavored melons.
Ingredients
3 Pounds Musk Melon / Cantaloupe Peeled, Seeded, and Diced
1 Cup Sugar
3 Whole Star Anise
2 Tablespoons Lemon Juice
1 Pouch Liquid Pectin
Instructions
Combine the melon, sugar, and star anise in a jam pot, mixing well.
Cover and let sit in the fridge overnight.
Uncover the melon mixture, add lemon juice and bring the melon mixture to a simmer over medium heat. Simmer for about 30 minutes.
Remove from heat and remove the star anise from the mixture.
Using a potato masher, mash the melon for a smooth mixture.
Put the mixture back on the stove and bring to a simmer.
Add the liquid pectin and boil hard for 1 minute.
Pour jam into hot sterile jars, leaving 1/4″ head space.
Process in a boiling water bath for 10 minutes