This is the time of year when many of us overeat and/or eat away from home, meaning we might be eating things we normally avoid. I'm not so staunch in my eating habits that I don't have room for that kind of thing. I eat well most of the time and allow for the occasional feast and pie for breakfast. However; I do know that these switches from the norm can wreak a little havoc on the digestive system. In order to prevent those tummy troubles, I practice a little preventative maintenance by munching on these seeds as a homemade natural digestive remedy.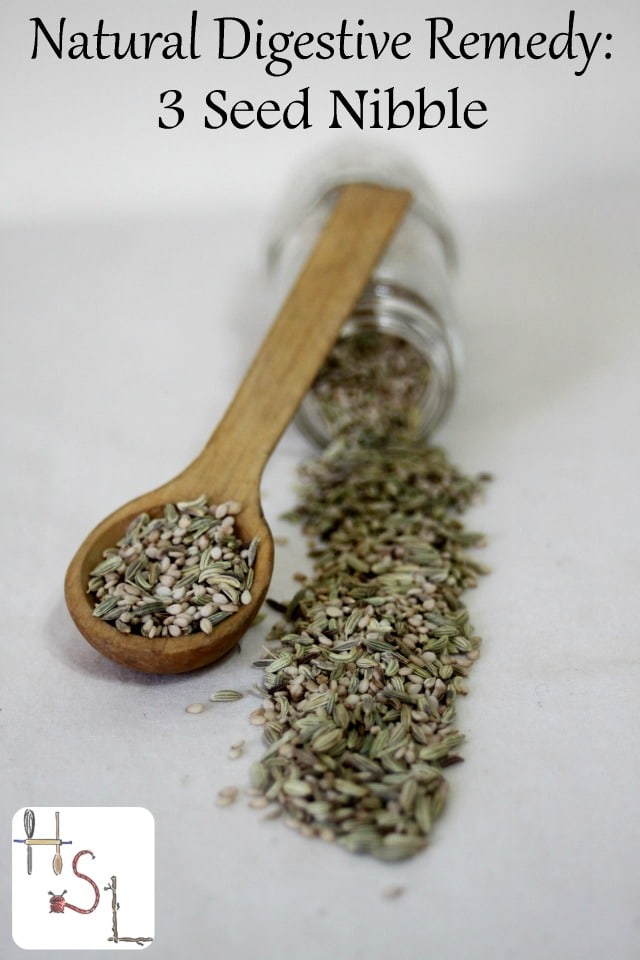 It's simple to whip a batch of these and easy enough to carry a small container along during travels to help your digestive system function well during holiday travels and feasts.
Why These 3 Seeds?
Sesame seeds help promote digestion and lubricate the intestines, which can help prevent and treat constipation.
Fennel seed has been known to help with nausea, belching, and bloating as well as with abdominal cramping associated with poor digestion.
Caraway seeds can help prevent gas and bloating.
How to Use the 3 Seed Nibble as a Natural Digestive Remedy
After a meal, simply chew well on a teaspoon full of the seeds. Really take time to chew the seeds and crush them with your teeth before swallowing. This chewing will help release all of the beneficial oils from the seeds and make them more digestible and absorbable by the body.
Natural Digestive Remedy: 3 Seed Nibble
Use the power of sesame, fennel, and caraway seeds as a simple and homemade natural digestive remedy that is also easy to pack along when traveling.
Instructions
Mix the seeds together with a spoon. Store in an airtight glass container.
Chew on one teaspoon after a meal to help aid digestion.