I seem to be on the hunt for quick, healthy breakfasts much of the time. We eat plenty of oatmeal and toast variations. I try not to eat too many sweet pastries as they don't generally fill me up for an active morning and well, the sugar is something I'm always trying to save for dessert. These pumpkin oat breakfast bars are a current favorite in our house. They have a hint of sweetness, from maple syrup, while also containing a good bit of filling fiber from the oats and the always satisfying crunch and protein from nuts.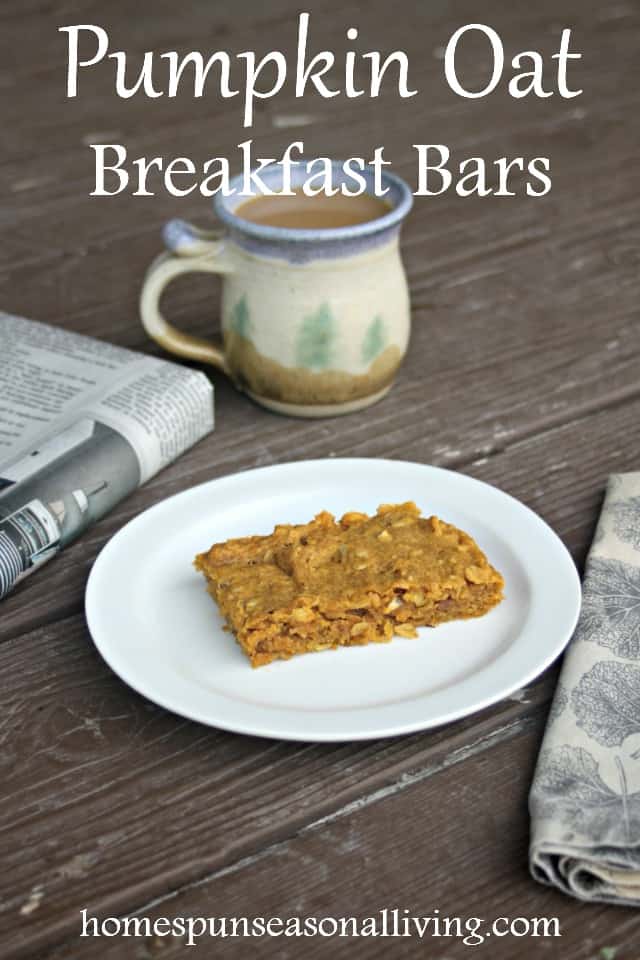 These breakfast bars have a hint of sweetness, from maple syrup, while also containing a good bit of filling fiber from the oats and the always satisfying crunch and protein from nuts.
Any Winter Squash Will Do
Feel free to use canned pumpkin or any cooked and pureed winter squash in this recipe. It's a great way to use up any bits of leftover squash from dinner, so don't get stuck in thinking it has to be the stuff from the store. Each squash will have its own flavor but not so different that a person would notice here.
Nuts or Seeds
Walnuts work well here but so does toasted hazelnuts. Any nut or mix of nuts on hand will work for added crunch and protein. Seeds would work too – pumpkin seeds seem like a natural choice but sunflower seeds too would be tasty.
Healthier Choices
The use of maple syrup instead of refined sugar gives these bars an extra moistness while also providing a nice bit of sweetness that doesn't overwhelm and in fact highlights the other flavors. I use a sprouted pastry flour in these bars, because it's slightly healthier but regular all-purpose will work just fine too. Rolled oats or quick-cooking will work equally well, so just use whatever is in the pantry.
Good Keepers
These will keep for several days covered at room temperature meaning it will provide several days worth of breakfasts for small families.  Double or triple for large families. Enjoy with a cup of coffee, tea, or milk for a tasty and leisurely breakfast. They pack well in lunch boxes too for those days when something on the run is needed. Freeze the bars for longer storage by cutting them into bars and storing in an airtight container.
Yield: 12 Muffins
Pumpkin Oat Breakfast Bars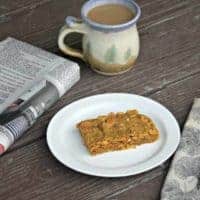 Power busy mornings with these quick & easy Pumpkin Oat Breakfast Bars packed full of healthy and flavorful ingredients sure to satisfy.
Ingredients
¾ Cup Butter, softened
½ Cup Maple Syrup
1 ½ Cups Cooked & Pureed Winter Squash / Canned Pumpkin
1 Egg
1 Cup Flour
1 Cup Oats
2 teaspoons Baking Powder
1 ½ teaspoons Ground Cinnamon
½ teaspoon Ground Ginger
½ teaspoon Allspice
½ teaspoon Salt
1 Cup Walnuts, chopped
Instructions
Preheat oven to 325 degrees Fahrenheit.
Grease a 9X13" pan.
In a bowl, whisk together the flour, oats, baking powder, and spices. Set aside.
In another bowl, cream the butter. Add the maple syrup and beat well. Add the egg and pureed winter squash, beating until thoroughly combined.
Pour the dry ingredients into the wet and stir until almost combined. Add the chopped nuts and mix until completely combined.
Spread the batter into an even layer in the prepared pan.
Bake in the preheated oven for 30-35 minutes or until the edges begin to brown and an inserted toothpick comes out clean.
Cool on a wire rack. Cover when storing.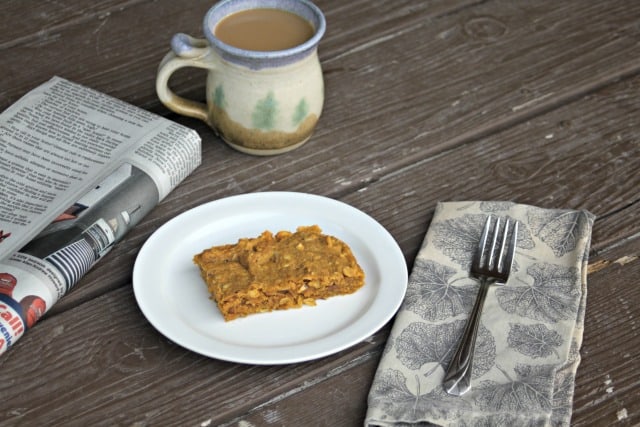 Disclaimer: I may receive compensation for products mentioned in this post. All opinions expressed are my own. I am not a doctor, always seek trained medical advice. No statements should be considered approved by the FDA or as a diagnosis or treatment for any illness. See my Full Disclaimer Here.