Over the weekend Purple Frog Gardens announced a great special on raspberries. A special I just couldn't pass up and on top of taking them up on their already screaming deal, they asked me if I'd be interested in trading for an extra 6 pints. Yes, always yes to a trade. I brought home 18 pints of gorgeous, tasty, plump raspberries that were just screaming for something special. We still had some Flathead Cherries too and well, they were begging to be combined and combined they were into some heavenly Raspberry Cherry Conserve.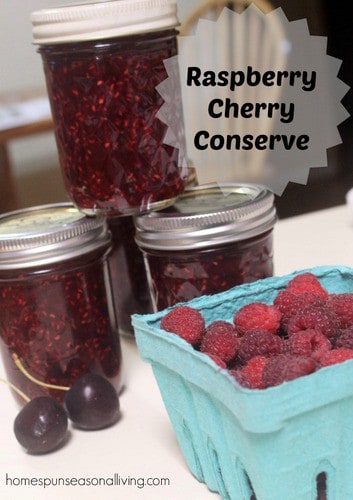 A conserve traditionally has fresh fruit, dried fruits, and nuts in it. Think of it as a nutty jam of sorts. I used a recipe from Putting It Up With Honey by Susan Geiskopf as inspiration. The recipe didn't include any dried fruits and frankly I felt like the cherries and raspberries didn't need much else. I changed the quantities quite a bit, using more raspberries and less cherries than she suggested, I also used less honey. I added the lemon juice to help it all set and it never hurts to bring up the acidity a bit I figure. In the end the results were tasty and I see the Raspberry Cherry Conserve going into many a jam tart later this winter. It's also super tasty in yogurt and I imagine would be great on oatmeal and ice cream and goodness the possibilities are endless.
Raspberry Cherry Conserve
A sweet, nutty jam, Raspberry Cherry Conserve, is a perfect preserve for use as filling in cookies and bars not to mention great in yogurt and oatmeal.
Ingredients
3 Cups Sweet Cherries, Pitted
4 Pints Raspberries
1 ½ Cups Honey
2 Tablespoons Lemon Juice
1 Cup Walnuts, Chopped
Instructions
Combine everything into a jam pot and cook, stirring often until the gel point is reached. Raspberries and cherries have a good amount of natural pectin if you let this cook long enough you won't need to add commercial pectin. It took me about 20 minutes to reach gel stage.
Pour the jam into hot, sterile jars. Leave 1/4" headspace. Process in a boiling water bath for 10 minutes, adding appropriate time for your elevation.
Notes
The recipe made 8 half pints for me. I canned 7 jars and simply stored one jar in the fridge for eating now.
Adapted from Putting it Up with Honey by Susan Geiskopf
[sc:Useadsenselarge ]