When life gets hectic and busy it can be hard to find time to cook let alone prepare healthy meals from whole foods. One of the easiest ways to do this I've found, is to roast a whole chicken on Sunday and use that for several meals during the week. Roast chicken in and of itself isn't fast, it does take a couple of hours but hands-on time is very short. Make this easy roasted chicken and have a great way to start several other quick, healthy meals at your beck and call.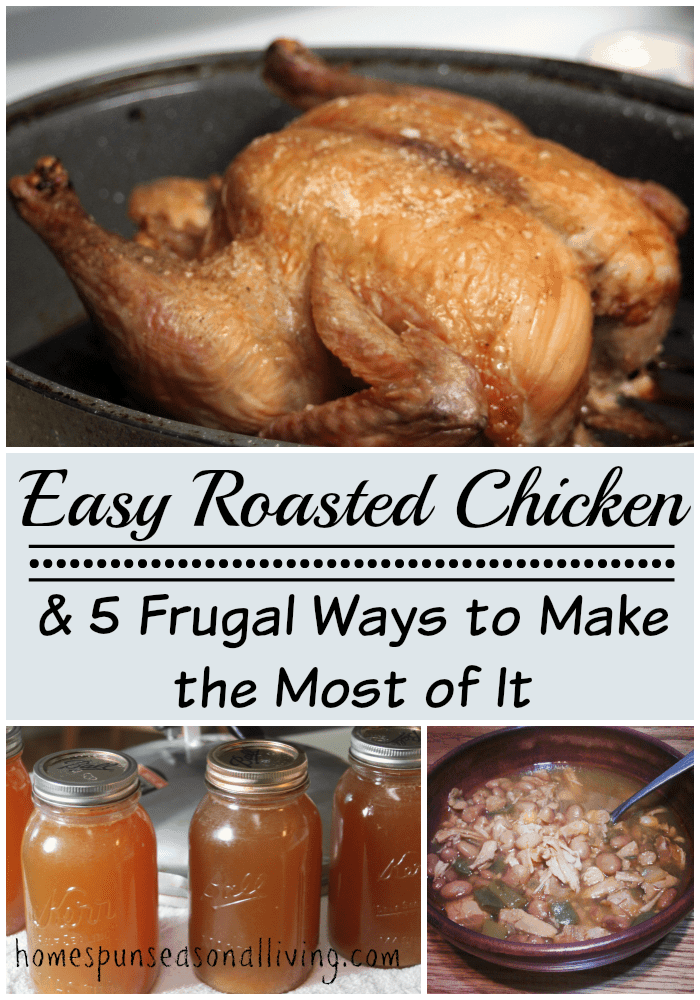 Easy Roasted Chicken
Preheat then to 350 degrees Fahrenheit. Remove the giblets from the chicken cavity (save these for stock or gravy later) give the cavity a rinse under running water. Pat the chicken dry and place in a roasting rack sitting in a roasting pan. Sprinkle the bird liberally with salt and pepper. Place in the oven, uncovered and roast until a meat thermometer inserted into the breast registers 165 degrees. Remove from the oven and let rest for 10 minutes. If planning to use the meat later and not eat right away, let it cool longer for easier carving.
All that meat easily spreads out into several meals that can be quickly prepared because the meat is already cooked. I see recipes all the time touting use of store-bought rotisserie chickens, but honestly roasting a whole chicken while you're doing other things in the house is easy enough and much, much more frugal.
5 Frugal Ways to Use Roasted Chicken
Once that meat is cooked, simply pull it from the carcass. Don't worry about carving it up for a pretty presentation, this is a time for simply pulling the meat from the bone for use in other dishes. Extend the meat even more by piling on the vegetables in whatever meal the chicken is used.
1. Chicken Taco Salads
This is a favorite at my house. Simply sauté some onions, garlic, and peppers in oil, add the chicken season with taco seasoning and serve with crispy corn tortillas, lettuce, salsa, cheese, etc.
2. Chicken Pinto Bean Chili
Put the chopped chicken and soaked pinto beans in a slow cooker with some corn, onions, peppers, garlic, chicken broth, and salsa. Season with salt, pepper, and cumin. Cook on low for 8 to 10 hours and enjoy.
3. BBQ Chicken Sandwiches
Shred the chicken and place into a saucepan, cover with BBQ sauce and serve over cornbread or on buns. Serve with a salad or baked beans to fill out a meal.
4. Chicken Stir-Fry
Chop up your veggies while the chicken roasts and store in the fridge until you're ready to make dinner for an extra bit of time savings. Sauté onions, mushrooms, garlic, snow-peas, carrots, etc. until just about done add the chicken heat through and add any sauce and rice you like. (I cook rice in the morning while I'm getting ready for work and just reheat it at dinner)
5. Chicken Broth
Put that carcass and giblets In a freezer bag and freeze until a small collection of 3 or 4 is amassed. Toss all of those into a soup pot with a quartered large onion, a head of garlic, some carrots, some celery, and some whole black peppercorns. Cover everything with water and simmer uncovered for about 8 hours. Strain and you have some amazing chicken broth for homemade soup. You can freeze or pressure can the broth.
What's your favorite way to use roasted chicken?
[sc:Useadsenselarge ]