One of the best, most fun parts of a having a garden is the challenge of using everything as it comes ready for harvest. The goal, for me, is to always eat fresh for as long as possible and only preserve when there's too much to possibly eat before it goes bad. When small bits of random ingredients come in, I'm always up for a stir-fry with rice or a pasta salad. Sometimes, however; I don't want the grain, I just want a giant bowl of vegetables or something to go on the side of a nice local pork chop.
That's exactly how this recipe came about, there were radishes (there are always radishes here) and there were snow peas and well why not combine them? I've sauteed both before but never together and decided to give it a whirl with some garlic and a healthy pinch of salt and pepper. These Stir-Fried Snow Peas and Radishes cook up in a flash and create a perfect garden-fresh side dish.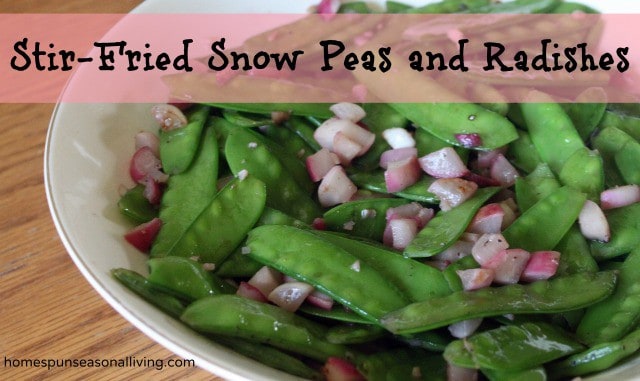 Stir-Fried Snow Peas & Radishes
A quick but oh so tasty side dish of stir-fried snow peas and radishes to make use of those garden harvests or CSA boxes.
Ingredients
12 Ounces Snow Peas, trimmed (about 5 cups)
1/2 Cup Radishes, diced
2 Cloves Garlic, minced
1 Tablespoon Butter or Olive Oil
Salt & Pepper to Taste
Instructions
Melt butter or heat oil in a large skillet. A
dd the snow peas, radishes, and garlic. Season with salt & pepper.
Cook over medium-high heat stirring frequently until the vegetables are beginning to get tender but still crisp (about 5-8 minutes). Serve warm.
Notes
This is delicious warm, however; leftovers are good cold over some crisp greens with a light vinaigrette for a tasty salad.
I imagine any type of edible pod pea would work here, so go for it if you have those sugar snaps instead of snow peas.