It's official. Summer is here. The weather is warm. The sun is bright. The garden is growing. The kids are bored (already). The calendar proclaims it. It is summer, for sure. I don't know about you, but salads are the way that we eat during the summer months. From those early summer days of mixed greens and pea shoots, to just pulling random veggies from the garden and throwing them on top of a bed of lettuce, summer salads happen a few times a week for us and those salads are dressed with homemade summer salad dressings.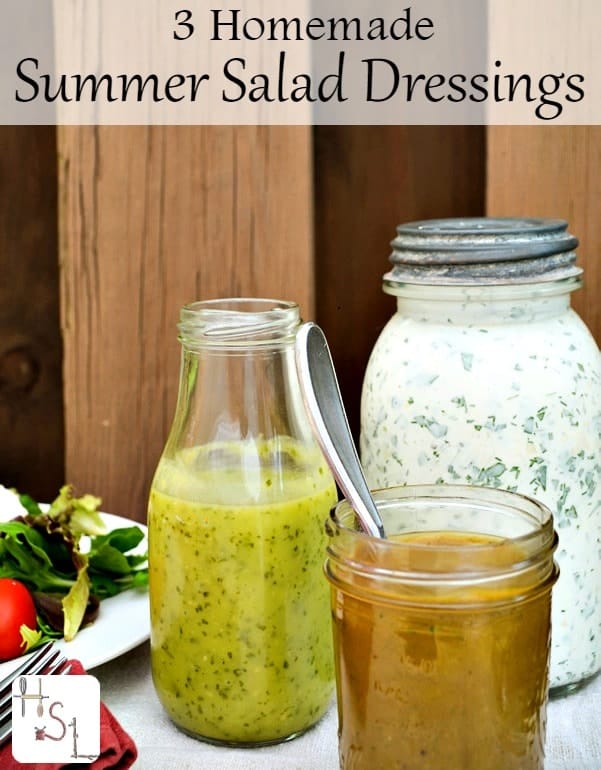 And, really, I'm so thankful, because there are some days that it is just too much to be stuck in the kitchen prepping dinner. Salads come together pretty quickly, especially with a little advanced work.
Usually, at the beginning of each week during these months I cook up a large batch of some protein to be added to salads throughout the week: usually some hardboiled eggs, chicken, or maybe a vegetarian taco mixture. It's handy to have those things already prepped for a quick lunch or dinner.
Fortunately, my children love salad, but, truth be told- it is largely because of their favorite salad dressings, or "sauce", as they call it. They love to dip things. Why do all children love to dip their foods? Whatever the reason, it works for my purposes of getting vegetables into their little bodies and a nutritious dinner on the table with little fuss.
We have some favorite salad dressings that are pretty much a staple in our fridge during these salad days, and they are Basil Balsamic Vinaigrette, Buttermilk Ranch and Creamy Avocado with Cilantro & Lime dressing.
Ditching the Bottles
A few years ago, as I was just making changed towards eating more whole foods and scratch cooking I realized that I had made all sorts of changes to get rid of processed foods from my cabinets and start growing more food in my yard. However, I would create these lovely salads and then put whatever dressing I had purchased from the store right on top. I know, seems like a no brainer to read the label, right?
Well, when I finally did, I realized what I now know– that salad dressings are filled with all sorts of ingredients that I would rather not put in my body. Whether it be added sugar or highly processed oils or things that aren't even food, the back of a salad dressing bottle is a scary place!
And really, to make your own salad dressing is super simple. Just some good quality ingredients, in some cases a blender, and a jar to store it in. Each of these dressings come together in 10 minutes or less, and you'll love having something delicious in your fridge to dip or drizzle over your summer veggies.
Basil Balsamic Vinaigrette
This is a yummy spin on a basic vinaigrette- with the addition of basil and the creamy texture of the emulsified olive oil, we just can't get enough of this one.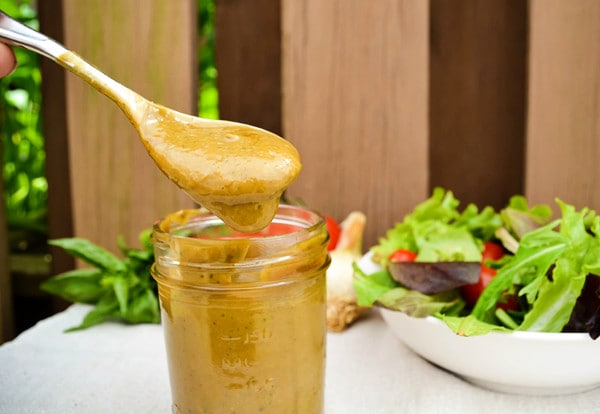 Print
Basil Balsamic Vinaigrette
Ingredients
6 Tablespoons Balsamic Vinegar
1 Clove Garlic
⅔ Cup Basil Leaves, loosely packed
2 Pinches Salt
Ground Black Pepper, to taste
1 Cup Olive Oil, divided
Instructions
Mix the vinegar, garlic, basil leaves, salt and pepper and half of the olive oil in a blender until the basil leaves are well combined. Stream the other half of the olive oil, blending until emulsified
Notes
Serve on just about anything…. It's delicious with tomatoes!
Buttermilk Ranch
It works well as both a dip for cut up veggies and as a dressing on a chopped salad.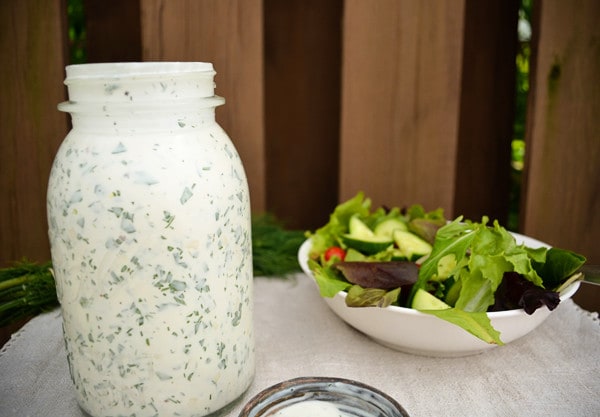 Print
Buttermilk Ranch
Ingredients
1 Cup Sour Cream
¾ Cup Buttermilk
¼  Cup Mayonnaise (homemade or storebought)
1 Tablespoon Lemon Juice
½ teaspoon Onion Powder
1 Large Clove Garlic, minced
4 Tablespoons Fresh Parsley, chopped
1 teaspoon Sea Salt
¼ teaspoon Ground Black Pepper
1 teaspoon Fresh Dill Weed, chopped (or ¼ teaspoon dried)
Instructions
Combine all ingredients into a quart mason jar. Seal tightly and shake vigorously.  This dressing is best when prepared at least an hour in advance to allow for the flavors to come together.
By Sarah Geissinger
Avocado Cilantro Lime Dressing
This dressing is excellent on any mixed green and veggie salad, but is particularly good on a taco salad, with all of the standard taco salad fixin's.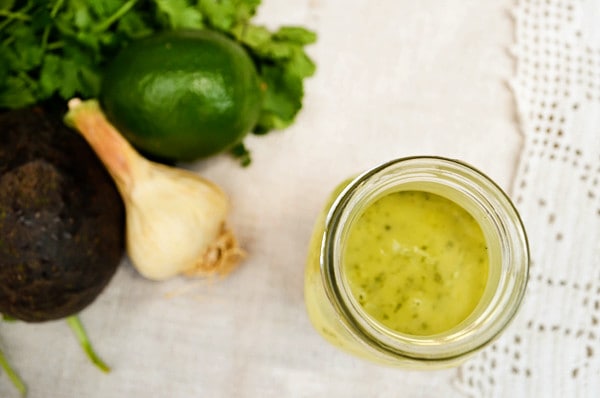 Print
Avocado Cilantro Lime Dressing
Ingredients
1 Large Ripe Avocado, peeled with core removed
1 Garlic Clove
1/2 Bunch Cilantro, stems removed
Juice from 2 Limes
2 Tablespoons Apple Cider Vinegar
2 Tablespoons Honey
1/2 Cup Olive Oil
1/4 Cup Water (less or more, depending on desired thickness)
Salt to taste
Instructions
Place the avocado, garlic, cilantro, lime juice, honey and apple cider vinegar in a food processor  or blender and pulse until smooth. Slowly stream in the olive oil until combined and then adjust the thickness by adding the water. Add salt to taste.
Notes
Keep in the refrigerator, covered, for up to one week.
What are your favorite salads to munch on during the summer?

Your Turn:
During the month of July dress your salads with homemade salad dressing. If you've done it before, join the conversation (either here in the comments or over at the Facebook group) and tell us about your recipes or how you used the ones in this posts. If you've never done it before, now's your chance to give it a try and let us know how it turned it out. Don't forget to tag your public social media posts with #fiercelydiy so we can all find each other and see how everyone's projects are working out.
Bio: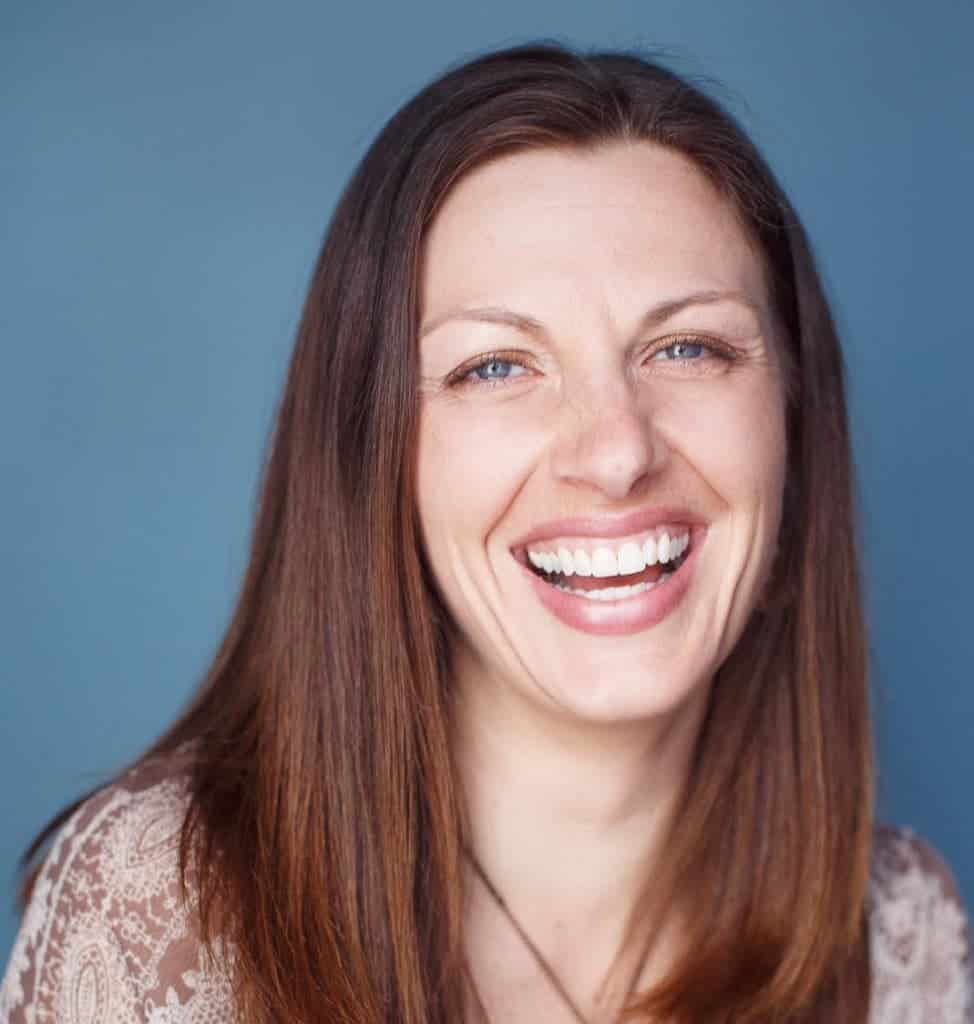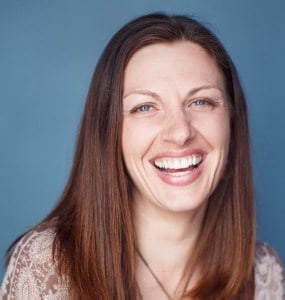 Sarah Geissinger is a teacher by trade, but when outside the walls of her history classroom, she is passionate about natural living, believing that food and natural remedies can heal our bodies and help us to live well. She loves helping others to start small, making shifts in their food and lifestyle to live more naturally. Sarah and her husband, Justin, live in Lancaster, Pennsylvania with their three children, where they love investing in their local community and their family home. Sarah blogs at Growing Granola.