We do a lot of cookie mailing. It's one of the best care package fillers and it seems everyone loves to get homemade cookies in the mail. The thing about mailing cookies is that they can't be delicate or break easily. We often turn to cowboy cookies and their many variations for shipping. These Sunflower White Chocolate Cowboy Cookies are sweet and hearty enough to stand up to the shipping process.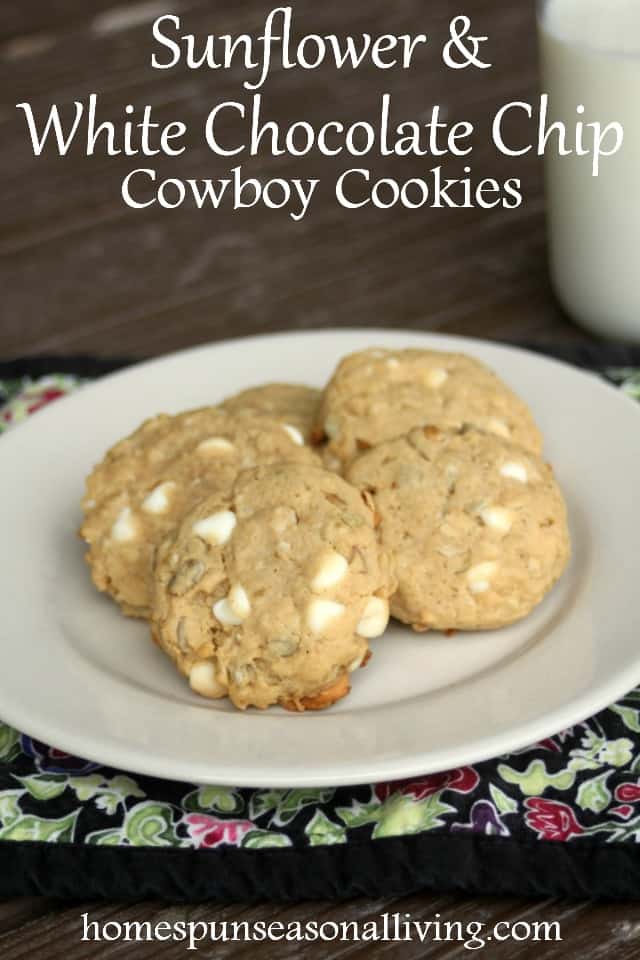 Easily Gluten-Free
Substitute the all-purpose with a gluten-free blend. I tried Bob's Red Mill's 1-to-1 flour blend to work perfectly in these cookies. Use gluten-free oats, too.
Peanut Free
These cowboy cookies are peanut free making them ideal for schools or other functions where peanut allergies are a concern. Use an unsweetened sunflower seed butter here for best results. There's plenty of sugar in the cookie without adding more in the seed butter.
Variations Abound
This recipe is truly tasty just as it is but there are options to switch it up too:
Switch out the sunflower seed butter for peanut butter and use crushed peanuts instead of sunflower seeds
Use tahini instead of sunflower seed butter and substitute sesame seeds for the sunflower seeds
Skip the seeds altogether and use any nut or seed butter
Use semi-sweet or milk chocolate chips for the white chocolate
Skip chocolate and use raisins or other small dried fruit instead
Sunflower White Chocolate Cowboy Cookies
Ingredients
1/2 Cup Butter, softened
1/2 Cup Sunflower Seed Butter
3/4 Cup Brown Sugar, packed
2 Eggs
2 teaspoons Vanilla Extract
1 1/2 Cups Flour or Gluten-Free Blend
1/2 teaspoon Baking Powder
1 Cup Oats (Gluten-Free if necessary)
1 Cup White Chocolate Chips
1/2 Cup Toasted Sunflower Seed Kernels
Instructions
Toast Sunflower Seed Kernels
Place sunflower seeds in a wide skillet, so that they can fit in a single layer. Place the pan over medium heat and stir frequently until the seeds begin to brown and the aroma fills the kitchen. Be careful to keep stirring and watch closely to prevent scorching. Remove from heat and allow to cool to room temperature.
Make the Cookies
Preheat oven to 375 degrees. Grease baking sheets or line with parchment / silicone baking sheets.
Cream together the butter, SunButter, and brown sugar until light and fluffy. Add the eggs and vanilla, beating until incorporated.
Slowly mix in the flour and baking powder until almost combined. Fold in the oats, white chocolate chips, and sunflower kernels until the dough is mixed well.
Drop Tablespoons of dough onto prepared baking sheets. Flatten the cookies slightly with the palm of the hand.
Bake in the preheated oven for 8 to 10 minutes, until the edges turn a golden brown.
Remove to cool completely on wire racks.
Notes
These cookies will stay fresh for at least 10 days, making them a great shipper for loved ones. The gluten-free cookies begin to get a little crumbly after about 7 days, though still tasty.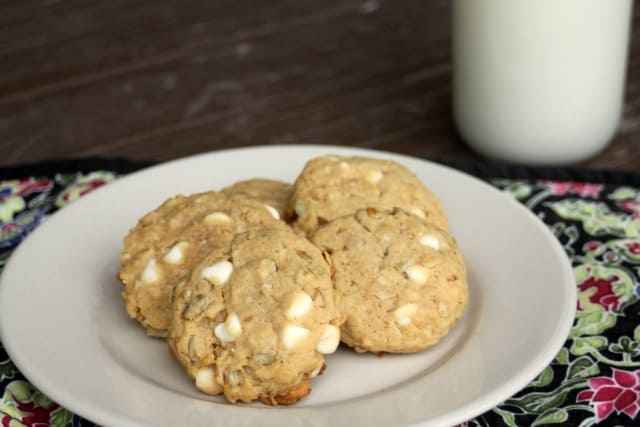 Disclaimer: I may receive compensation for products mentioned in this post. All opinions expressed are my own. I am not a doctor, always seek trained medical advice. No statements should be considered approved by the FDA or as a diagnosis or treatment for any illness. See my Full Disclaimer Here.