Homemade pizza is a truly amazing food. Though it might seem intimidating to make pizza from scratch, it is actually a relatively easy process especially when following these tips for great homemade pizza. Remember there is no right or wrong and that main rule should always be to follow family preferences.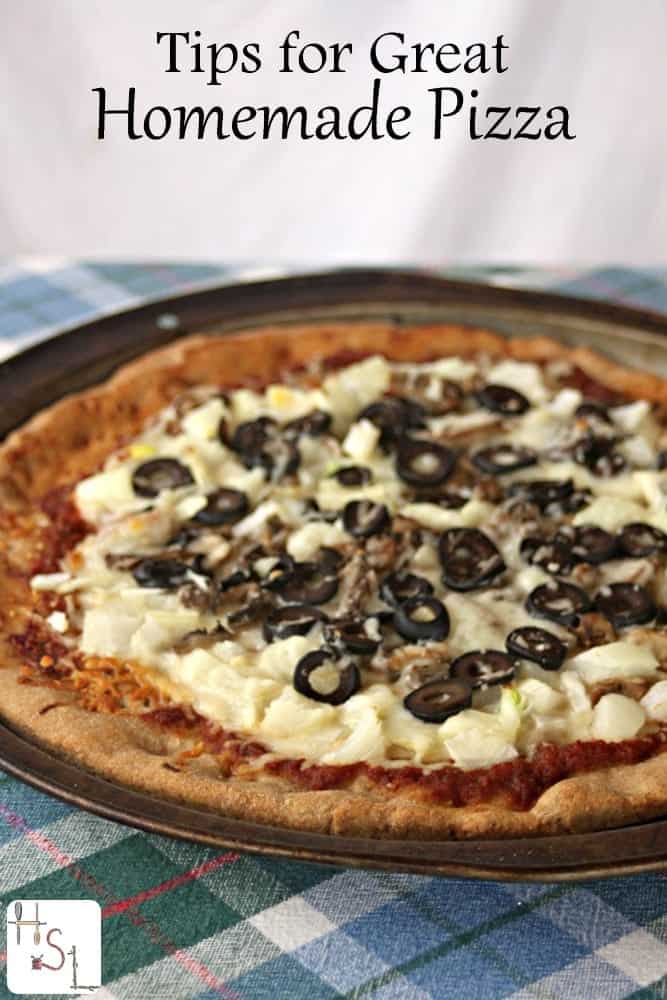 Homemade pizza is a great frugal meal choice too. It often makes use of odds and ends already into the kitchen: that little bit of cheese, the couple of mushrooms sitting in the crisper, a handful of greens from the garden, bits of leftover chicken from Sunday's dinner and so much more.
Start with a Good Crust
Homemade pizza dough is a relatively easy thing. We like ours extra crispy so, I roll the dough thin and pre-bake it for 10 minutes on a pizza stone in a 450 degree oven. Then top it and bake until cheese is melted and a bit browned.
Another option for crispy crust is to par bake it on a regular pan, top it, then finish baking directly on the oven rack.
In a rush, store bought pitas work for individual pizzas. French bread pizza can always be made from bakery bread as well. We've been known to use homemade rolls sliced in half. Truly any bread like substance will work but go for something natural if not making the dough from scratch for the best flavor.
Pizza Crust Options for Everyone:
Get Saucy
Tomato sauce is, of course, a classic choice. You can make and can your own. Regular marinara works just fine, don't feel like it has to be specifically 'pizza' sauce.
Think beyond tomato, however; and consider using pesto, BBQ sauce, or simply a bit of oil before topping.
Personalized Toppings
Topping choices abound and there is no right or wrong. The great thing about making pizza at home is that small pizzas can easily be made for picky eaters. Individual pizzas mean everyone is happy.
Cheeses naturally go with pizza. You can make your own mozzarella pretty easily and kick up homemade pizza another notch. Homemade ricotta is another option.
Other toppings like meats, veggies, etc. Are all good choices and can easily make use of small bits of garden harvests too. Don't be shy about trying some kale or sauerkraut on your pizza.
Pizza Combinations to Inspire:
Make it a Family Affair
Make pizza night (or afternoon) an event and get everyone involved. Let kids top their own pizzas, make faces with ingredients, etc. Invite friends over for pizza parties and ask them to bring a favorite topping.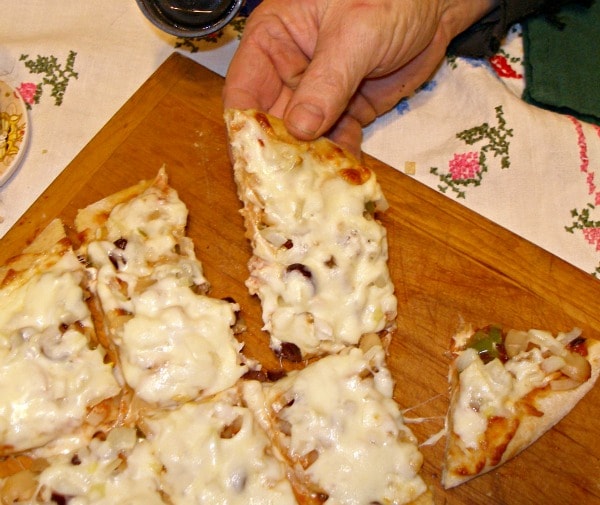 In our house, I make the crust and Jeff almost always builds the toppings. We work together to clean and eat together by simply sliding the crust from the oven to a cutting board and devouring.
Use these tips and your own preferences and creativity to build homemade pizza that will far surpass any delivery to your door.
[sc:Useadsenselarge ]