I'm always interested in working on new projects and with new people. I'm an experienced writer, photographer, teacher, and speaker who is constantly full of ideas and would love to hear about how I could work with you, your company, or your organization.
Some services I offer are listed below, however; if you already have an idea or know what you're looking for, please just email me : [email protected]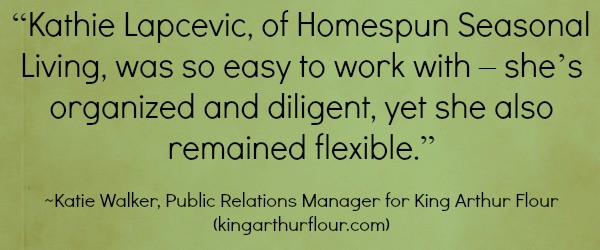 Looking to get your brand in front of creative readers interested in doing it themselves? These are some of the opportunities available with Homespun Seasonal Living:
Sponsored Posts
Social Media Campaigns
Newsletter Sponsors / Advertisers
Custom Content for Publication on Your Site
Custom packages and more available
I'd be delighted to talk about your ideas, products, and projects. Please Email me at [email protected] to discuss your plans and budget in depth. Even if you're not exactly sure of what you'd like please drop me a line and let me help with my stash of ideas, recipes, and content library. Additional References & Media Kit Available Upon Request.