I'm always interested in working on new projects and with new people. I'm an experienced writer, photographer, teacher, and speaker who is constantly full of ideas and would love to hear about how I could work with you, your company, or your organization.
Some services I offer are listed below, however; if you already have an idea or know what you're looking for, please just email me : [email protected]
Writing & Content Generation:
I'm a nationally published freelance writer and recipe creator. My articles, photographs, and original recipes have appeared in:
Mother Earth News
The Costco Connection
Hobby Farm Home
Zone 4
And many other regional and national publications both in print & online
Are you looking for articles, content development, or recipes for your newsletter, magazine, or blog? I can write content specific to your needs or help fill in with my ideas on short notice if needed. Send me an Email at [email protected] to discuss your needs, deadlines, and ideas.

Recipe Development:
I can create & test recipes using your product. Created recipes can be promoted and used in a variety of ways:
Used by your company for packaging, newsletters, your website, etc.
Published on Homespun Seasonal Living as a dedicated post with relevant linking and highlights to sponsor's site. Promoted via social media and blogging networks.
Recipes created by me are always tested multiple times and use commonly found, all-natural ingredients. Sponsors can be assured that all recipes will turn out well for their customer base and be done easily in a home kitchen. Email me at [email protected] and let's get creative with your ingredients and get them in front of your target audience.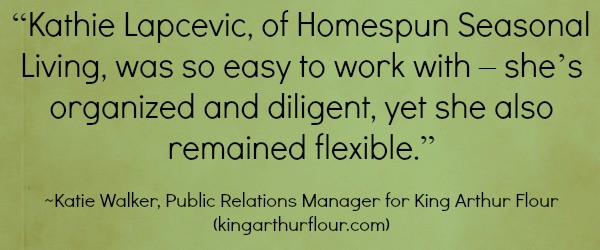 Teaching / Speaking:
I'm an experienced teacher who's led classes on many of the domestic arts like home canning, organic gardening, cooking from scratch and more. I have many courses already developed but would love to create something specific for your company or organization's needs. Classes are generally hands-on in nature, though demonstration only classes can easily be provided to suit your needs.
As an experienced blogger and freelance writer, I love to share my expertise and experiences with others. I'm available to speak at conferences and to groups large and small.
For both class development and speaking opportunities, please email me at [email protected] so that we can discuss your needs and ideas and how I can help you make your event something special.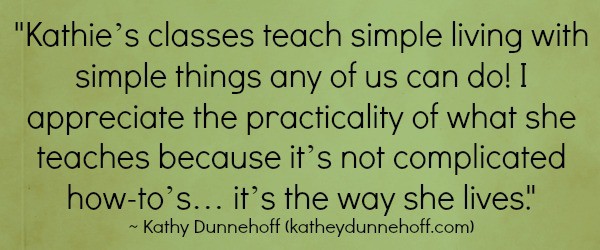 Advertising / Sponsorship Opportunities on the Blog:
Looking to get your brand in front of creative readers interested in doing it themselves? These are some of the opportunities available with Homespun Seasonal Living:
Blog Advertising – Purchase dedicated space for your graphic advertisement. Advertisers routinely get promoted through social media channels and newsletters.
Sponsored Giveaway – Donate an item to be given away to a reader. Mentions and links in social media promotion and weekly newsletter.
Newsletter Advertising – Purchase dedicated space for your graphic ad that gets delivered directly to my readers' inboxes.
I'd be delighted to talk about your ideas, products, and projects. Please Email me at [email protected]g.com to discuss your plans and budget in depth. Even if you're not exactly sure of what you'd like please drop me a line and let me help with my stash of Fiercely D.I.Y. ideas, recipes, and content library. Additional References Available Upon Request.