Clementines are one my favorite winter fruits. No, they aren't at all local to my Montana home, they are however; sweet and generally a fairly frugal indulgence. In an effort to try and preserve some for later, I wanted to some kind of spread with them. Clementine Rum Marmalade is a deliciously sweet spread with just a hint of bitterness and rum perfect for toast and cake.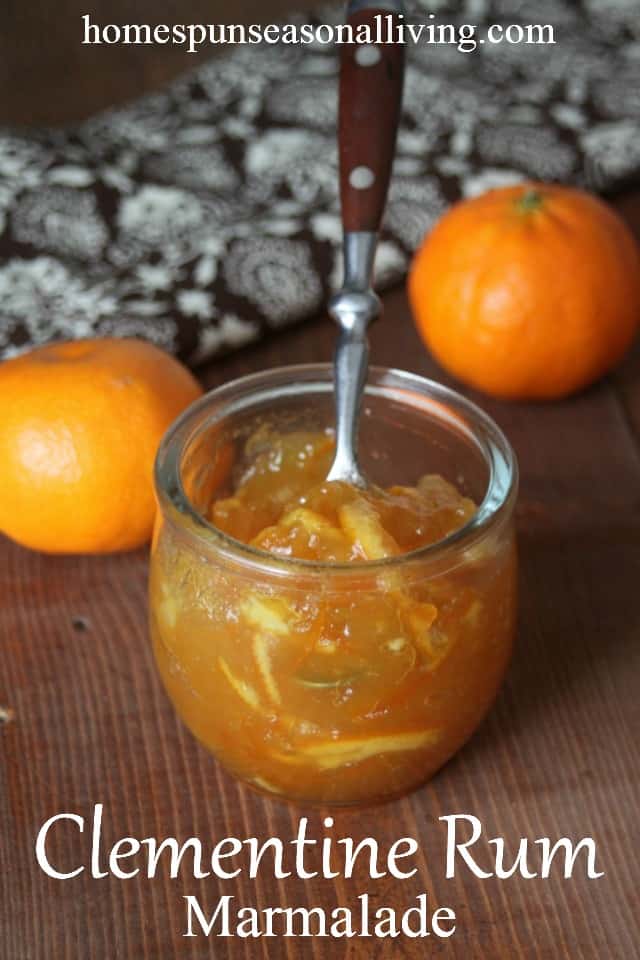 Natural Pectin
The peels and pulp of most citrus fruit is loaded with natural pectin. Traditional marmalade always takes advantage of this natural pectin for gelling. No need to add commercial pectin for a wonderful set to this marmalade. Getting that natural pectin out of the pith and peel requires a good bit of cooking time – don't short cut this.
[mailerlite_form form_id=3]
Slightly Bitter
Because the peel including the pith is left in the jam, there is a slightly bitter flavor left in the marmalade. It is not as intensely bitter as traditional orange marmalade, however. The pith of clementines is smaller and sweeter meaning there is some bitterness but not overwhelmingly so. There's a good bit of added sugar as well.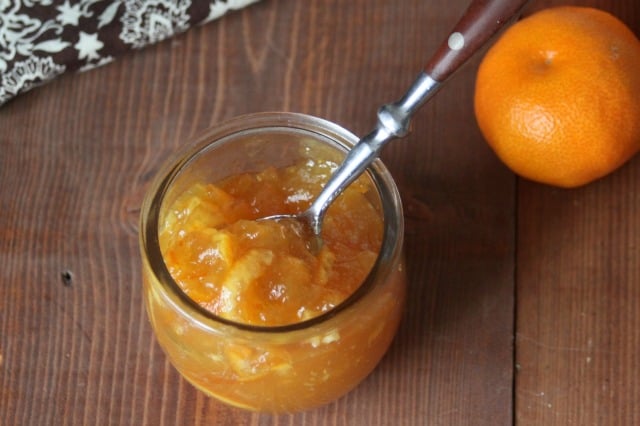 Amazing Texture
Because the peel is left in the marmalade, the resulting texture is pretty special. There is a combination of thick, almost creamy jam with soft, spongy peel that is equally good spread on toast or poured over ice cream. Spread it between cake layers, too.
Yield: 6 Half Pints
Clementine Rum Marmalade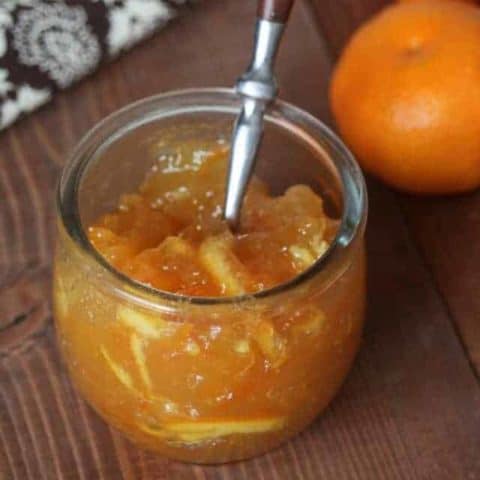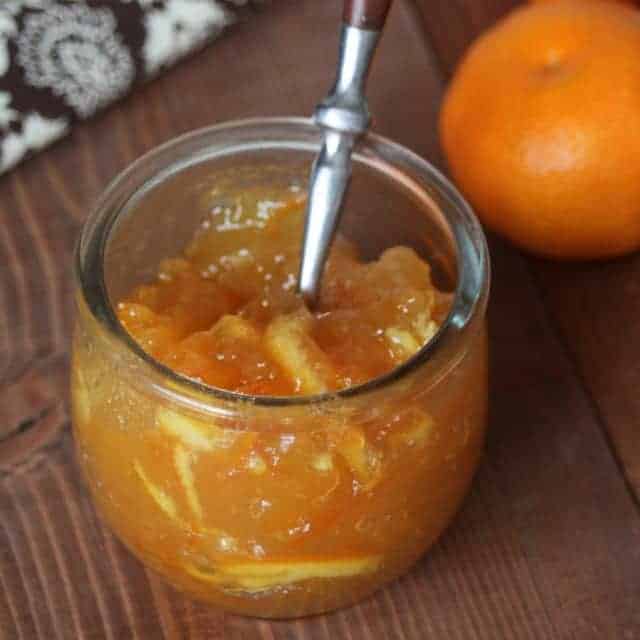 Make the most of those sweet, winter seasonal fruits by preserving some with this easy and delicious Clementine Rum Marmalade. Great on toast and dessert, there's no end to the ways to use this preserve.
Ingredients
1 ½ Pounds of Clementines, well scrubbed
2 Tablespoons Lemon Juice
6 ½ Cups Hot Water
5 ½ Cups Granulated Sugar
¼ Cup Rum
Instructions
Place a dampened cheesecloth on the inside of strainer on top of bowl. Cut the clementines in half cross-wise. Squeeze juice into the cheesecloth. When finished squeezing juice, pull the pulp off the rind and place on the cheesecloth. Tie the edges of the cheesecloth, making a large spice bag. Place the juice from the bowl, lemon juice, and bag of pulp in a jam pot.
Cut the peel into thin strips and place all of that into the jam pot with the hot water. Bring to a boil over high heat. Reduce heat but keep boiling, stirring occasionally until reduced by half and peel is tender. This takes about 1 hour and 15 minutes. Remove from heat.
Place the cheesecloth bag into a wire mesh strainer and press with a spoon to squeeze out juice. Measure out 4 1/2 Cups of juice, peel mixture. Put that in a pot with 5 1/2 cups sugar. Boil until gel stage is reached - this took me about 20 minutes. Add the rum and boil for another two minutes.
Pour into jars. Process in a water bath for 15 minutes (adjusting for altitude).