I am a runner, gardener, cook, and all around active person who spends a good amount of time on my feet. I am also a person who happens to have rheumatoid arthritis. That arthritis has impacted my toes and fingers most significantly, I have it well controlled through diet and exercise these days but it does occasionally act up and of course become swollen and inflamed. In my quest for natural relief I experiment quite a bit. One such experimentation has resulted in this amazing Ginger Clove Anti-Inflammatory Liniment. This is so easy to whip up and not only helps increase circulation and reduce inflammation but also happens to soften the skin too.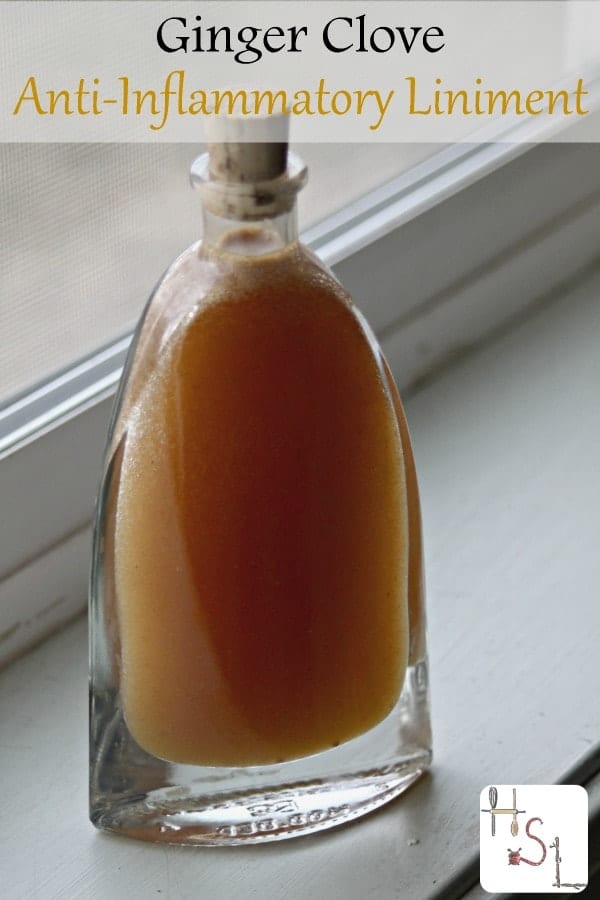 Ginger has long been used for its anti-inflammatory properties. It's even being studied by doctors in the form of compresses and standardized ginger patches. Because I wanted to make a batch without worrying about straining or mold, I chose to use dried powdered ginger in my liniment. I'm sure grated fresh ginger root would be stronger and work but would eventually need to be strained and sometimes an easy grab from the spice rack is something we all need.
Clove Bud Essential Oil has been studied for its effectiveness at increasing blood circulation. That increased blood circulation along with clove's warming properties can ease numerous aches and pains. In my experience when my body is warmer, my arthritis isn't as bothersome. Keeping those extremities from being too cold lessens my overall pain and symptoms and the clove oil does a good job of that in a very nice smelling package.
I imagine most any carrier oil would work in this particular liniment. I use vegetable glycerin because I like the thickness of it and it's skin softening power. Rubbing this on and letting it soak in slowly as I knit or read a book after a long Sunday run has proven to prevent that dry, rough skin from the pounding of pavement while also easing any inflammation.
Ginger Clove Anti-Inflammatory Liniment
Instructions
Whisk everything together until thoroughly incorporated. Store in air-tight jar. Shake well before each use to mix up any settled ginger powder.
A word of caution: Don't get this into the eyes or near very sensitive skin. If rubbing into fingers or knuckles, cover them with a clean cloth to avoid touching the face. Proceed slowly until you know how your skin will react to the combination of ginger and clove – both are quite warming and might be uncomfortable to those with very sensitive skin.

Disclaimer: I may receive compensation for products mentioned in this post. All opinions expressed are my own. I am not a doctor, always seek trained medical advice. No statements should be considered approved by the FDA or as a diagnosis or treatment for any illness. See my Full Disclaimer Here.