Potato chive bread is a moist and flavorful rustic loaf. All of the classic potato chive combination that makes a perfect side to soup or salad and would be amazing on a holiday feast table.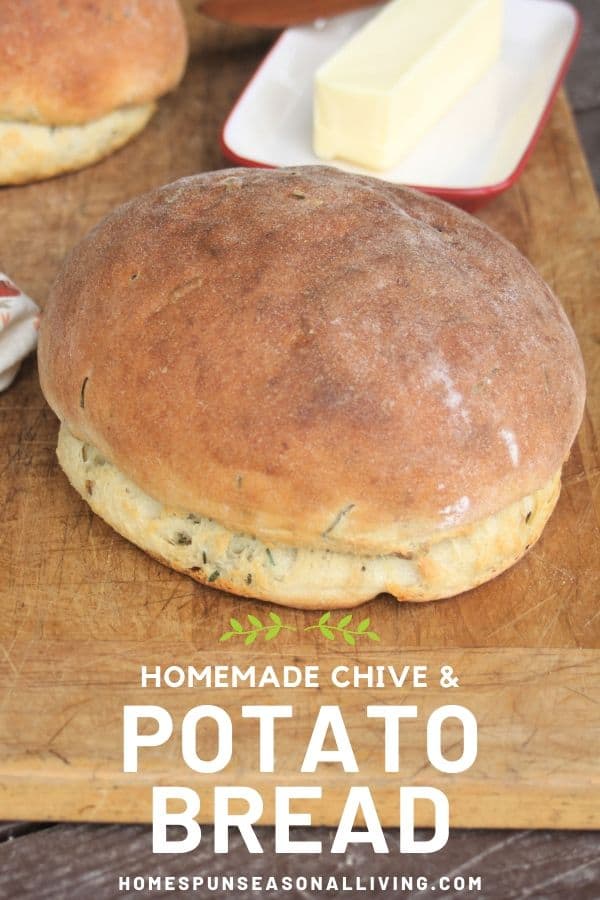 Leave the Peels
It may seem strange but the potato peels stay in the bread. They will be smashed to little bits and don't leave any kind of weird texture. They do add bits of color, however.
Do scrub the potatoes well before boiling. No one wants dirt in their bread. Also use a starchy potato like a russet here, not a waxy type.
Dry Potatoes but Moist Bread
Don't skimp on the time to let the potatoes dry after boiling. If they're not completely dry the dough will have too much moisture and not pull together well without additional flour (which might not be ideal in the final loaves).
The final result of bread is a dense, moist loaf even with the drying of cooked potatoes.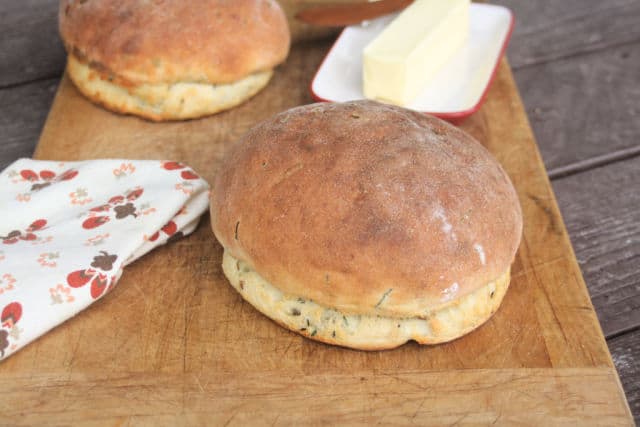 Simple but Flavorful
The best breads are simple. And these ingredients are definitely simple and yet they bring together something quite amazing.
Do remember to save the potato cooking water to dissolve the yeast. It's simple thing but there's additional salt and flavor there that add much to the final loaves (says the girl who's forgotten to save it and used plain water instead).
Snip the chives well so that their flavor gets spread out throughout the loaves.
Not Your Typical Bread
These potato loaves are not made in the same way a basic loaf of bread is made. The ingredients are similar but it will not pull together in the exact same way.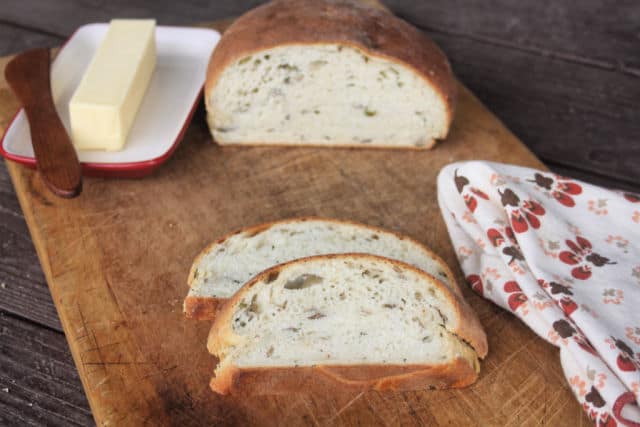 In fact, it takes quite a bit of mixing for this dough to form. It will almost feel like it's not going too. You're going to be tempted to add more flour – don't, keep mixing.
Loaf Shape
A basic round loaf is my favorite for this bread. However, regular bread pans would also work. Simply shape in whatever way is most pleasing.
The original recipe was adapted from a potato bread in the Baking with Julia Cookbook. Those loaves were torpedo shaped and absolutely lovely if another idea is needed.
These would make excellent rolls as well.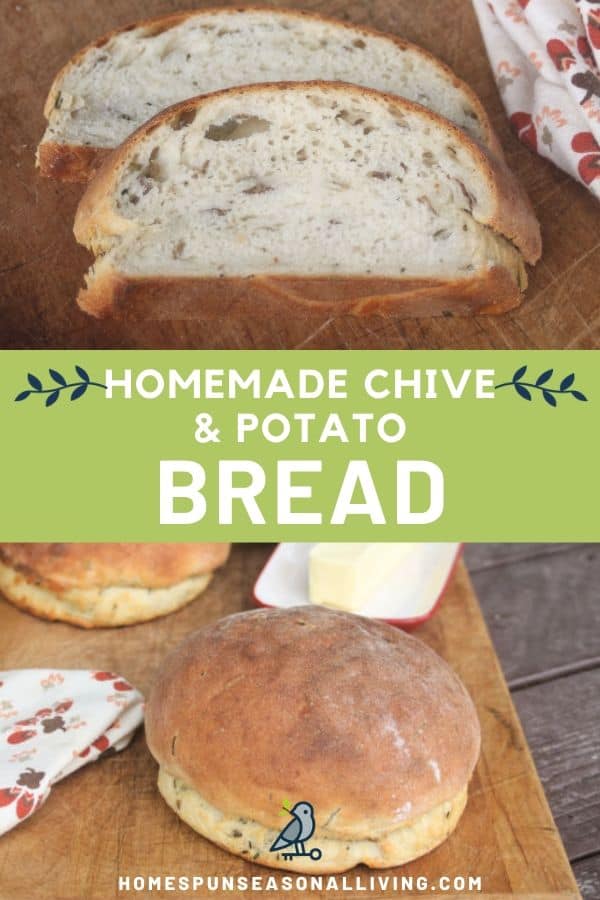 Freezes Excellently
Potato chive bread freezes well. Simply store in an airtight container in the freezer. Thaw completely before serving. Use up within 6 months.
Yield: 2 Loaves
Potato Chive Bread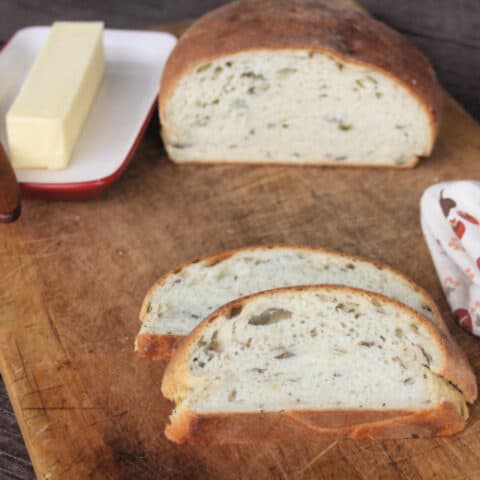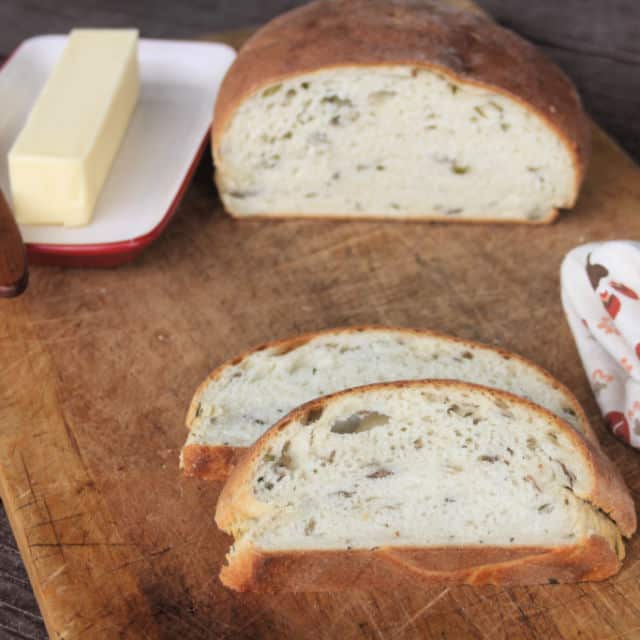 Potato chive bread combines all of the classic flavors in a rustic and delicious loaf perfect for soups, salads, and feasts of all kind.
Additional Time
1 hour
30 minutes
Total Time
2 hours
50 minutes
Ingredients
1 1/2 Pounds Potatoes
4 teaspoons Salt
1/2 Cup Reserved Potato Water
1 Tablespoon Dry, Active Yeast
2 Tablespoons Olive Oil
4 3/4 Cups Unbleached, All Purpose Flour
1/3 Cup Snipped Chives
Instructions
Scrub the potatoes and cut them into quarters.
Place in a saucepan (peels & all), cover with water and add 2 teaspoons salt.
Boil until soft and can be pierced easily with a knife.
Save 1/2 cup of the water, then drain the potatoes in a colander.
Spread the potatoes out on cooling rack over a pan.
Let the potatoes air dry for at least 30 minutes. Longer is okay but they need to be dry so don't skip this step.
Once the potatoes are dry, reheat the reserved potato water to be about 110 degrees Fahrenheit.
Add the yeast to the warm water and allow to sit until creamy, about 5 minutes.
Mash the potatoes (do this with the paddle attachment of your stand mixer, if desired).
Add the dissolved yeast and olive oil to the potatoes. Mix until the liquids are incorporated.
Switch to a dough hook if using a mixer.
Add the chives, flour and remaining 2 teaspoons of salt. Mix on low speed for a few minutes, then increase to medium speed. Keep mixing until the dough comes together. It will take some time and it will feel like it's not going to work but let it mix. The dough will eventually clean the sides of the bowl.
Once the dough comes together, cover the bowl with a towl and let rise for about 30 minutes. It will not exactly double but it will have noticeably risen.
Cut the dough in half. Knead and shape the dough as desired.
Cover the shaped loaves with a towel and let rise another 30 minutes.
While rising, preheat the oven to 375 degrees Fahrenheit.
When ready to bake, spray the walls of the preheated oven with clean water and close the door to trap the steam.
Place the bread loaves into the oven. Spray the walls with water again.
Bake for 40 to 50 minutes or until the loaves sound hollow when tapped with a knuckle.
Remove from pans (if used) immediately and cool on wire racks before slicing.
Nutrition Information:
Yield:
24 slices
Serving Size:
1 slice
Amount Per Serving:
Calories:

131
Total Fat:

1g
Saturated Fat:

0g
Trans Fat:

0g
Unsaturated Fat:

1g
Cholesterol:

0mg
Sodium:

357mg
Carbohydrates:

26g
Fiber:

2g
Sugar:

0g
Protein:

4g