There is never a bad time for simple, nourishing, and comforting fresh from the garden meals in my opinion. This beef and cabbage stew hits all of those buttons and more.
Nothing complicated in this delicious stew. It does take some time for that beef to get tender but it's completely hands-off time. Making this an ideal seasonal meal for busy days, let it cook slowly while you do other things and eat up when done.
This hearty meal straight from the Dutch Oven is filling, flavorful and sure to please!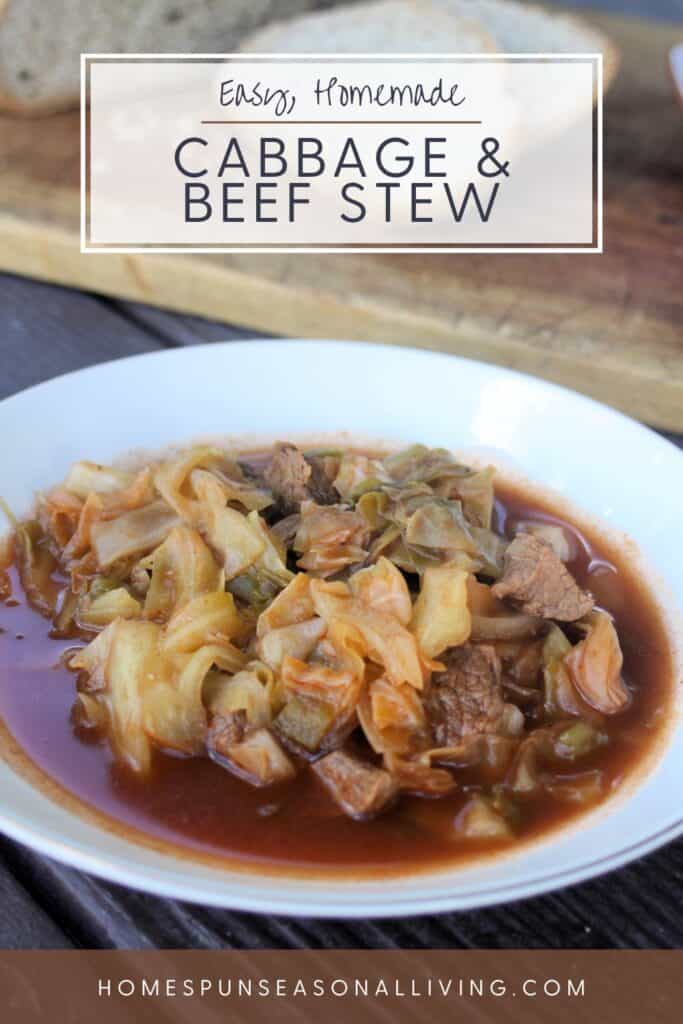 Minimal Prep
There are very few ingredients in the overall dish. And most only need a quick chop. There's no need to dredge beef in flour or brown it.
Quite literally, chop toss into a pot to simmer.
It is the perfect kind of quick meal for busy weeknights.
Vegetable Choices
I chose sweet peppers and onions along with the cabbage. However, one could easily add carrots, celery, or even chopped potatoes to make the dish go even further.
I used green cabbage, simply because that's what I grow in my garden but a red variety would also work in this cabbage soup recipe.
If you add more vegetables, you may need to add more liquid to help everything stay nice and tender.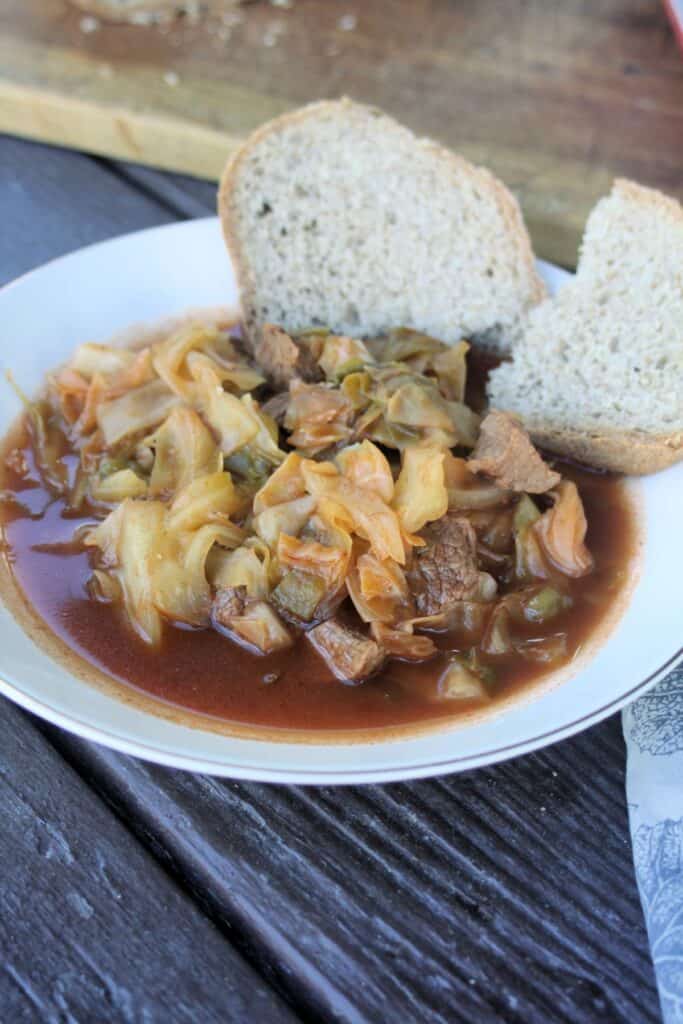 Honestly this is a great recipe to use up any bits of vegetables you have from the garden or CSA.
Add the extra vegetables with the cabbage and cook for the last 30 minutes or until tender.
Beef Choices
I went with basic stew meat here in my recipe. I did chop the meat into smaller pieces so that it goes further in the finished soup, but you could skip that if desired. However that's not your only option:
Use a pound of ground beef – simply brown and drain before proceeding with the rest of the recipe.
Bits of leftover corned beef will also work for a very fun twist on the St. Patrick's Day classic corned beef and cabbage.
Braising Liquid
The recipe calls for tomato juice and water. This is easy and tasty. One could substitute beef broth for the water.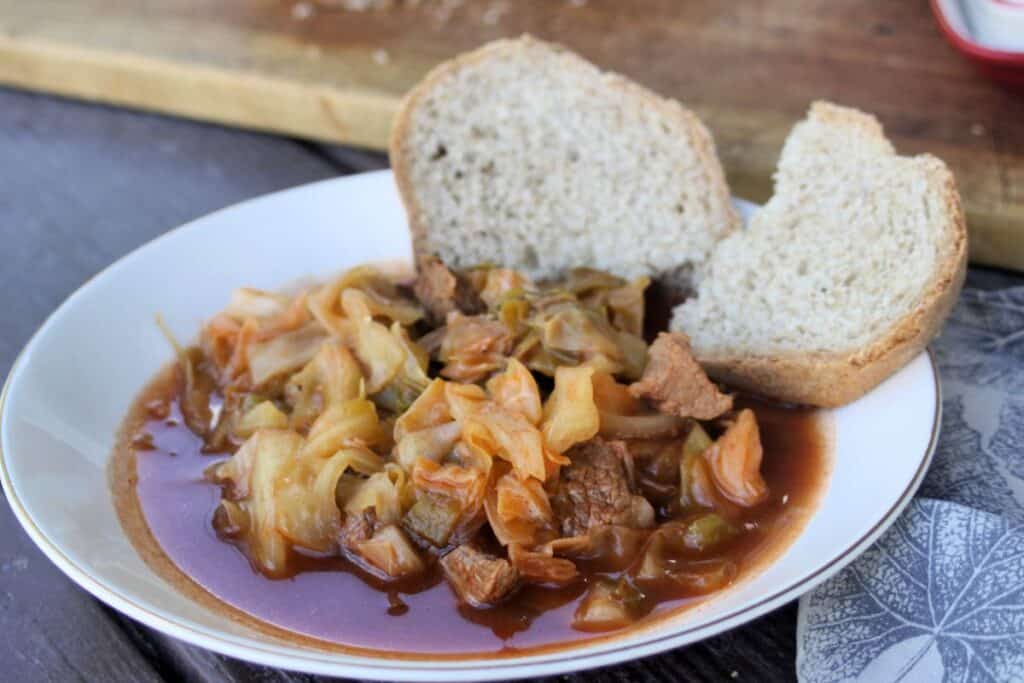 Use tomato sauce and a bit more water or broth for a thicker stew base.
A vegetable juice mix could also be used instead of the plain tomato juice.
If tomato juice isn't your thing, use beef broth instead. Admittedly, the tomato juice gives it a ton of flavor but it could be skipped.
Seasoning Choices
Plain old salt and black pepper work great. Do taste before adding salt, especially if using commercial tomato juice as they tend to be quite salty on their own.
Caraway seeds combined with cabbage is a rather classic flavor. However, it's not always everyone's favorite feel free to skip it if desired.
Add a bay leaf while the soup simmers.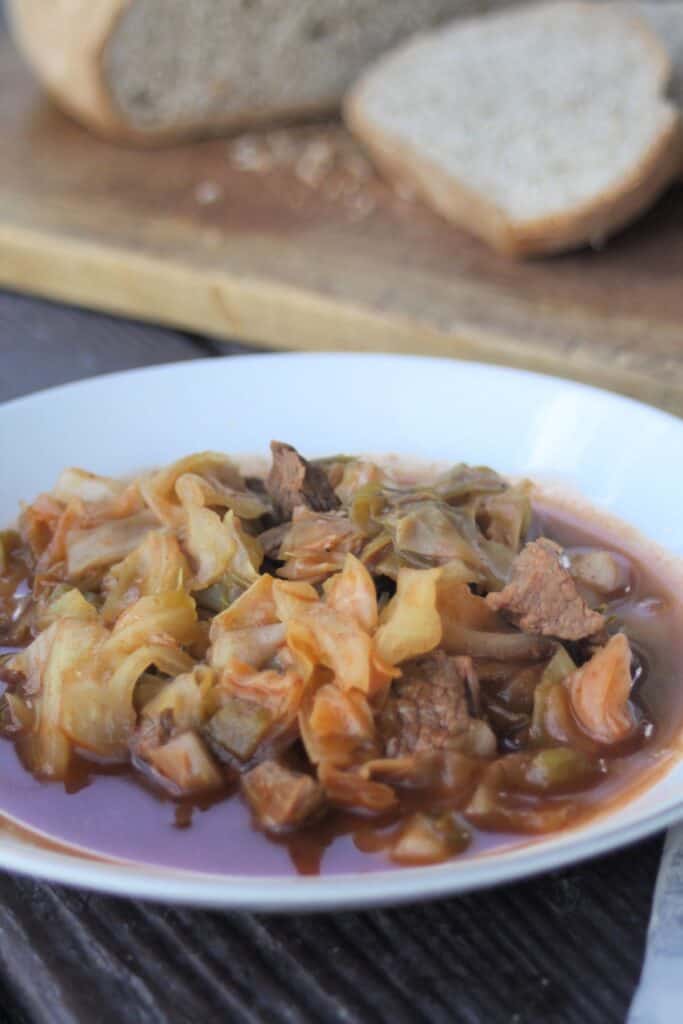 If you have fresh herbs on hand feel free to add them at the end of the cooking time – things like chives, oregano, and thyme would all be excellent.
How to Serve
Ladle the stew into big bowls and serve with a hearty bread. A homemade rye bread is quite nice but use whatever your family enjoys. A classic loaf of French bread, too is quite nice. Simply use something to help sop up the braising liquid.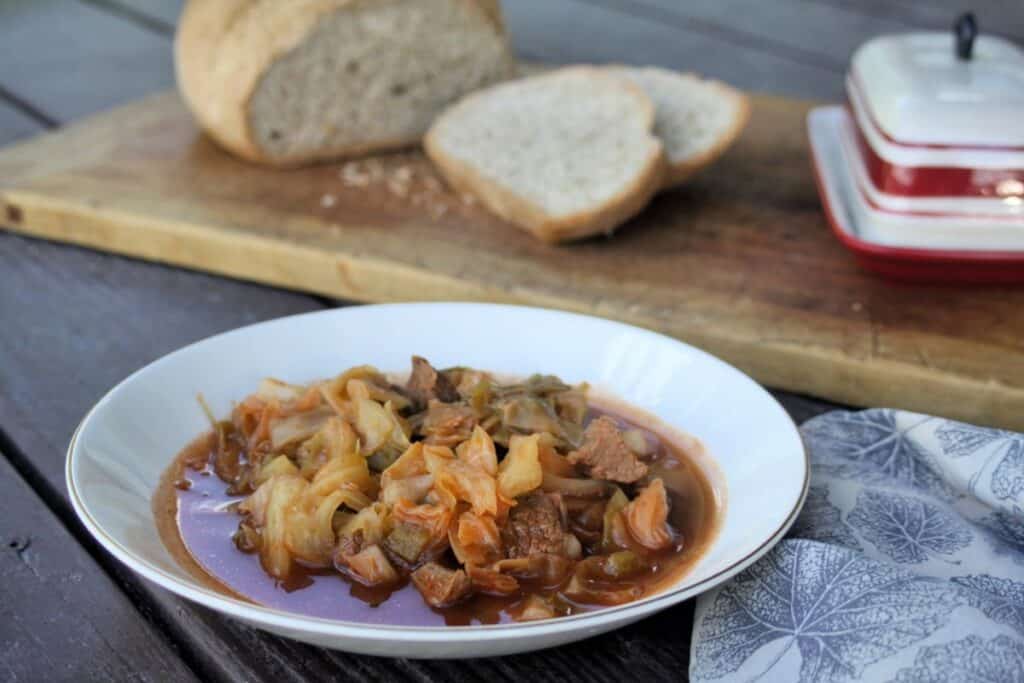 Alternatively, serve the stew over rice for cauliflower rice or hearty dinner alongside a green salad for a complete meal.
This is a rustic dish with basic ingredients – don't try to make it too fancy. It is because of it's simplicity that it is so very good.
How to Store
Store leftovers in an airtight container in the refrigerator for up to 3 days.
For longer term storage, put into freezer-safe containers and freeze. Eat up any frozen soup within 6 months for best flavor.
Reheat leftovers over low heat on the stove top.
Yield: 4 Servings
Beef and Cabbage Stew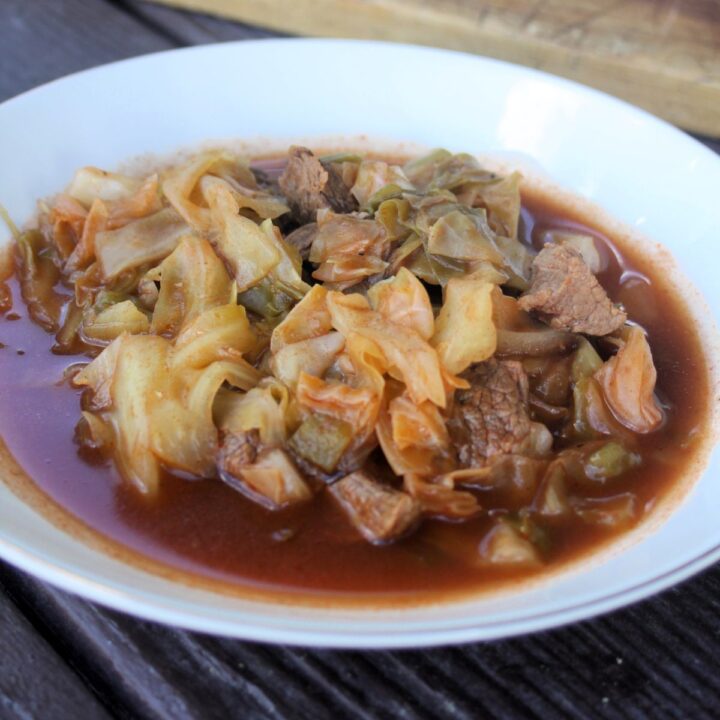 Rich and hearty beef cabbage soup is perfect for cool days alongside homemade bread.
Total Time
2 hours
20 minutes
Ingredients
1 Pound Stew Beef, cut into 1 inch cubes
1 Large Bell Pepper, chopped
1 Large Onion, chopped
2 Cups Tomato Juice
2 Cups Water
1 Pound Cabbage, cored, quartered & sliced
1 teaspoon Caraway Seeds, optional
Salt & Pepper, to taste
Instructions
In a large pot, combine the beef, pepper, onion, water, and tomato juice.
Bring to a boil, cover the pot, turn down the heat to medium-low.
Simmer for 90 minutes.
Add the cabbage, caraway seeds, salt, and pepper. Stir well.
Cover the pot and simmer for 25 to 30 minutes or until the cabbage is tender.
Serve hot with crusty bread.
Nutrition Information:
Yield:
4
Serving Size:
1
Amount Per Serving:
Calories:

287
Total Fat:

8g
Saturated Fat:

3g
Trans Fat:

0g
Unsaturated Fat:

5g
Cholesterol:

112mg
Sodium:

473mg
Carbohydrates:

16g
Fiber:

4g
Sugar:

9g
Protein:

40g
We try our best but cannot guarantee that nutrition information is 100% accurate.