I'm a huge fan of gift baskets full of a mix of homemade and store-bought items for those on my gift list. Homemade cookies naturally make a great and tasty basket filler. These Caramel Mocha Sandwich Cookies are a perfect treat for the coffee lover on your gift list.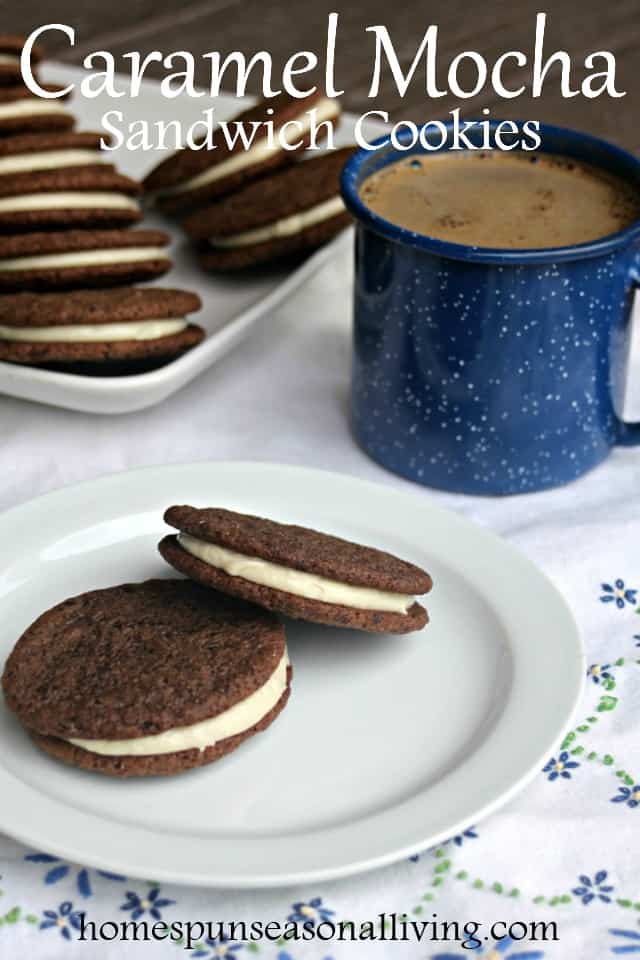 These cookies are also very crunchy. When I first took a bite, I was reminded of an Oreo cookie but didn't think that could possibly be right. It's been a long time since I had an Oreo so I figured my brain was playing a trick on me. However, when Jeff took a bite that was exactly his thought as well – it tastes a bit like an Oreo. The filling is decidedly soft and full of caramel sweetness which balances quite exquisitely with the dark, crispy cookie.
Coffee without Bitterness
Use a good espresso powder in these cookies for a flavor that will mix incredibly well with the cocoa but not leave any unpleasant bitterness behind. Regular instant coffee will work but may be a touch bitter. That bitterness isn't always a bad thing – it just depends on a person's preferences. These cookies have plenty of sugar so the bitterness will never be overpowering.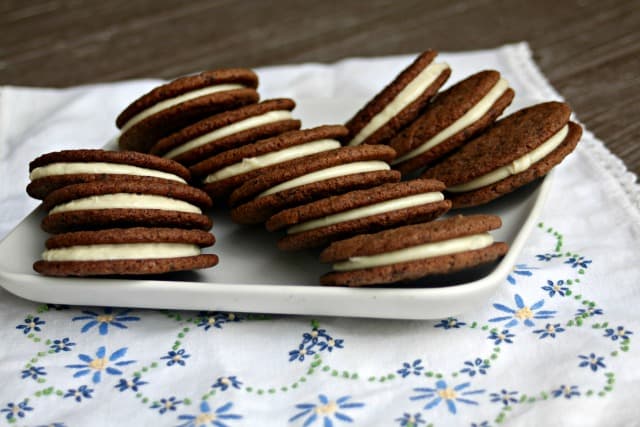 An Option for Darker Cookies
I've made these cookies with both regular cocoa powder and black cocoa powder with great results. The black cocoa powder is darker in flavor and color. The cookies will be black rather than chocolate brown. Go with the black cocoa for the dark chocolate fan. Use regular cocoa for folks who like things sweeter. Both types will give you very crunchy cookies.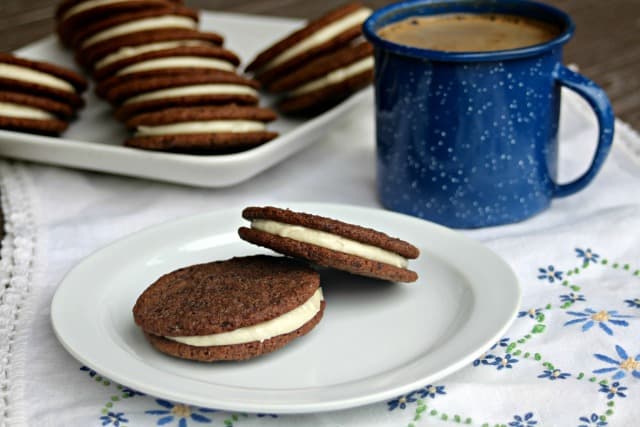 Giving Cookies as Gifts
I always try to pair food gifts with other things to make for a larger gift basket. These cookies would be great with a bag of locally roasted coffee and a nice pottery mug. Because of the filling, I wouldn't recommend these cookies for shipping, though one could ship the cookie wafers without the filling if so desired.
Yield: 24 Filled Cookies
Caramel Mocha Sandwich Cookies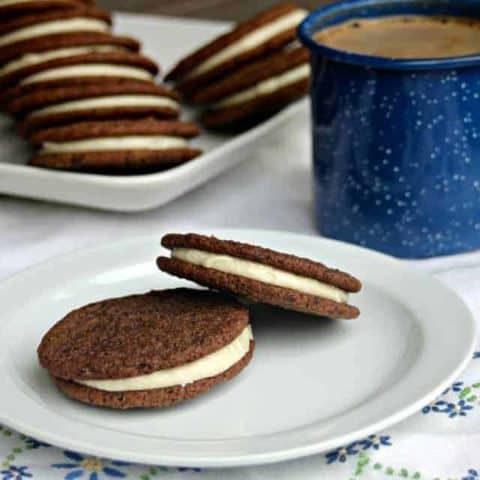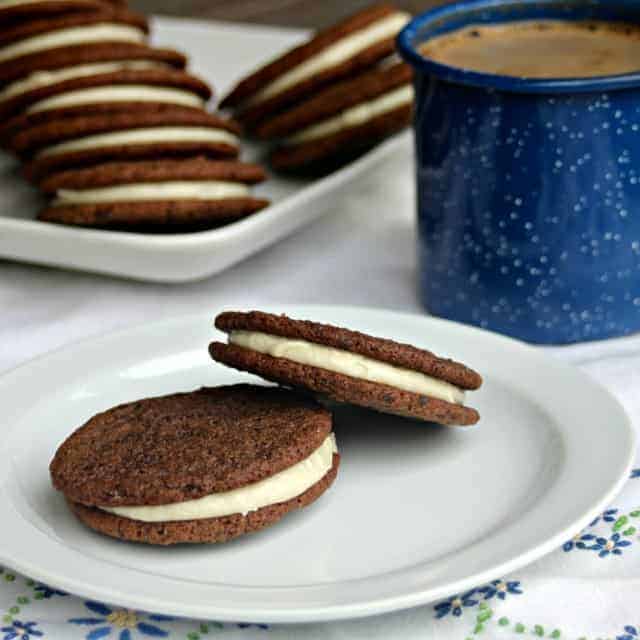 Perfect as a gift for the coffee lover in your life, caramel mocha sandwich cookies are crunchy and dark with a smooth and sweet filling.
Ingredients
Cookies
1 1/4 Cups Unbleached, All-Purpose Flour
1/4 Cup Cocoa Powder
1/2 teaspoon Baking Soda
1/2 teaspoon Baking Powder
2 Tablespoons Espresso Powder
1/2 Cup Salted Butter, softened
1/2 Cup Brown Sugar, packed
1/2 Cup Sugar
1 Egg
Caramel Filling
2 Tablespoons Liquid Caramel Sauce
6 Tablespoons Salted Butter, softened
1 Cup Powdered Sugar
Instructions
Preheat oven to 325 degrees.
Grease a cookie sheet or line with parchment paper / silicone baking sheet.
Make the Cookies:
Sift together the flour, cocoa, espresso powder, baking soda, and baking powder. Set aside.
Cream together the butter and sugars until light and fluffy. Beat in the egg until thoroughly incorporated.
Add the dry ingredients, mixing until a uniform dough is made.
Drop by Tablespoons full onto prepared baking sheet.
Bake in the preheated oven for 15 minutes.
Allow to cool on cookie sheet for 3 minutes before removing to a wire rack to cool completely.
Make the Filling:
Cream together the butter and caramel sauce. Add 3/4 Cup powdered sugar and mix until a frosting is made. If too thin, add more powdered sugar 1 Tablespoon at a time until desired consistency is reached.
Assemble the Cookies:
Place a dollop of the filling in the center of one cookie. Top with another cookie and press down to spread the filling to the edges. Place back on wire rack to allow the filling to set a bit. Repeat until all cookies are used.
Nutrition Information:
Yield:
24
Serving Size:
1 Cookie
Amount Per Serving:
Calories:

142
Total Fat:

7g
Saturated Fat:

4g
Trans Fat:

0g
Unsaturated Fat:

2g
Cholesterol:

26mg
Sodium:

100mg
Carbohydrates:

19g
Fiber:

0g
Sugar:

13g
Protein:

1g
We try our best but cannot guarantee that nutrition information is 100% accurate.