Sandwich chocolate cookies around a caramel buttercream frosting for a truly special and delicious dessert!
Unlike whoopie pies, which tend to combine soft cookies with creamy filling, here it is the one two punch of crunchy cookie with sweet filling that makes this cookie sandwich recipe so very decadent.
This recipe is honestly two desserts in one and a great way to celebrate a special occasion for folks that prefer cookies to cake.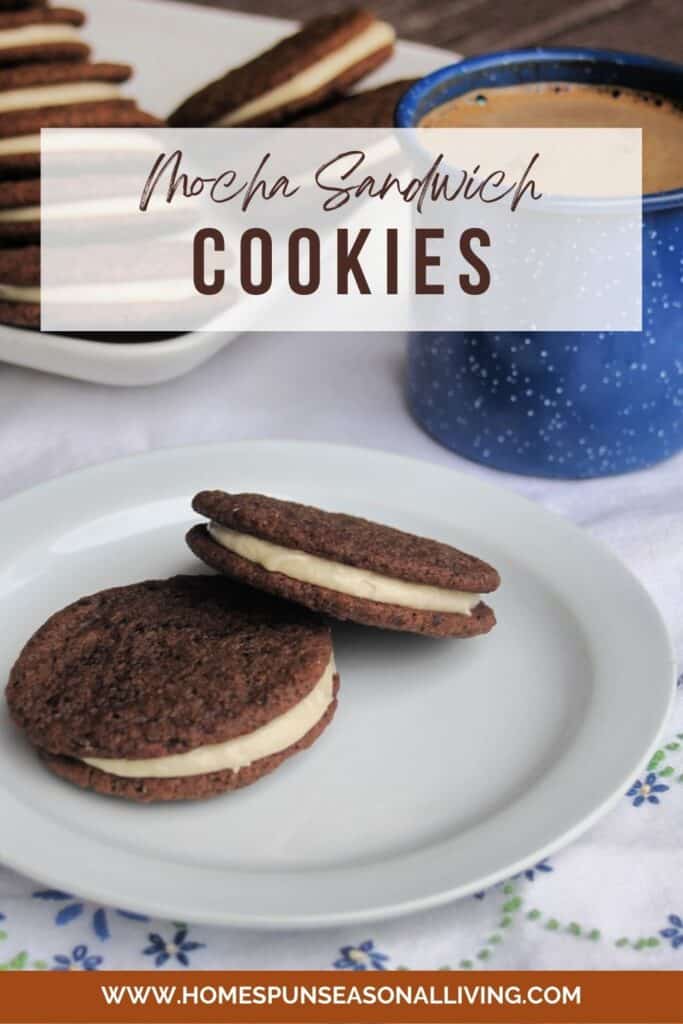 Superior Texture
The base cookies a very crunchy. They have a dark chocolate richness too. Those two things combined remind me of an Oreo cookie when I first took a bite. It's been a long time since I had an Oreo so I figured my brain was playing a trick on me. However, when Jeff took a bite that was exactly his thought as well – it tastes a bit like an Oreo.
The amazing filling is decidedly soft, creamy, and full of caramel sweetness which balances quite exquisitely with the dark, crispy cookie.
Coffee without Bitterness
Use a good espresso powder in these cookies for a flavor that will mix incredibly well with the cocoa but not leave any unpleasant bitterness behind.
Regular instant coffee will work but may be a touch bitter. That bitterness isn't always a bad thing – it just depends on a person's preferences.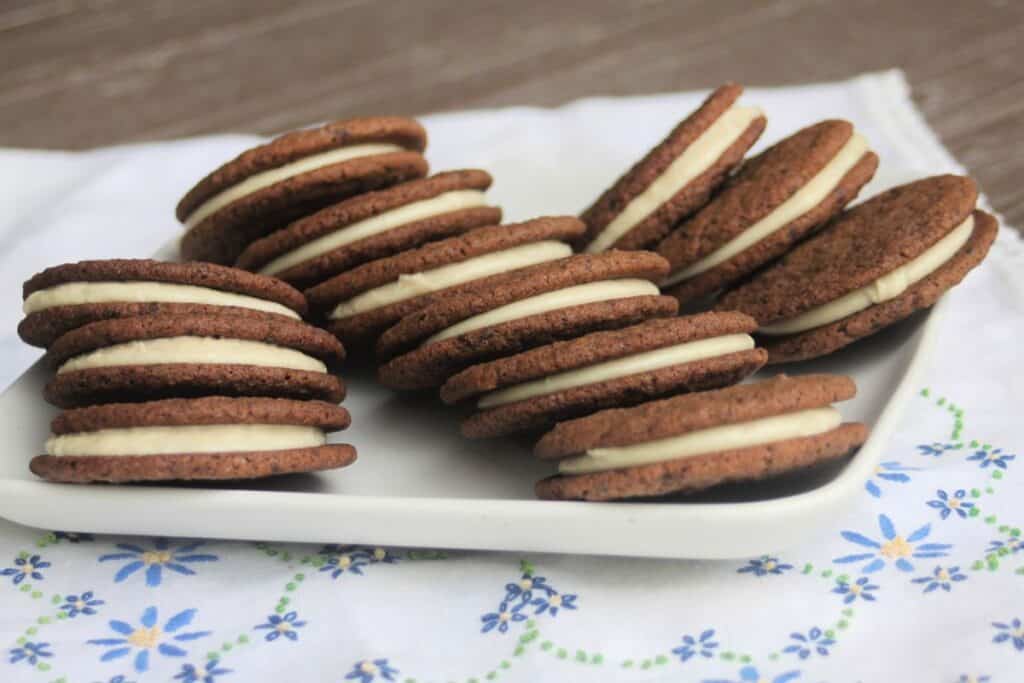 These cookies have plenty of sugar so the bitterness will never be overpowering, plus the creamy filling adds even more sweetness.
The combination of chocolate, coffee, and caramel makes this very much a coffee house drink in cookie form.
Dark Cookie Options
I've made these cookies with both regular cocoa powder and black cocoa powder with great results.
The black cocoa powder is darker in flavor and color. The cookies will be black rather than chocolate brown. Go with the black cocoa for the dark chocolate fan.
Depending on your grocery store, black cocoa might be difficult to find, however.
Use regular cocoa for folks who like things sweeter or if that's all you can find locally. Both types will give you very crunchy cookies.
Baking Tips
This is one of those easy recipes in which there isn't a lot of fuss necessary to bake an amazing final product, however these helpful tips will ensure that you get the most bang for your baking time buck.
When making sandwich cookies, it is important to bake evenly sized and round cookies. Use a cookie scoop to make sure cookies are all the same size and will bake up very much round for the best looking and easiest to fill cookies.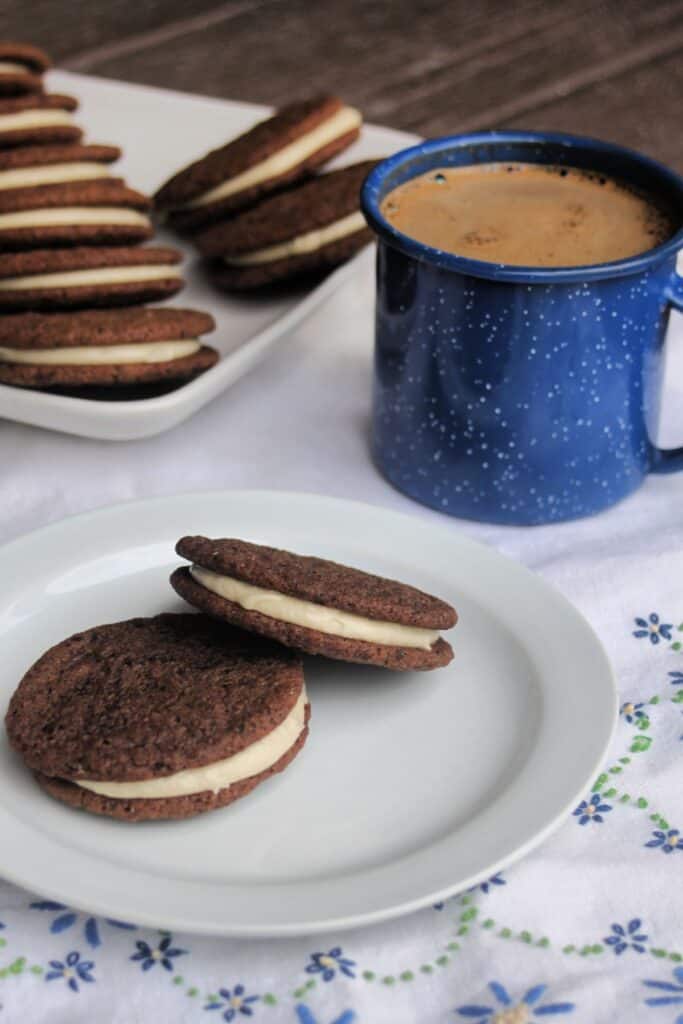 While keeping the cookies evenly sized, make large cookies as individual desserts or small cookies to serve at a potluck or dessert buffet. Adjust baking time based on the size of the cookie, just keep on eye on them as they bake.
The cookies will stay fresh for 2 to 3 days if kept in an airtight container at room temperature. They also freeze incredibly well. Feel free to make the cookies in advance and just fill prior to serving.
Filling Options
The recipe as written includes a caramel filling which requires caramel sauce of some kind, either store bought or homemade. Don't have any and don't want to make any? Use any buttercream frosting you fancy.
A plain vanilla frosting will play on that homemade oreo sandwich cookies idea even more.
Cream cheese frosting would also work and be yummy.
Make it all chocolate with a chocolate frosting.
Make them Fancy
While the cookies are perfect as is, you could make them even more over-the-top, if desired.
Add 1 cup of chocolate chips, for chocolate chocolate chip cookie sandwiches.
Dip half of the filled cookie into some chocolate ganache and refrigerate to let it harden up prior to serving.
Drizzle the sandwiches with melted white chocolate for a lovely color contrast.
How to Serve
These truly are a complete dessert all on their own. Serve them as you would any favorite cookie recipe.
Definitely include some milk, coffee, tea or other beverage of choice. Make a decadent and adult dessert by serving it with some rumchata hot chocolate.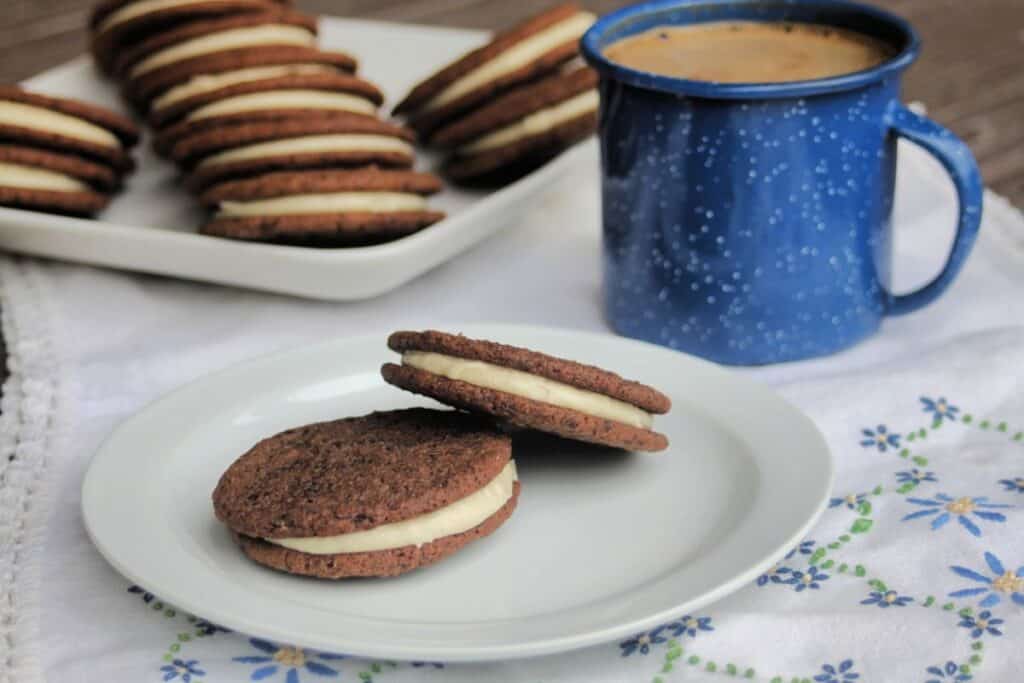 Wrap individual cookies in plastic wrap to take on picnics or sell at bake sales.
Do serve platters full of small delicious cookies at parties or pot lucks.
Giving Cookies as Gifts
I always try to pair food gifts with other things to make for a larger gift basket. These cookies would be great with a bag of locally roasted coffee and a nice pottery mug. Because of the filling, I wouldn't recommend these cookies for shipping, though one could ship the cookie wafers without the filling if so desired.
Homemade is heart-made! Check out 60 fresh ideas for gifts from the kitchen to honor every occasion. Sharing is caring!
How to Store
Because of the butter frosting, I recommend storing leftovers in the refrigerator. The cookies should last up to 4 days this way.
For longer term storage, place filled cookies into freezer bags and freeze. Frozen cookies should last up to 6 months. Thaw frozen cookies in the refrigerator before serving.
Yield: 24 Filled Cookies
Caramel Mocha Sandwich Cookies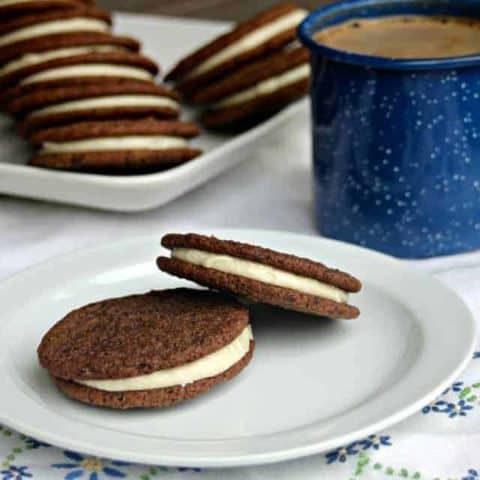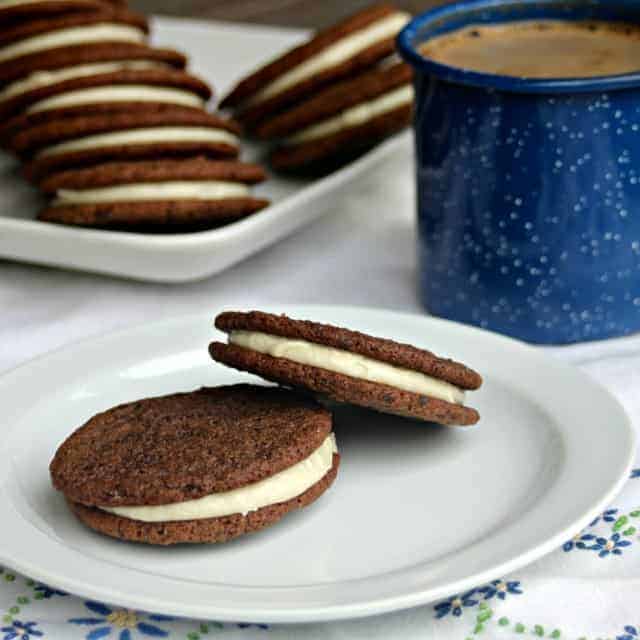 Perfect as a gift for the coffee lover in your life, caramel mocha sandwich cookies are crunchy and dark with a smooth and sweet filling.
Ingredients
Cookies
1 1/4 Cups Unbleached, All-Purpose Flour
1/4 Cup Cocoa Powder
1/2 teaspoon Baking Soda
1/2 teaspoon Baking Powder
2 Tablespoons Espresso Powder
1/2 Cup Salted Butter, softened
1/2 Cup Brown Sugar, packed
1/2 Cup Sugar
1 Egg
1 teaspoon Vanilla Extract
Caramel Filling
2 Tablespoons Liquid Caramel Sauce
6 Tablespoons Salted Butter, softened
1 Cup Powdered Sugar
Instructions
Preheat oven to 325 degrees.
Grease a large baking sheet or line with parchment paper / silicone baking sheet.
Make the Cookies:
Combine flour, cocoa, espresso powder, baking soda, and baking powder in a medium bowl and whisk. Set aside.
In a large bowl, cream together the butter and sugars until light and fluffy. Beat in the egg and vanilla until thoroughly incorporated.
Add the dry ingredients, mixing until a uniform dough is made.
Drop by Tablespoons full onto prepared baking sheet.
Bake in the preheated oven for 15 minutes.
Allow to cool on cookie sheet for 3 minutes before removing to a wire rack to cool completely.
Make the Filling:
Cream together the butter and caramel sauce. Add 3/4 Cup powdered sugar and mix until a frosting is made. If too thin, add more powdered sugar 1 Tablespoon at a time until desired consistency is reached.
Assemble the Cookies:
Place Place a dollop of the filling in the center of the bottom side of one cookie. Top with a second cookie and press down to spread the filling to the edges. Place back on wire rack to allow the filling to set a bit. Repeat until all cookies are used.
Nutrition Information:
Yield:
24
Serving Size:
1 Cookie
Amount Per Serving:
Calories:

142
Total Fat:

7g
Saturated Fat:

4g
Trans Fat:

0g
Unsaturated Fat:

2g
Cholesterol:

26mg
Sodium:

100mg
Carbohydrates:

19g
Fiber:

0g
Sugar:

13g
Protein:

1g
We try our best but cannot guarantee that nutrition information is 100% accurate.