Hubbard squash sausage soup is an easy and delicious way to get your soup on this Autumn season.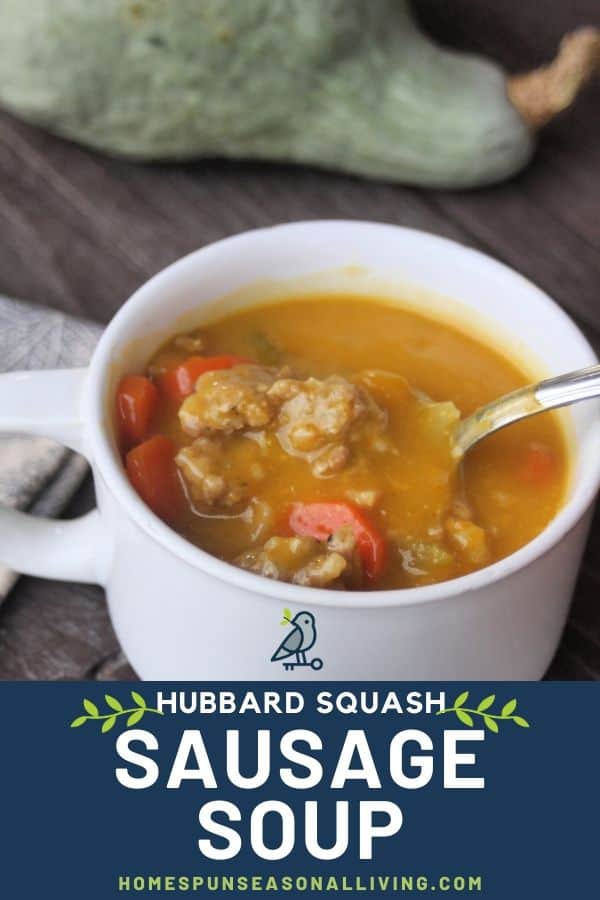 Full of veggies and dairy-free creaminess, this hearty soup is perfect for weeknights, potlucks, and casual dinner gatherings.
Preparing Hubbard Squash
Hubbard squash recipes are necessary as each one can easily weigh more than 20 pounds. Thankfully they cook up easily and the puree has many uses.
Start by cutting that squash in half, remove the seeds and strings. Placing the squash cut side down on a rimmed baking sheet. Bake the squash in a 350 degree oven until the skin is easily pierced with a fork. Likely an hour or more.
Let cool and scoop out the flesh. Mash this flesh with a potato masher or puree in a blender or food processor.
Use this pureed squash in the following soup or in any recipe that calls for canned pumpkin puree. Freeze any leftovers in bags, containers, or jars for use later.
Use Any Winter Squash
While this recipe was originally created to use hubbard squash, specifically, any winter squash you have on hand will work.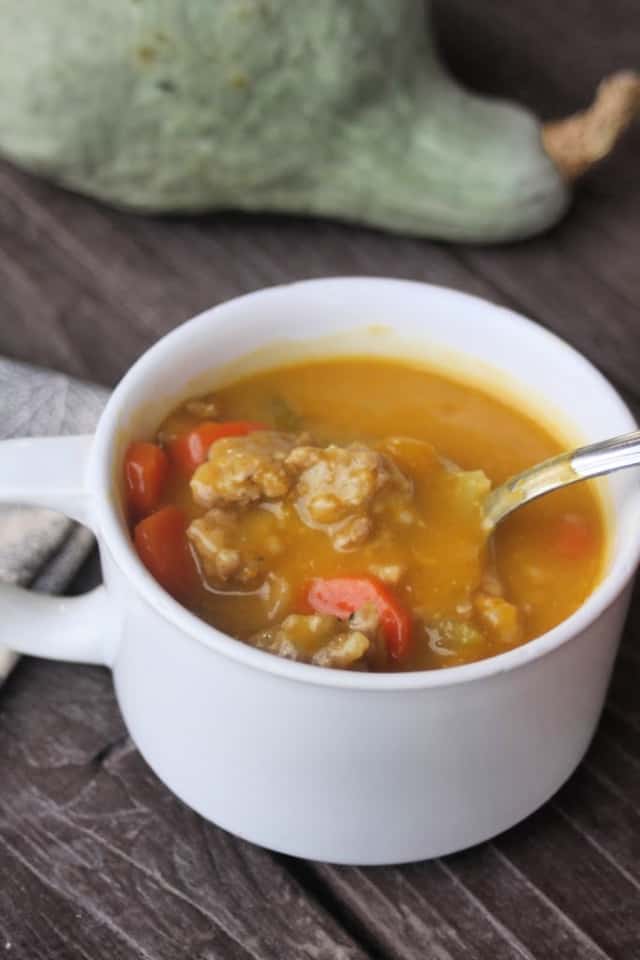 Don't have any winter squash on hand? Canned pumpkin will work just great, too.
Coconut Milk
The combination of coconut milk and italian sausage is quite delicious. It also makes for a creamy soup while skipping dairy for anyone who might be sensitive.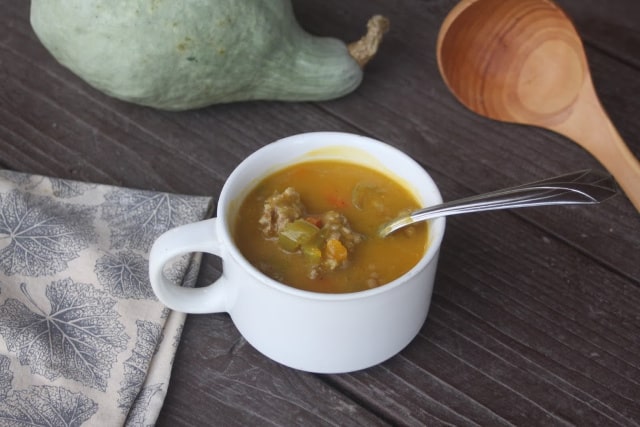 Use full fat canned coconut milk for the best flavor. The coconut milk sold near nut milks in the grocery store will likely work but the creaminess isn't the same.
Italian Sausage
Use mild or hot Italian Sausage, whatever you prefer. A chicken or turkey sausage would also work if your family doesn't eat pork.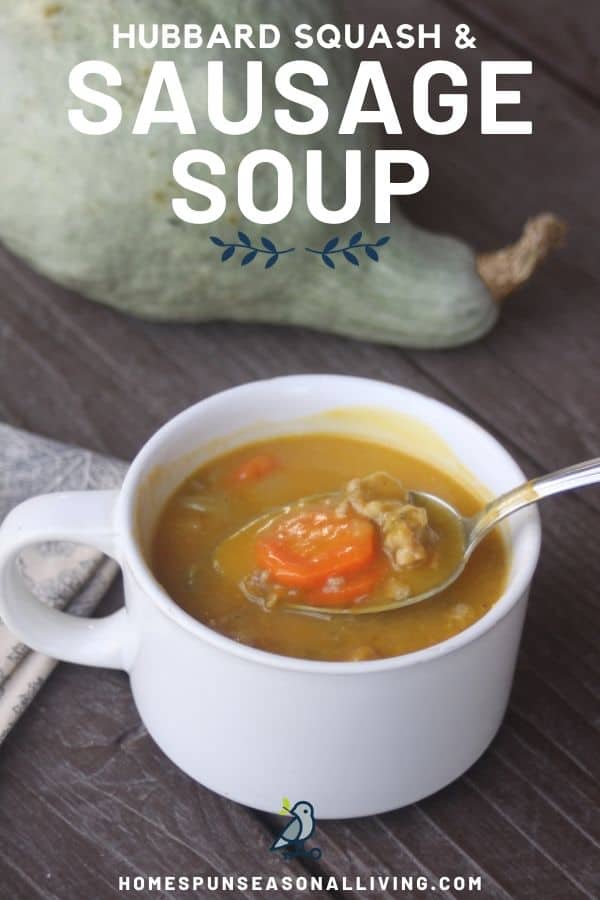 A bulk italian sausage works perfectly but you could remove the casing from links. Heck, even sliced links would likely work though differently.
Optional Thickening
If a thicker soup is preferred, simply thicken with cornstarch mixed with water. Using cornstarch keeps the soup gluten free but if that's of no concern use flour.
Make it a Meal
This is a hearty and filling soup. Round it out as a full meal by serving it with some homemade rye bread or savory cheddar caraway muffins. Serve an easy green salad with it as well.
Yield: 4 Servings
Hubbard Squash & Sausage Soup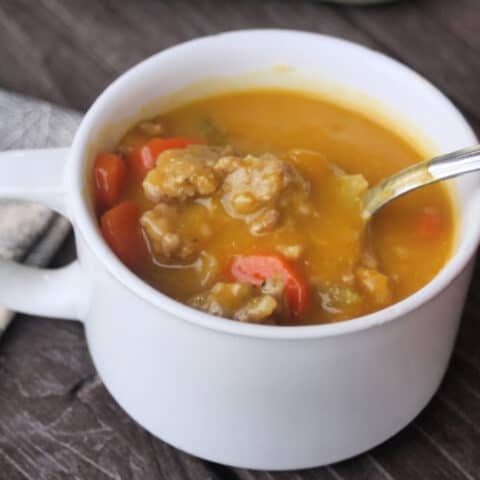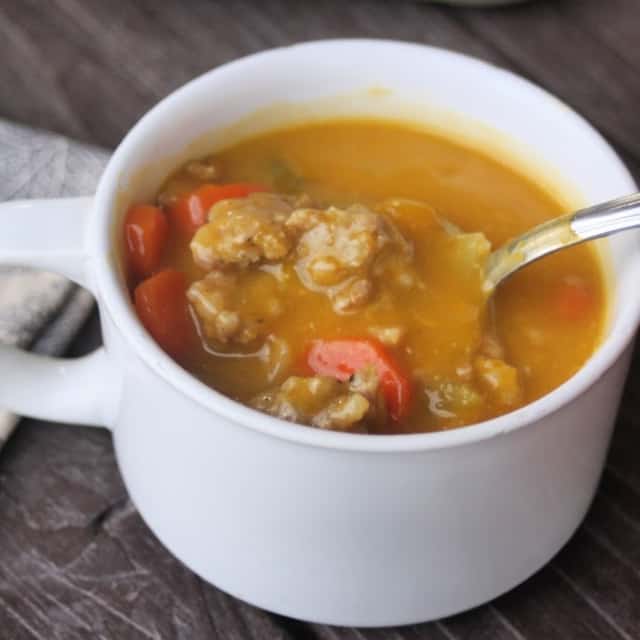 Hubbard Squash Sausage Soup is a creamy and hearty soup perfect for warming up on a cold day.
Ingredients
1 Pound of Ground Sausage
1 Medium Onion, chopped
1 Cup Carrots, sliced
1/2 Cup Celery, sliced
1 Tablespoon Olive Oil, optional
3 Cups Roasted & Pureed Hubbard Squash
14 ounces Canned Coconut Milk
4 Cups Chicken Broth
Salt & Pepper to Taste
2 Tablespoons Cornstarch, optional
1/4 Cup Cold Water, optional
Instructions
In a Dutch Oven, heat the olive oil.
Brown the sausage with the carrots, celery, and onions. Drain the fat (if necessary).
Add the roasted squash puree and chicken broth. Season with salt and pepper.
Bring to a boil. Reduce heat and cover, simmering until the carrots are tender.
Whisk together the cornstarch and water. Set aside.
Stir the coconut milk into soup. Add the cornstarch and stir.
Heat gently and stir until the soup is warm and thickened.
Serve Hot.
Nutrition Information:
Yield:
4
Serving Size:
1
Amount Per Serving:
Calories:

643
Total Fat:

57g
Saturated Fat:

30g
Trans Fat:

0g
Unsaturated Fat:

21g
Cholesterol:

74mg
Sodium:

1990mg
Carbohydrates:

17g
Fiber:

2g
Sugar:

6g
Protein:

18g
We try our best but cannot guarantee that nutrition information is 100% accurate.