Bursting with seasonal vegetables these healthy fall soup recipes are ones you'll want to curl up with! Made with nourishing ingredients and your favorite fall flavors, nothing brings in the autumn season like a big bowl of warm, hearty soup.
From rich and creamy purees to hearty, filling bowls there's an easy soup recipe for everyone here.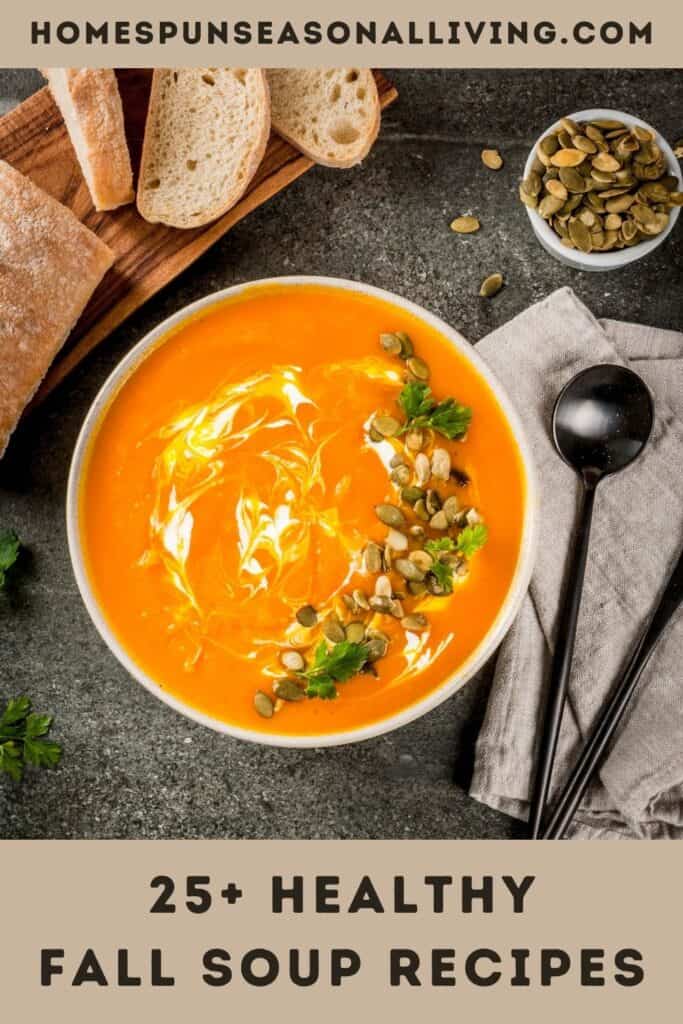 Enjoy these soups as a meal on their own paired with your favorite crackers or crusty fall season bread. Or better yet, meal prep a big batch and portion out the soup for easy lunches. Regardless, you'll beat the cool weather with these soup ideas!
What is Healthy Soup?
The definition of healthy can vary by household. For our purposes, this list focuses on simple, natural ingredients when they are in season. Delicious soup, delicious food, that is nourishing and flavorful always starts with the freshest ingredients available.
And because soup season does often coincide with the cooler weather of fall and autumn, we look to fall seasonal ingredients like: winter squashes, sweet potatoes, apples, root veggies, and more. Look to your garden and local farmers markets to find out what is in-season and be sure to look for new to you types for new flavorful cooking adventures.
Make your own broth and keep it stocked so that you can be ready for easy soup making at a moment's notice. Broth making may seem intimidating but it is actually quite easy and frugal, allowing us to make the most of bones and vegetable scraps.
Healthy & Hearty Fall Soup Recipes
Use this list of healthy soup recipes to fill your meal plan on the cool fall days. Many of these will work equally well for lunch and dinner by adding some bread or even a salad on the side for something fill, nourishing, and frugal.