Homemade raspberry custard pie is a summer treat that is tart, creamy, and sweet!
This raspberry pie comes together simply with a crust, fresh raspberries, and vanilla custard filling, you'll need some chill time but this is a very easy and mostly hands-off dessert recipe.
Serve up a bit of summer to your guests and family alike with this easy to bake pie recipe.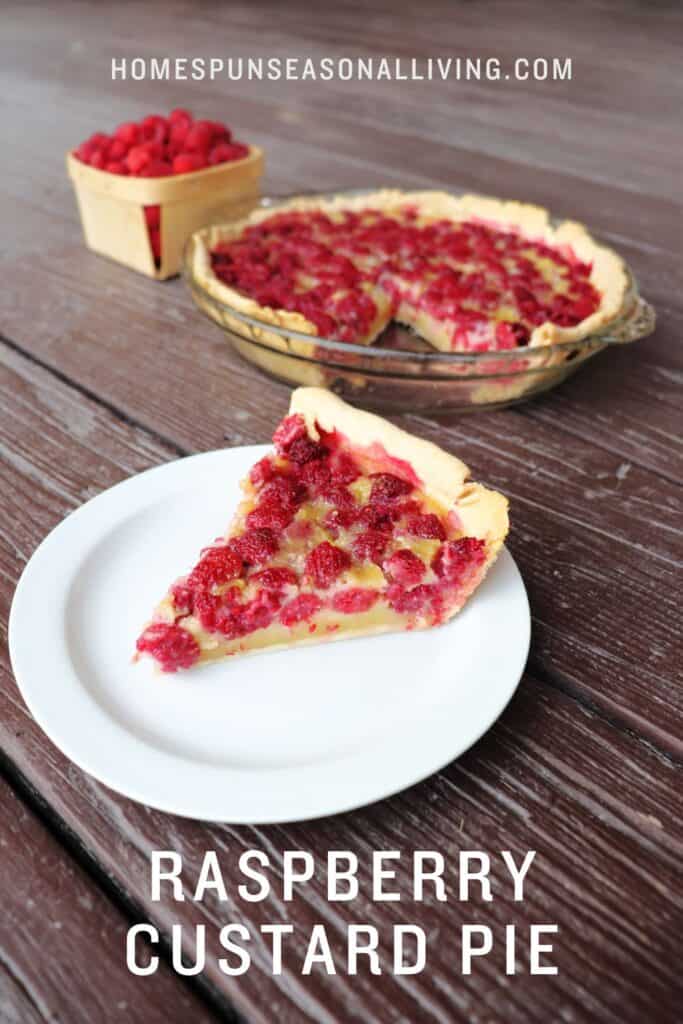 Pie Crust
You only need a bottom crust for this pie recipe. Use your favorite or buy something from the store for even more ease.
I didn't test it but I do imagine that you could bake this in a parchment lined baking dish without a crust for a simple custard dessert.
Don't stress about it being perfect or beautiful. I admire really gorgeous pie crusts, I don't make them however. The important part is flavor and crunch not the actual pie crust.
The beauty of this raspberry dessert is in it's glorious light gold and bright red filling and it is the thing everyone will notice.
The Raspberries
I used a full 4 cups of raspberries in the pie. I think a person could get away with using 3 cups if that's all you have on hand. I wouldn't go more than 4 cups because the custard to fruit ratio wouldn't work quite right.
Use red, black or even golden raspberries here in an equal measurement. You could also do a mix. What I'm trying to say is – go with what you have on hand after any of your berry picking adventures.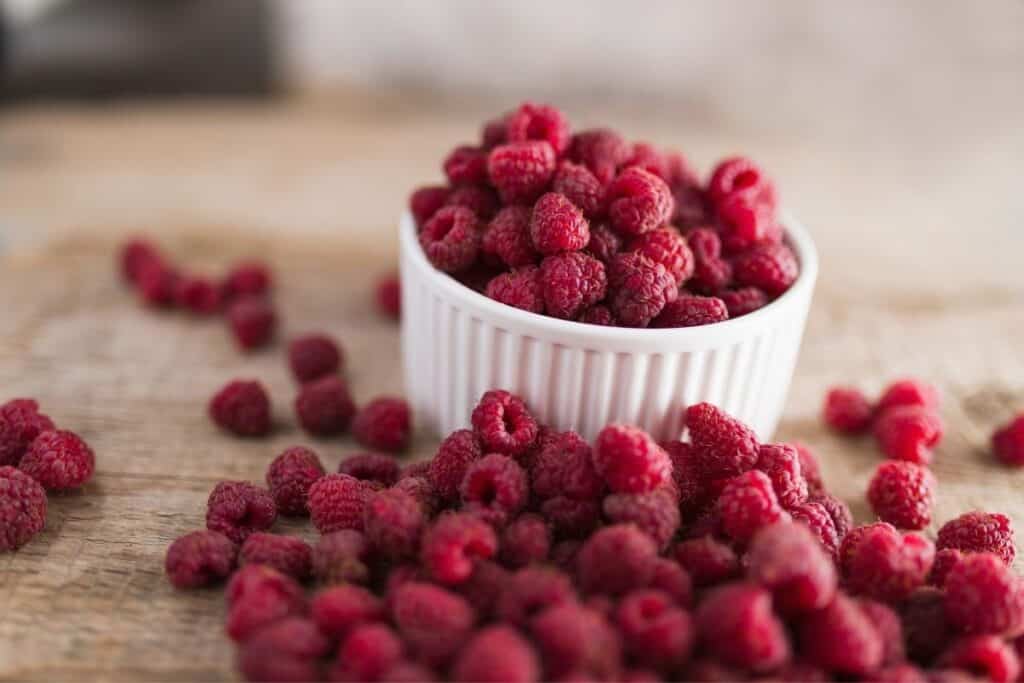 Again, I didn't test it but I can't see why you couldn't substitute the raspberries with other small berries like blueberries, Saskatoon berries, huckleberries, etc.
Do use ripe and flavorful berries, they are the star of the dessert and sour or bland berries will not make as wonderful of a dessert.
Make Ahead
Because this custard pie should be served cold, it's an ideal dessert to make a day ahead.
Simply make a day before serving, let cool to room temperature, and then cover. Place the whole pie in the refrigerator overnight and it will perfect for serving the next day.
How to Serve
As with most summer fruit pie recipes, a slice simply served with coffee, your favorite summer iced tea, or other beverage is a dessert in and of itself.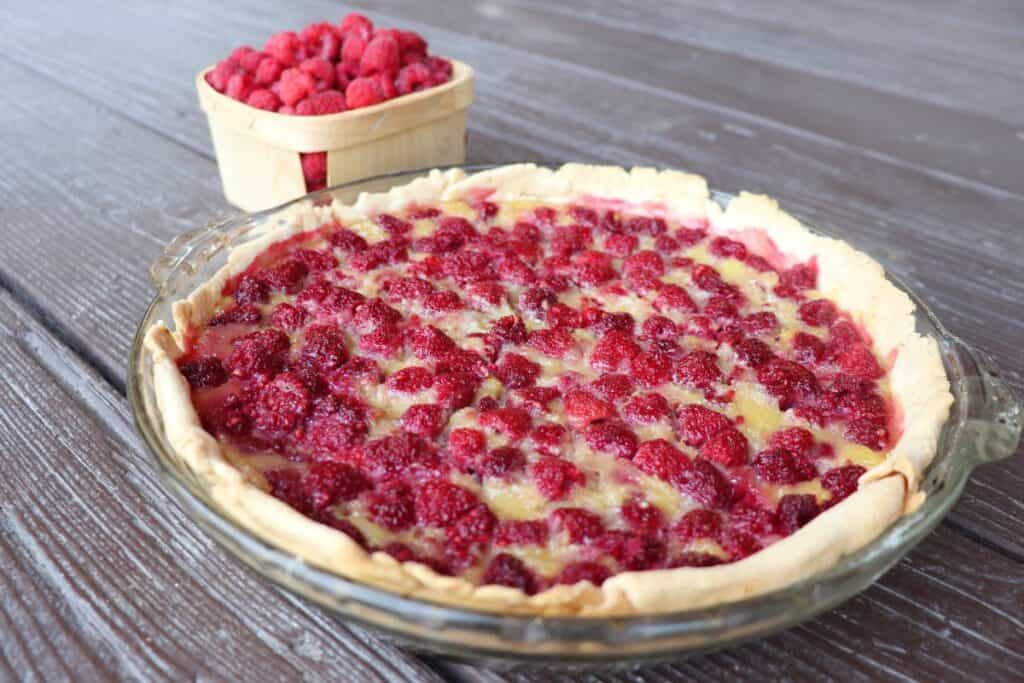 You could, of course, serve this with a bit of whipped cream and some fresh berries on top for a fancier touch.
Because of the custard filling, I'm not a fan of serving this with ice cream but feel free if that's more your style.
How to Store
Leftover pie should be kept refrigerated. Simply put leftover pieces in airtight containers or wrap the pie pan with something like aluminum foil and keep cold.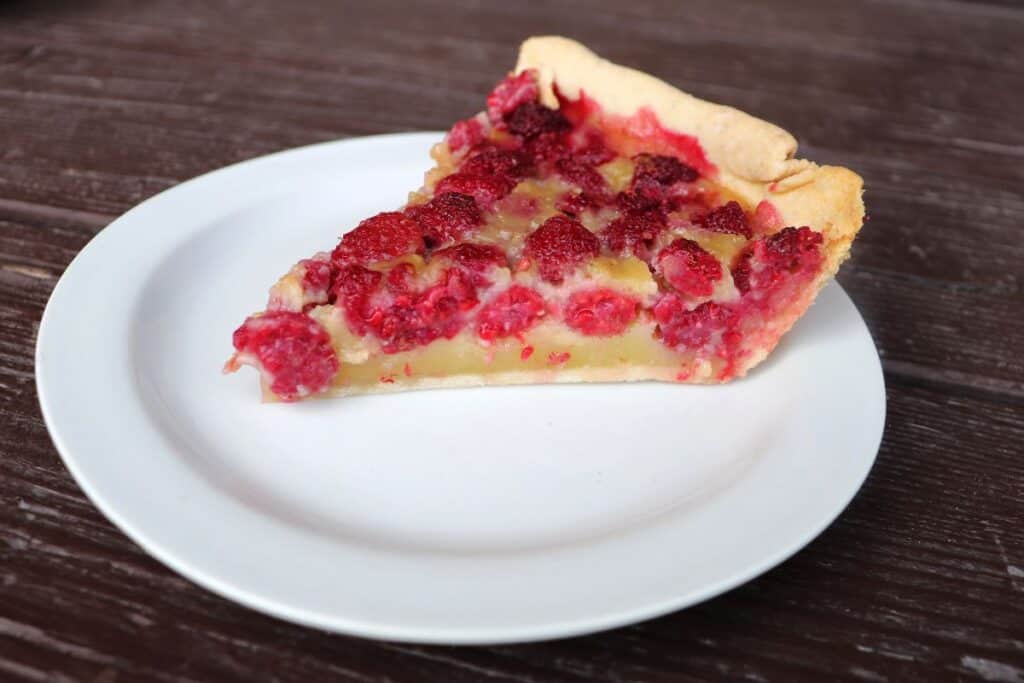 The leftover pie should be good for up to 4 days.
Looking for more great recipes that feature raspberries?
Try these the raspberry cupcakes with raspberry white chocolate frosting.
Homemade is heart-made! Check out 60 fresh ideas for gifts from the kitchen to honor every occasion. Sharing is caring!
Yield: 8 Servings
Raspberry Custard Pie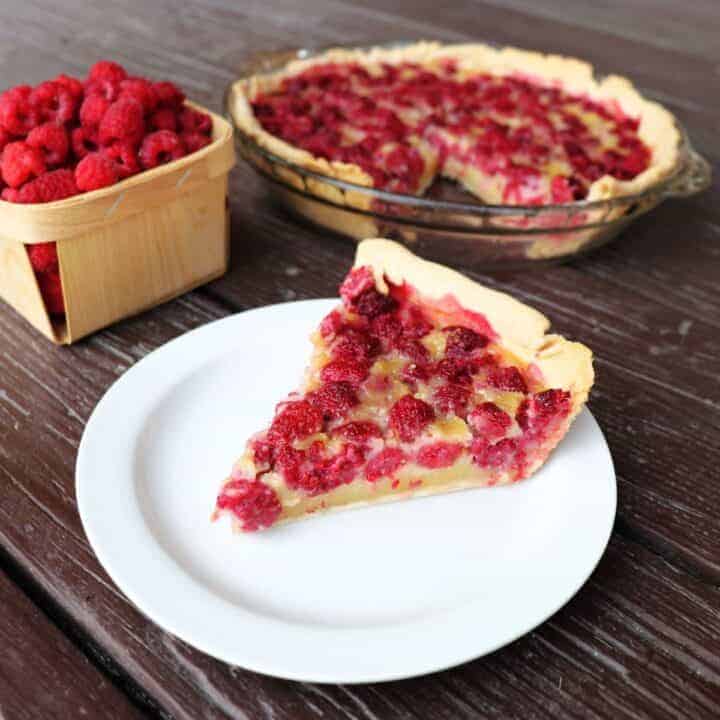 Make this creamy and delicious pie to feature sweet summer raspberries!
Total Time
3 hours
12 minutes
Ingredients
1 - Unbaked pie shell for a 9-inch pie plate
4 Cups Raspberries
3 Eggs
1/3 Cup Milk
1 Cup Sugar
1/4 Cup Unbleached, All-Purpose Flour
1 Tablespoon Vanilla Extract
Instructions
Preheat oven to 375 degrees Fahrenheit.
Roll out the pastry and line a 9-inch pie dish with it. Trim edges and crimp as desired. Chill the dough while you make the custard.
In a small bowl, combine flour and sugar until smooth. Set aside.
In a large bowl, whisk together the eggs, milk and vanilla extract until thoroughly combined.
Pour the dry ingredients in the wet and whisk until smooth.
Remove the pastry from the fridge, pour the raspberries into the pie shell and spread evenly.
Pour the custard filling over the raspberries, using a spatula to gently even it out.
Bake the pie in the preheated oven fro 45 minutes to 1 hour or until the custard is set and the pie crust is a golden brown.
Let the pie cool on a wire rack until it reaches room temperature.
Cover the cooled pie and refrigerate for at least 2 hours (longer okay) before serving.
Nutrition Information:
Yield:
8
Serving Size:
1 slice
Amount Per Serving:
Calories:

274
Total Fat:

6g
Saturated Fat:

2g
Trans Fat:

0g
Unsaturated Fat:

4g
Cholesterol:

71mg
Sodium:

95mg
Carbohydrates:

51g
Fiber:

5g
Sugar:

33g
Protein:

5g
We try our best but cannot guarantee that nutrition information is 100% accurate.