Sweet and loaded with floral flavor this lavender cupcake recipe is ideal for celebrations of all kinds.
Studded with bits of lavender throughout both the cupcake and frosting recipe these are as beautiful as they are delicious!
Whip up these lavender honey cupcakes complete with a lavender frosting for a decadent and rich dessert.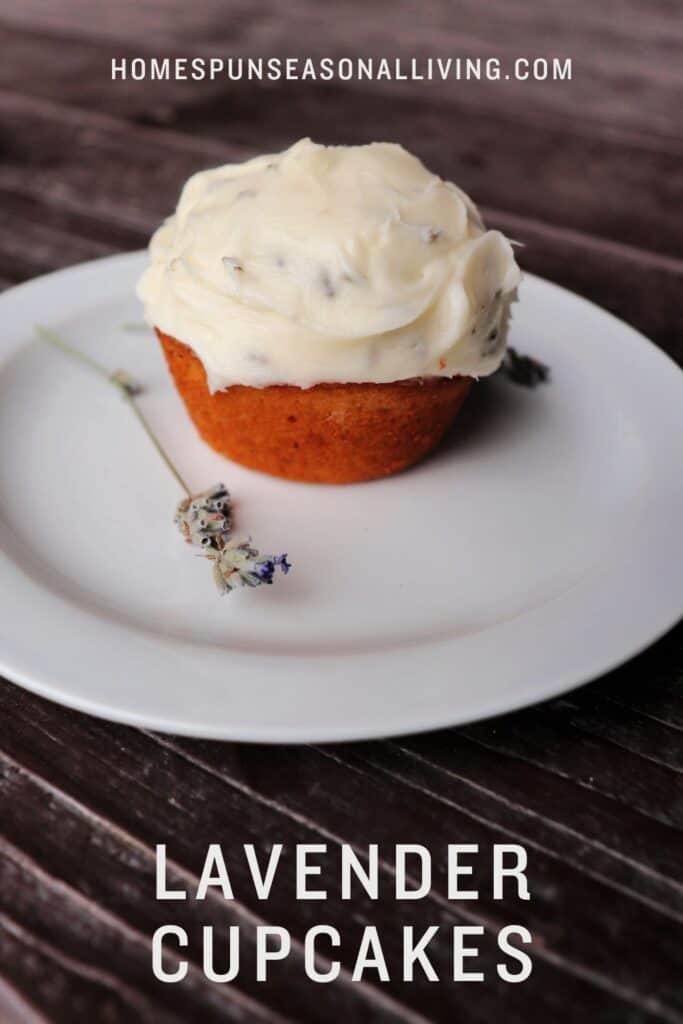 Let's Talk About Lavender
Lavender is the star of these cupcakes and that flavor is layered throughout the ingredients.
If you happen to have some infused lavender sugar and some lavender infused honey made and in your pantry. Use those here in place of the plain sugar and honey and skip add the edible dried lavender infused milk in the first steps of the recipe.
The recipe uses dried lavender flowers but if you have fresh lavender growing in your garden, feel free to use it instead by using double the amount in the recipe. So use 2 Tablespoons fresh instead of every 1 Tablespoon dried. It'll provide the perfect lavender flavor.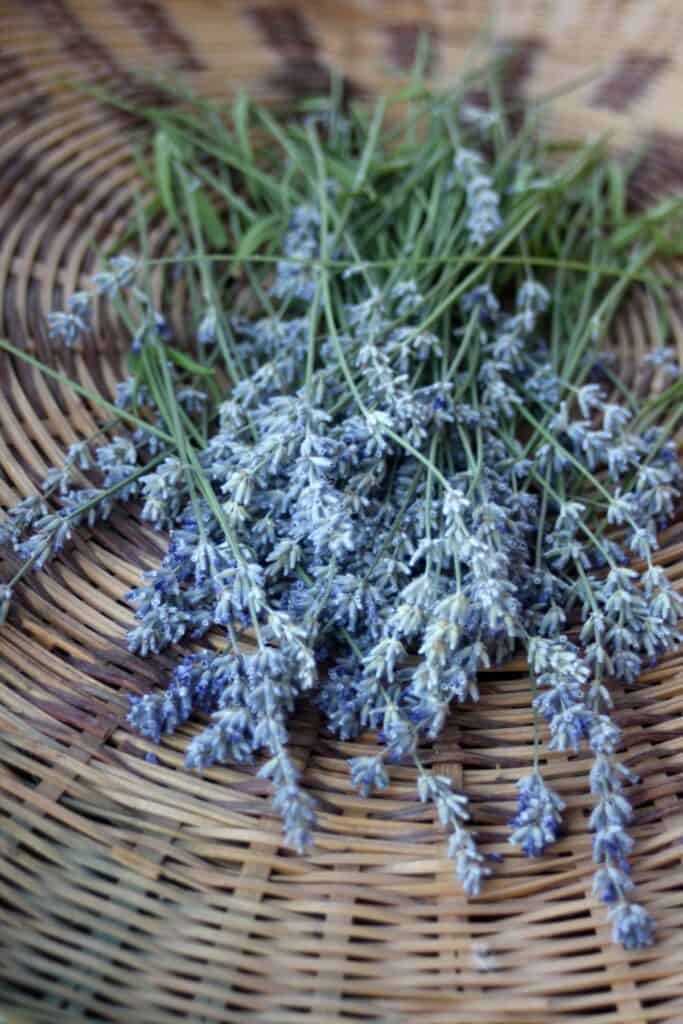 If you'd prefer just a hint of lavender in your baked goods, use up to half of the amount called for in the recipe.
Simple Ingredients
The rest of the ingredients are extremely basic and yet so wonderful. You'll likely to have all the ingredients in your pantry.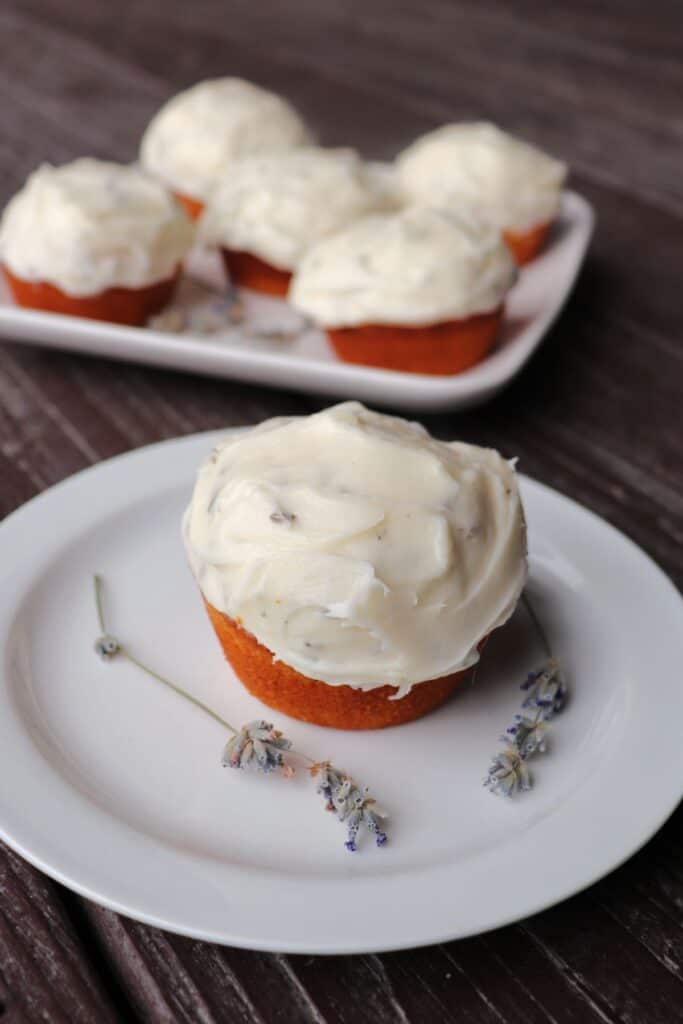 Do make sure to let everything infuse well to maximize the floral flavors. Let the lavender steep in the cupcakes, beat it extremely well in the frosting.
Make Ahead
If you'd like to get a head start on these for say a baby shower or gathering of some sort. Feel free to bake the cupcakes the day before and store in a container at room temperature. Then frost just before serving.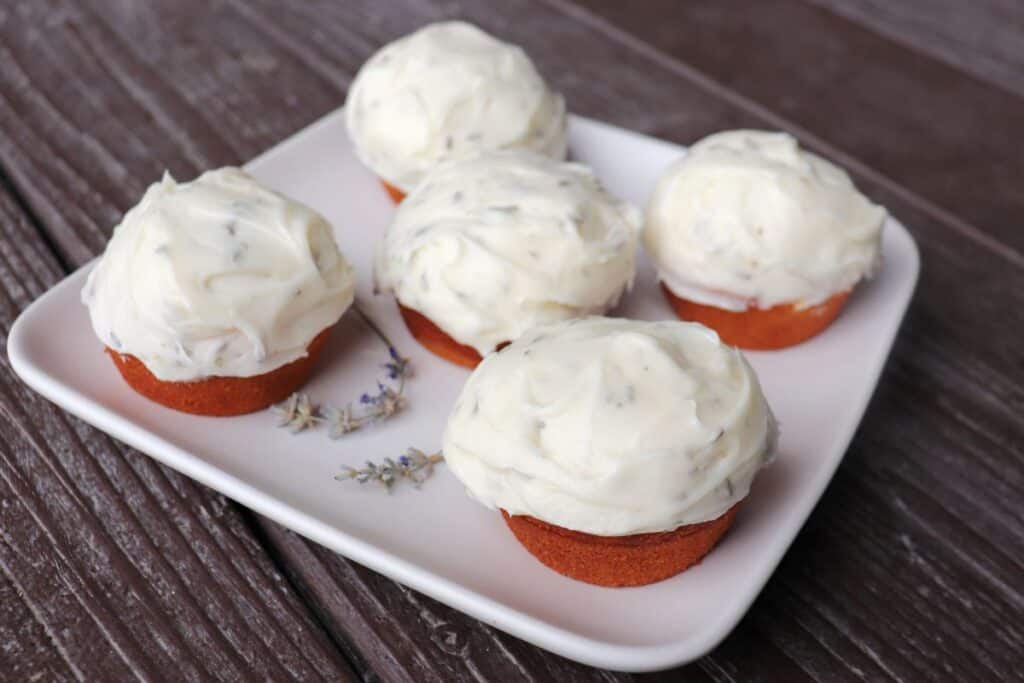 You could even bake the cupcakes and freeze for up to a month. Let the unfrosted cupcakes thaw on the counter and then frost and serve as desired.
Other Optional Touches
If you want to have a deeper purple color, you can add some food coloring to the lavender buttercream.
Definitely use a piping bag for a more intricate frosting than my spread with a knife method.
Top the frosted cupcakes with a sprig of fresh lavender if it happens to be in season when you make these.
How to Serve
Cupcakes are a great dessert just as they are frosted and lovely. Simply serve them with your favorite hot or cold beverages.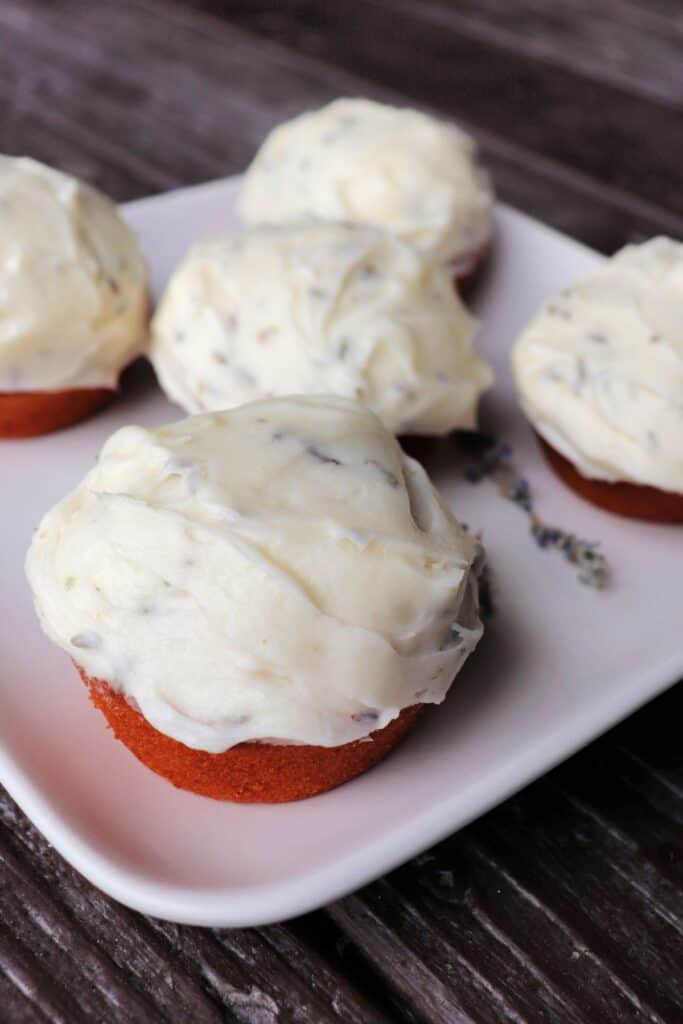 If you'd like to get a bit fancier for say a special occasion, feel free to serve them on a plate with a scoop of vanilla ice cream.
How to Store
Once the cupcakes are frosted, simply store them in an airtight container. Refrigerate the cupcakes to keep the cream cheese frosting in good shape. The cupcakes should stay fresh for up to 4 days when stored this way.
Learn how to use homegrown herbs to take your cooking to the next level – from planning to harvesting with more than 50 original recipes to enjoy all year.
You can also freeze the frosted cupcakes in a freezer bag or other container. Place in the freezer and freeze solid. To thaw, place cupcakes in the refrigerator and then serve. Use up any frozen cupcakes within 6 months for best flavor.
Yield: 12 Cupcakes
Lavender Cupcakes Recipe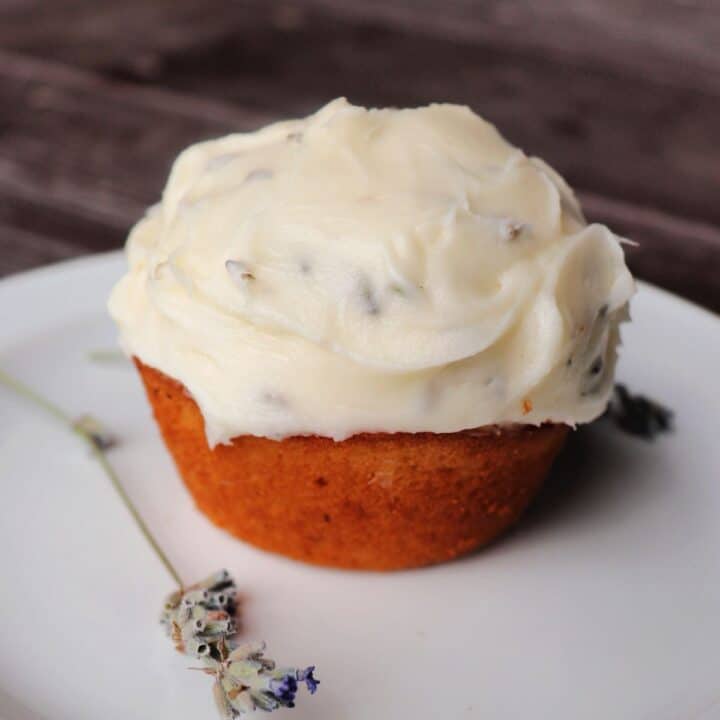 Whip up these delightful lavender cupcakes for an amazing dessert that is the perfect addition to any party or dessert tray!
Ingredients
Cupcake Ingredients
2/3 Cup Milk
1 Tablespoon Dried Lavender Blossoms
1/2 Cup Salted Butter
1 1/2 Cups Unbleached, All-Purpose Flour
1 1/2 teaspoons Baking Powder
2/3 Cup Sugar
1/4 Cup Honey
Frosting Ingredients
1/2 Cup Salted Butter, softened
8 ounces Cream Cheese, softened
2 Tablespoons Dried Lavender Buds
4 Cups Powdered Sugar
2 Tablespoon Milk
Instructions
To Bake Cupcakes
Preheat oven to 350 degrees Fahrenheit.Grease a cupcake tin or fill cups with paper liners.
Combine milk, lavender, and butter in a small saucepan. Heat over low heat until butter is melted - do not boil. Remove from heat, place a lid on the pot and let sit for about 10 minutes.
Meanwhile, whisk together the flour and baking powder in a large mixing bowl. Set aside.
In a medium bowl, whisk together the sugar, eggs, and honey, until completely combined.
Pour the milk mixture into the sugar mixture and mix completely.
Add the wet ingredients to the dry ingredients in the large bowl and mix until completely combined.
Divide the cupcake batter evenly amongst 12 cups, filling each about 2/3 full.
Bake in the preheated oven for 15-18 minutes. The edges will be golden brown and an inserted toothpick will come out clean.
Let cupcakes cool in pan for 5 minutes before removing to cool completely on wire racks.
To Make Frosting
In a large mixing bowl or the bowl of your stand mixer, cream together the butter, cream cheese, and dried lavender. Beat well, being sure to scrape sides of the bowl as necessary. Beat until light and fluffy.
Add 2 cups of powdered sugar and mix together until combined.
Add the milk and remaining powdered sugar. Beat until completely combined and the frosting is a spreading consistency. If necessary add 1 teaspoon of cream at a time, beating after each addition to make the frosting thinner.
Spread or pipe onto cooled cupcakes as desired.
Nutrition Information:
Yield:
12
Serving Size:
1
Amount Per Serving:
Calories:

476
Total Fat:

22g
Saturated Fat:

14g
Trans Fat:

1g
Unsaturated Fat:

7g
Cholesterol:

61mg
Sodium:

252mg
Carbohydrates:

68g
Fiber:

1g
Sugar:

54g
Protein:

4g
We try our best but cannot guarantee that nutrition information is 100% accurate.