Rich and delicious this applesauce brownie recipe is sure to delight!
Like most regular brownies these are sweet and decadent with an extra layer of moistness that takes them over the top.
With the deeply fudgy texture and flavor like you would expect from traditional brownies, no one will know that there is apple sauce hidden inside and will be clamoring for more!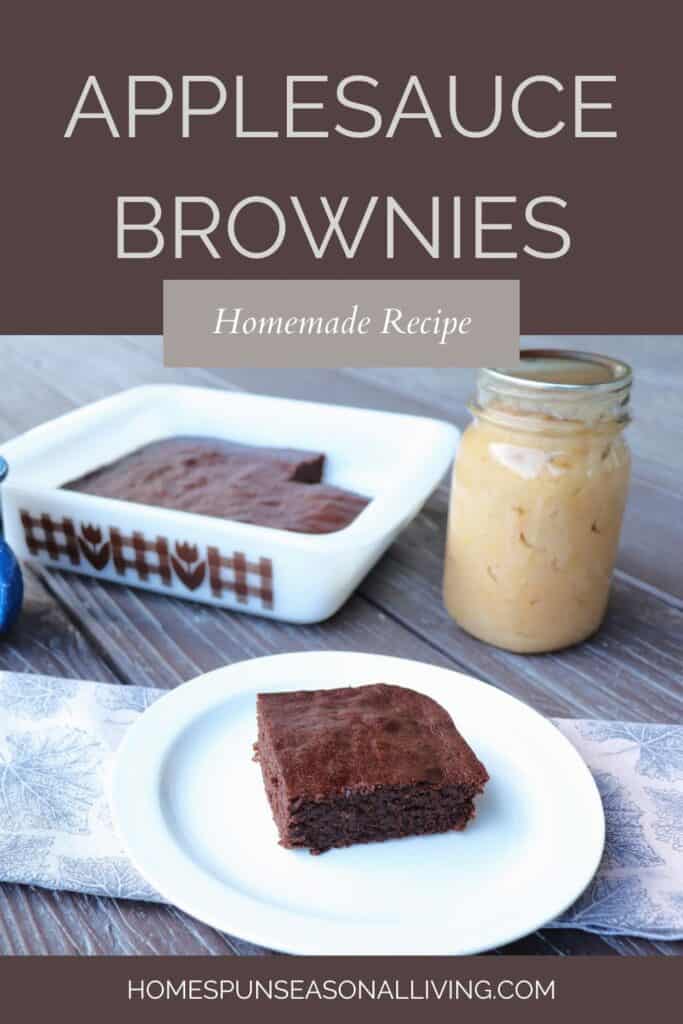 Not Health Food
I know that often the addition of applesauce means that we can think of these as healthy brownies – these are a dessert, plain and simple. Yes, dessert has a place in our lives but these should not be considered any kind of healthy substitute.
There's plenty of sugar and white flour here to remind us that these should be an occasional indulgence in an overall healthy eating lifestyle.
Applesauce
Do use unsweetened applesauce here, as there is plenty of white sugar added and this chocolate brownie recipe doesn't need more.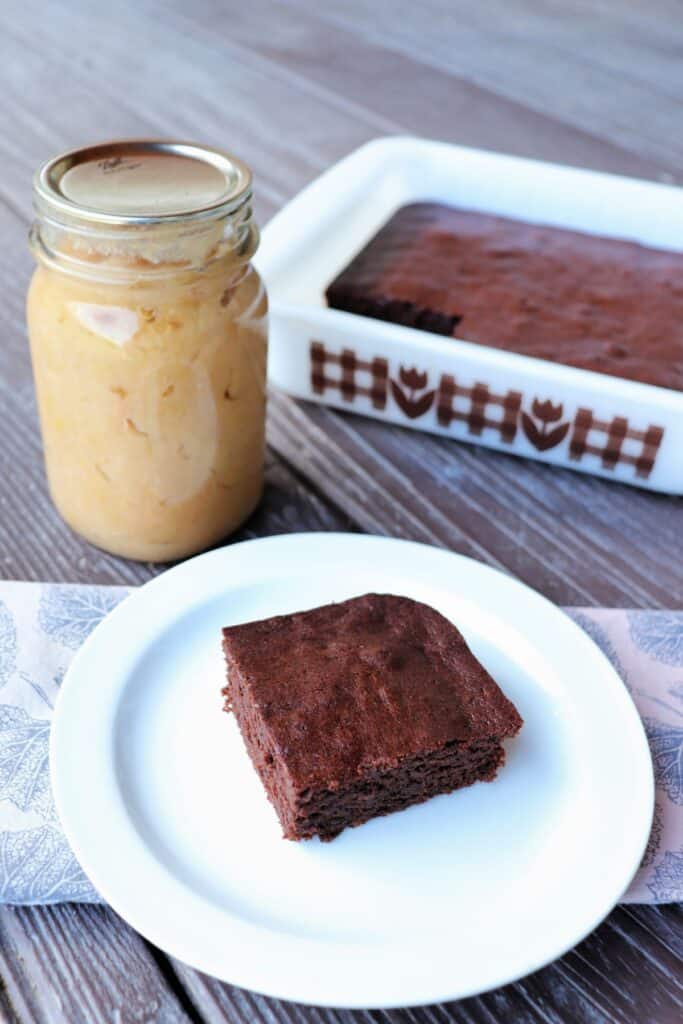 If like me, you have homemade chunky applesauce on hand, simply puree it in a blender or food processor before adding it to the recipe.
Optional Additions
These are quite good as the recipe is written, however there are a few ways to dress it up if desired:
Add up to 1/2 cup of dark chocolate chips
Stir in up to 1/2 cup of chopped walnuts
Whisk in 1/2 teaspoon of ground spice, like cinnamon, with the flour
Feel free to spread some chocolate or peanut butter frosting on the cooled brownies
Sprinkle some powdered sugar on top of the brownies just before serving
How to Serve
This is one of those great recipes that don't much or anything really to be a fantastic dessert. Simply serve pieces with milk or coffee and call it good.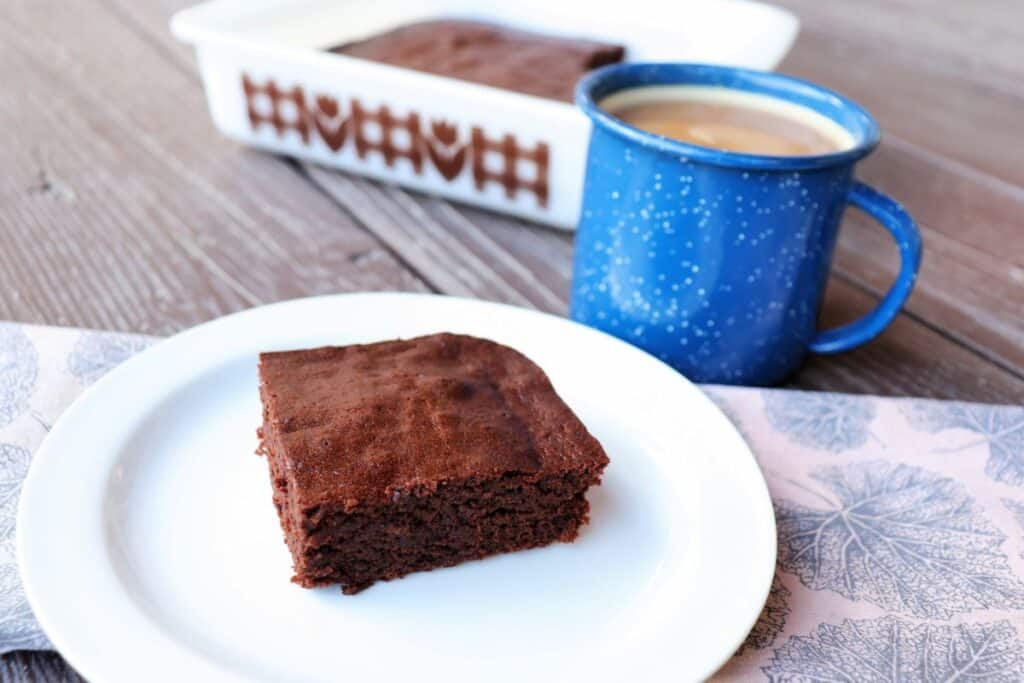 If you want to get extra fancy, serve them with a scoop of ice cream or some whipped cream.
How to Store
Store the cooled leftovers in an airtight container. The brownies should stay quite fresh and delicious for up to 4 days, assuming they last that long.
For longer term storage, these can be frozen. Simply put the whole pan or slices into freezer containers and freeze.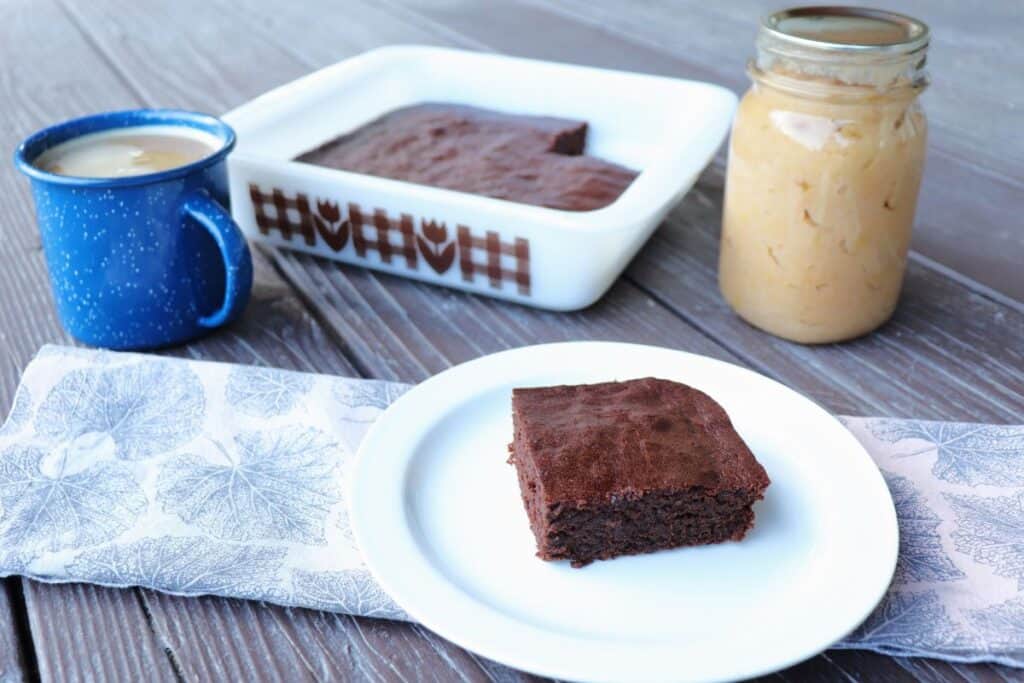 Let frozen brownies thaw at room temperature prior to serving. Use up any frozen brownies within 6 months for best flavor.
Looking for more applesauce recipe ideas? My e-book Get Sauced has sweet and savory ideas to help you make use of all you have in the pantry!
Yield: 9 Servings
Applesauce Brownies Recipe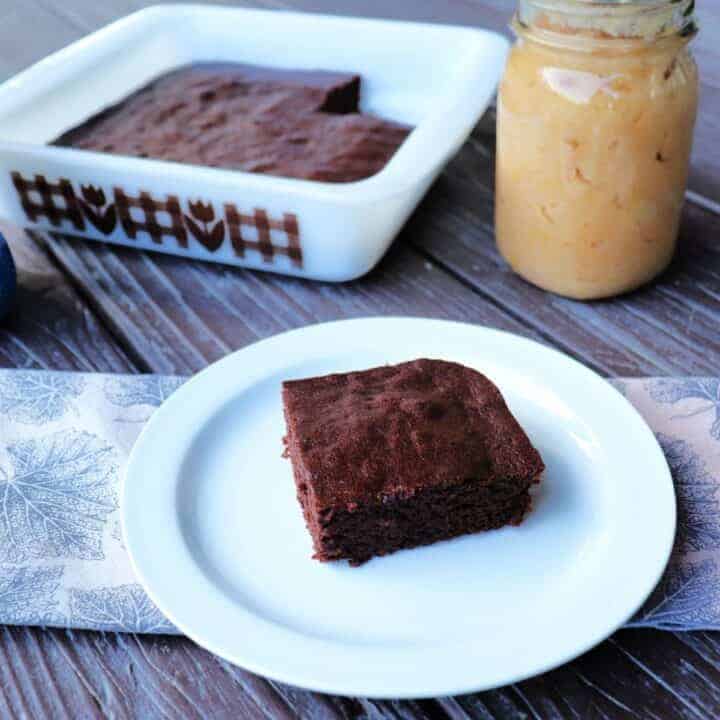 Make fudgy brownies using your applesauce preserves with this simple and oh-so-delicious recipe!
Ingredients
1/2 Cup Salted Butter
2 ounces Unsweetened Chocolate
3/4 Cup Sugar
2 Eggs
1/2 Cup Unsweetened Applesauce
3/4 Cup Unbleached, All-Purpose Flour
1/4 Cup Cocoa Powder
1/2 teaspoon Baking Powder
Instructions
Preheat oven 350 degrees Fahrenheit.
Grease a 9 inch square cake pan.
In a small saucepan, add the butter and unsweetened chocolate. Melt over low heat, stirring frequently to prevent scorching. Let cool slightly.
In a large bowl, combine flour, cocoa powder and baking powder. Set aside.
In a small saucepan, add the butter and unsweetened chocolate. Melt over low heat, stirring frequently to prevent scorching. Let cool slightly.
In a medium bowl, whisk together the sugar, eggs, and applesauce. Add the melted chocolate mixture and mix until completely combined.
Add the dry ingredients to the wet ingredients, folding just until combined.
Pour batter into the prepared baking pan, spread evenly.
Bake in the preheated oven for 30 minutes or until an inserted toothpick comes out clean.
Cool pan on wire rack before cutting into bars and serving.
Nutrition Information:
Yield:
9
Serving Size:
1
Amount Per Serving:
Calories:

264
Total Fat:

15g
Saturated Fat:

9g
Trans Fat:

0g
Unsaturated Fat:

5g
Cholesterol:

69mg
Sodium:

126mg
Carbohydrates:

29g
Fiber:

2g
Sugar:

18g
Protein:

4g
We try our best but cannot guarantee that nutrition information is 100% accurate.