Lavender infused honey is an easy and tasty way to preserve your herbal garden harvest.
Herbal honeys, like this one full of lavender flowers, are sweet and useful pantry staples.
Make lavender honey and have the sweet taste of summer in your kitchen all year round!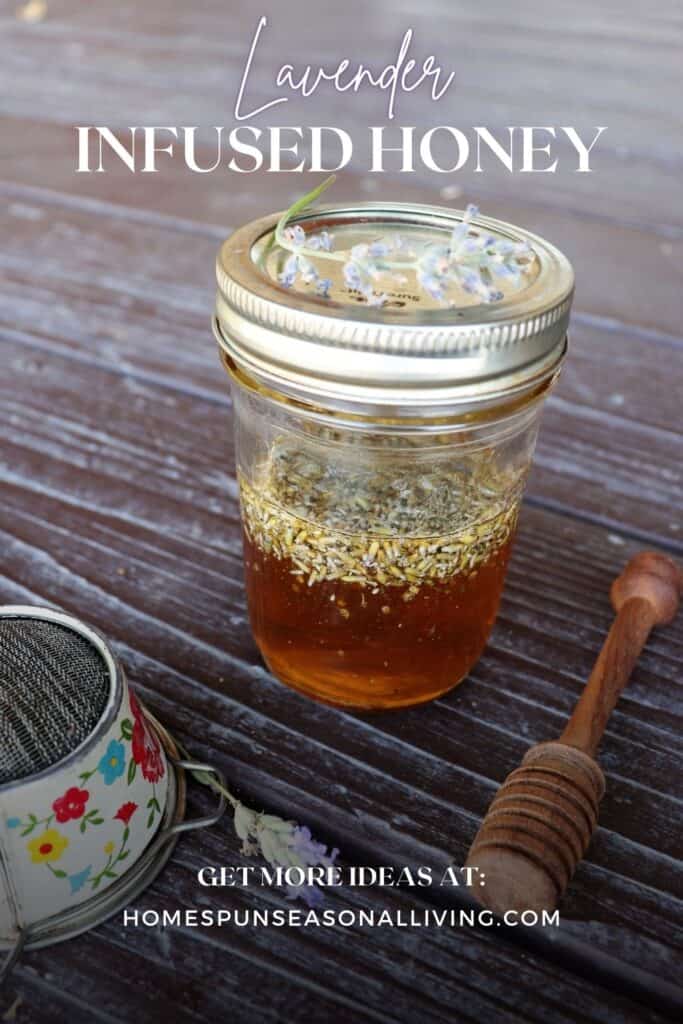 Very Simple Ingredients
There are only two ingredients: lavender buds and honey – make them best you can find.
Use the good stuff, the finest you can find in your local area for the best final product.
The Lavender
Obviously, lavender is the main flavor and star here. And I know, most folks will tell you to use culinary lavender. If you have lavender growing in your home herb or flower garden – give it a taste – if it's not bitter feel free to use and not worry about labeling it 'culinary grade lavender'.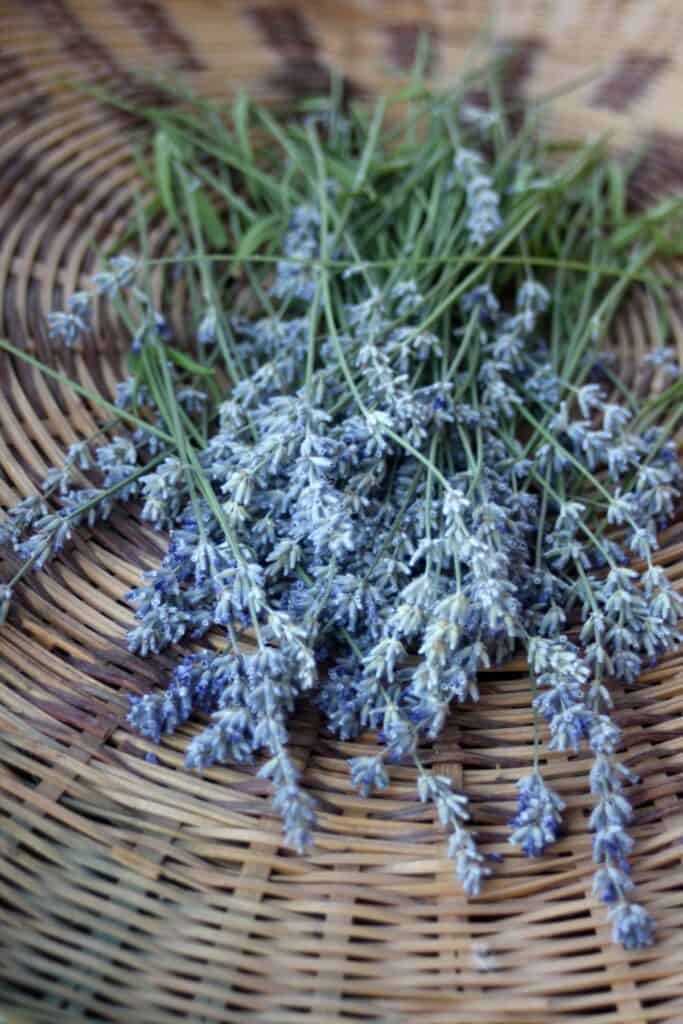 If you don't have it growing, look to buy it from a local herb or lavender farm, if at possible.
Your local health food store will likely have lavender blossoms in bulk if you can't find a farm.
The Honey
Use a mild flavored kind of honey so that the floral flavor can shine through.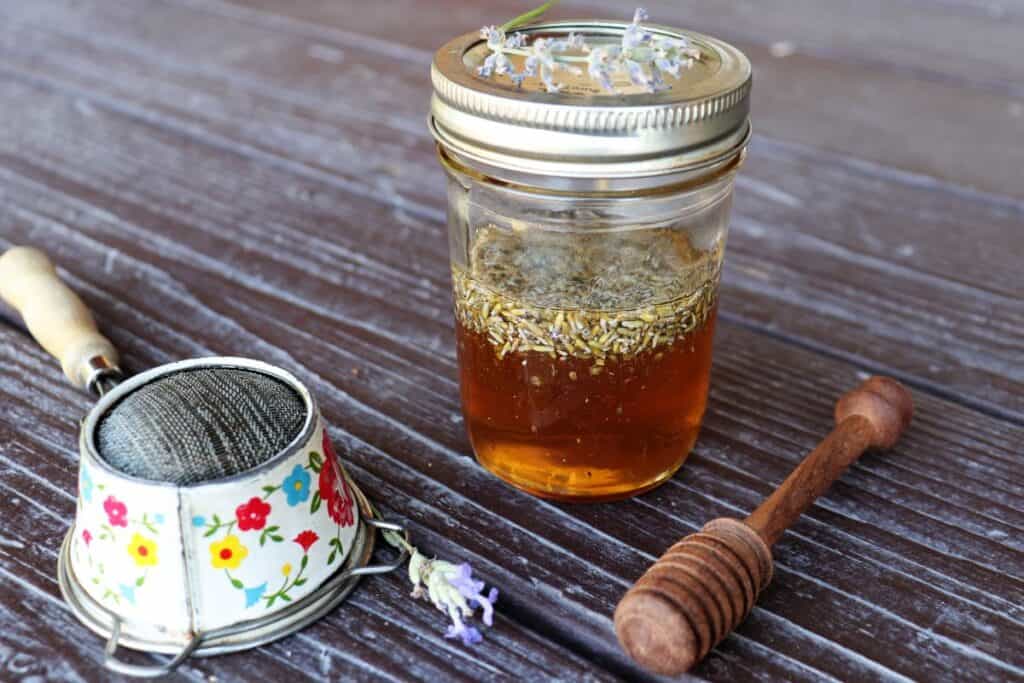 Chose something local and light in color for the most lavender flavor, things like clover honey, wildflower honey. If you have your own hive, of course, use that and don't worry the particular honey variety.
For the best outcome, use a liquid honey, avoid any that has crystalized. The crystalized honey doesn't infuse as well over time.
A Long, Solar Infusion
As in most things, I choose to take the slow route when making infused honeys.
Your honey will need to infuse for a couple of weeks. While the total time seems long, you as the maker aren't doing much – you're just letting it sit.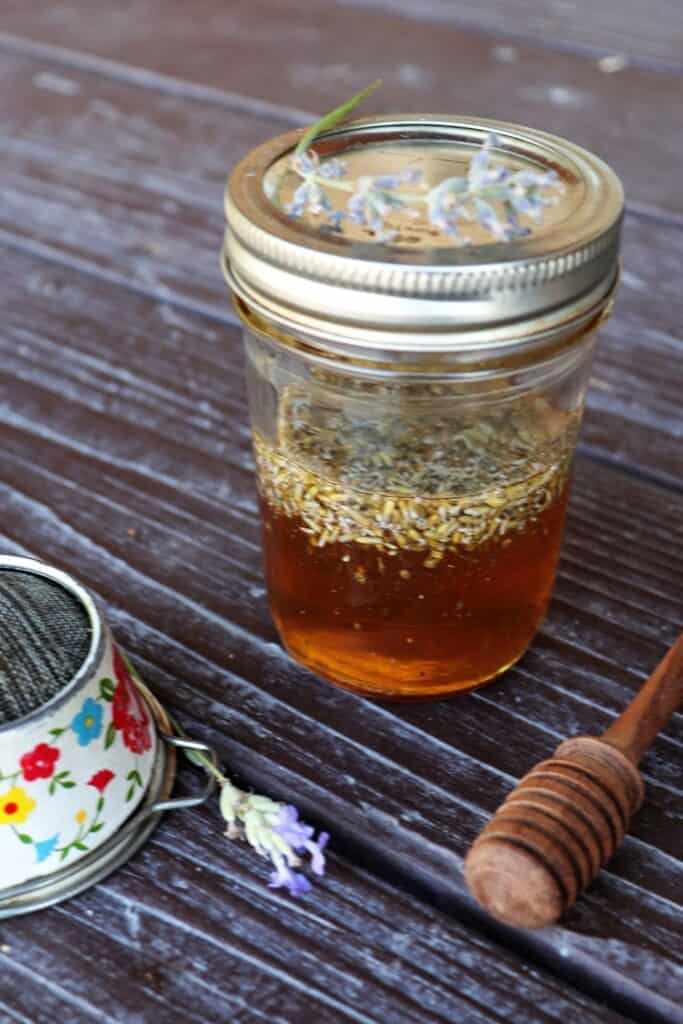 Use the direct sunlight on your windowsill as your friend for a gentle warming and infusing process.
Are there ways to speed this up? You could heat the honey and lavender gently over a double boiler for a floral flavor but in my experience the slow method is better.
Adjusting the Strength
The recipe below results in a floral honey that is sweet and in which the lavender flavor shines through.
However, you can easily make it lighter or heavier as desired. Add more or less lavender to make the strength you prefer.
If you're unsure start by making a half or even quarter batch and adjust the lavender up or down to figure out which version you prefer most.
How to Use
In a nutshell, use lavender honey as you would any plain, sweet honey in your normal kitchen routine. Truly use the infused honey in any recipe that uses plain honey – cakes, cookies, sauces, dressings, etc.
Add a little bit to a cup of tea for sweetening and herbal punch at the same time.
Make lavender honey cupcakes for a party.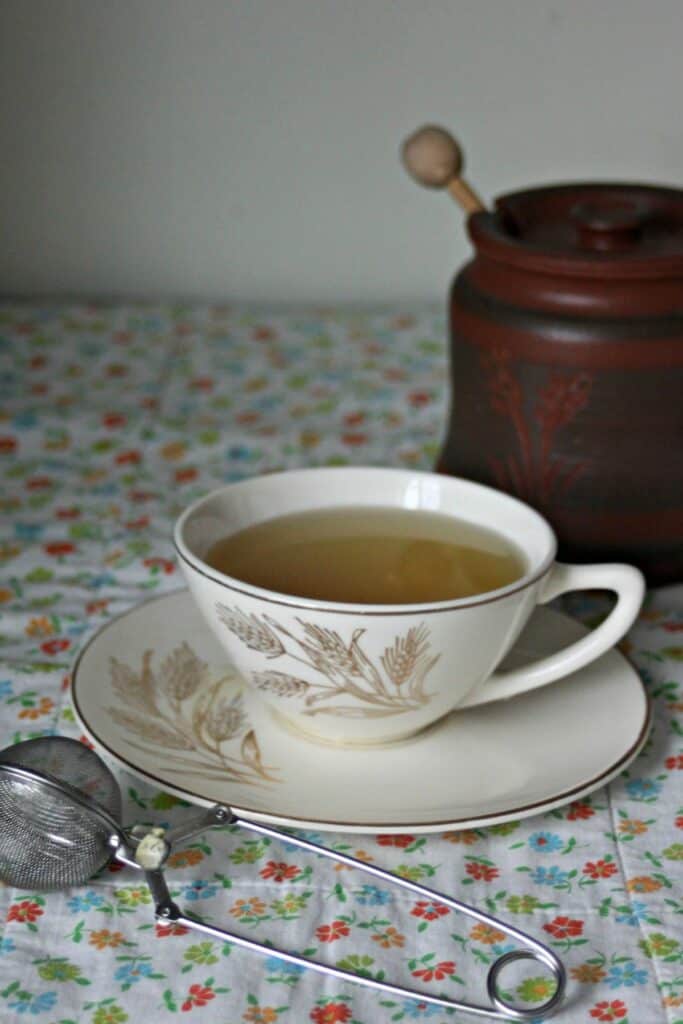 Use it to sweeten cream cheese for spreading on crackers or bagels.
Cool off on a hot day by using it make lavender lemonade or sweetened Thai iced tea.
Warm up on a cold day by using it to make hot chocolate.
Lavender has long been prized for its ability to soothe and relax our nerves. Use that power in some nightly tea or warm milk before bed after a long day.
Definitely share it with other things as a lavender gift idea for those you love.
Make a lavender hot toddy.
What to Do with the Discard Lavender
After the honey is finished infusing, the lavender has served its purpose. You can put it in the compost heap if desired.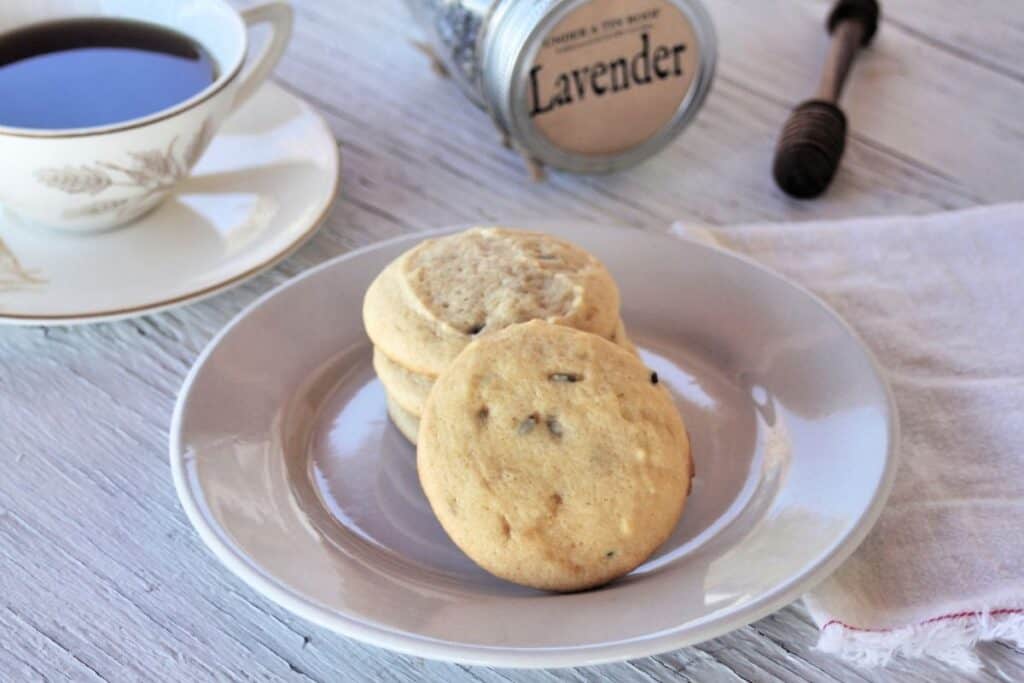 You could also use it up in a recipe, like lavender bread or cake.
It's candied a bit at this point and if you want, you could even munch on it like candy.
How to Gift
This is a great way to share your herb garden with friends near and far.
Pack a pretty glass full of the honey into a gift basket alongside some loose leaf tea as the perfect gift for the tea lover in your life.
Make small jars and mail them to family far away for holiday gifts.
Harness the simple power of seasonal herbs in your kitchen and home with confidence – from recipes to remedies and beyond with A Year of Seasonal Herbs.
Yield: 1 Cup
Lavender Honey Recipe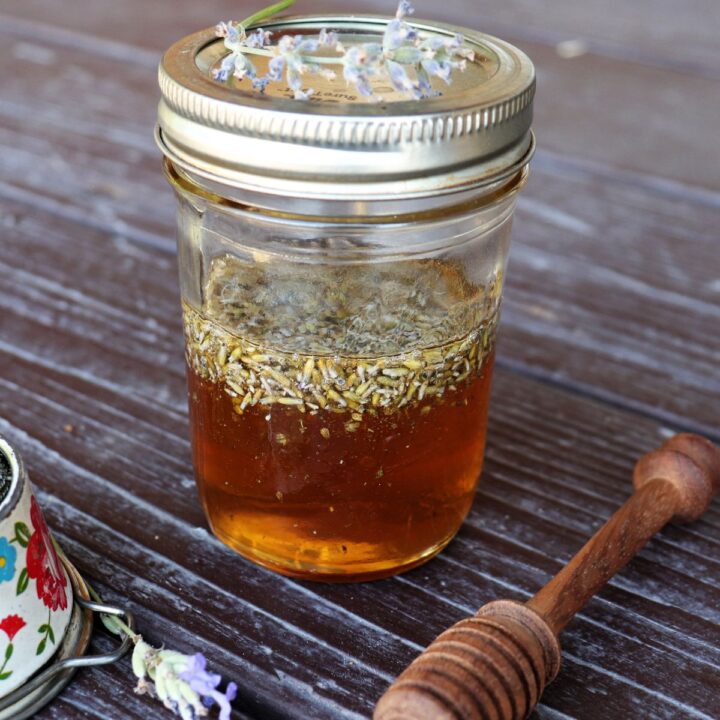 Make this simple infused lavender honey for a pantry staple wonderful enough to share.
Total Time
1 month
10 minutes
Ingredients
1/4 Cup Dried Lavender (2 Tablespoons Fresh Lavender)
1 Cup Honey
Instructions
Place the lavender inside an airtight container or glass jar with a tight fitting lid.
Pour the honey over the lavender. Give it all a very good stir and remove any air bubbles.
Seal the container with the lid making sure it is tight.
Put the jar in a sunny window and let it sit for 3 to 4 weeks. Turn the jar over now and then to keep the honey and herbs infusing. (Keep the jar in a small bowl on a plate just in case there is any leakage).
After a month has passed, strain the lavender from the honey using a fine mesh sieve. If it feels too thick to strain easily, warm the honey in a small saucepan over very low heat then strain.
Put the honey in a clean jar, label, and store for up to a year.
Nutrition Information:
Yield:
16
Serving Size:
1 Tablespoon
Amount Per Serving:
Calories:

66
Total Fat:

0g
Saturated Fat:

0g
Trans Fat:

0g
Unsaturated Fat:

0g
Cholesterol:

0mg
Sodium:

2mg
Carbohydrates:

18g
Fiber:

0g
Sugar:

17g
Protein:

0g
We try our best but cannot guarantee that nutrition information is 100% accurate.