Hot toddy tea is an old-fashioned cold remedy that actually works. This is no old-wives tale. We can modernize it and kick up the flavor and the healing power with the addition of lavender.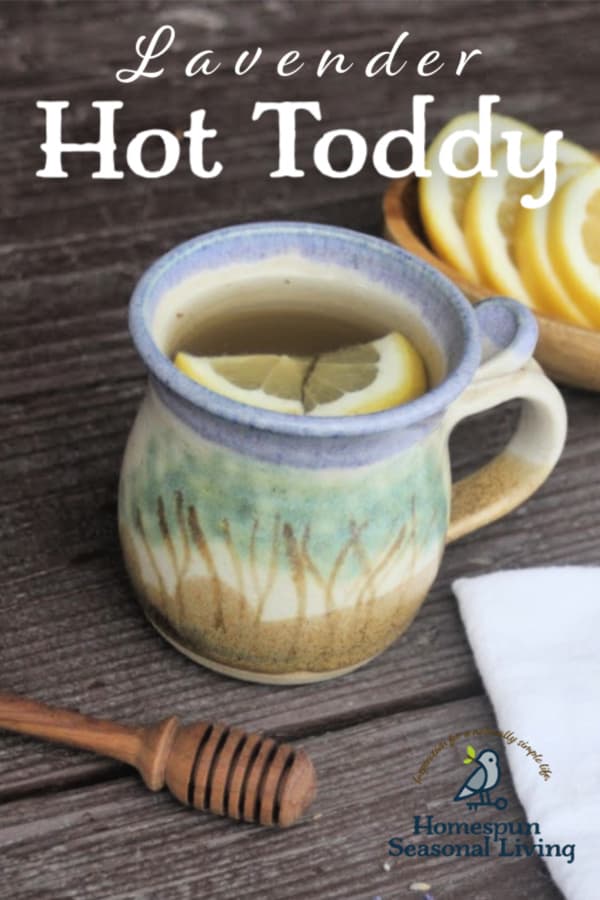 As flu season approaches, find relief with these easy hot toddy ingredients for a cold.
Lavender as Herbal Remedy
Lavender is antibacterial making it a tasty treatment of all those common cold symptoms.
Lavender also helps relieve anxiety and promote sleep. Sleep is always a good idea when fighting a cold.
Hot Tea
Hot tea and steam are good for helping clear out the sinuses. It's important to sip slowly and inhale the steam. The tea will also help hydrate the body which is important for general health function anytime but especially so when fighting a cold.
Whiskey in Moderation
So whiskey isn't something we should drink in huge amounts. Obviously, that will do the opposite of making us feel better. But a small amount in a cup of tea can do some wonders.
Whiskey helps us sleep. Having a cup of herbal tea with a shot of whiskey in it will likely provide some relaxation and deep sleep. Sleep is always good for healing.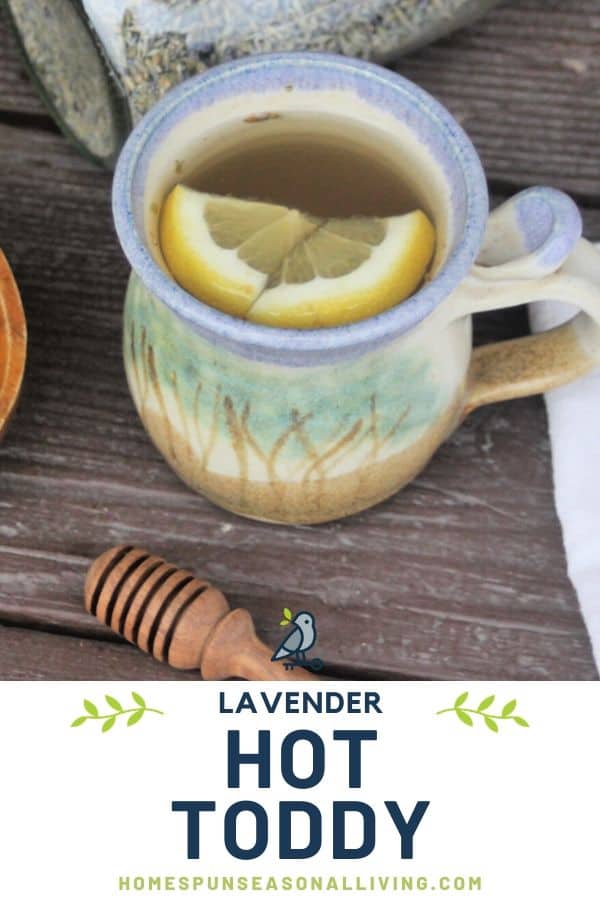 Whiskey also thins the blood slightly, which can help the body deal with mucus better and generally fight infection.
Don't like whiskey? Try substituting brandy or even a dark rum instead.
Soothing Honey
Honey has a multitude of benefits for the body. It's also incredibly soothing for coughs and sore throats, making it an ideal ingredient in any cold remedy.
Obviously it also sweetens the tea and whiskey making it easier to go down especially for the folks that don't necessarily love whiskey or drink much of it normally.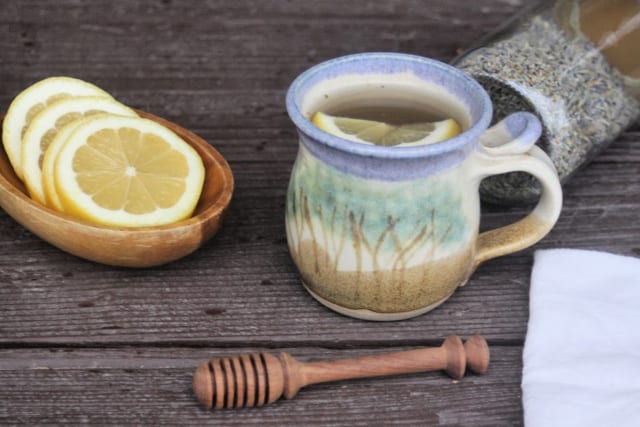 Use any honey that is in the pantry. Want to increase the healing power ever so slightly? Try using Manuka Honey as it's been studied for it's specific antibacterial qualities which can help ease the common cold.
Lemon Juice
Lemon juice helps cut through congestion and eases stuffiness making it an ideal addition to this tea. Plus lemon and lavender compliment each other wonderfully in tea.
Lemon juice is also naturally vitamin C which we all know helps the body fight off colds and infections.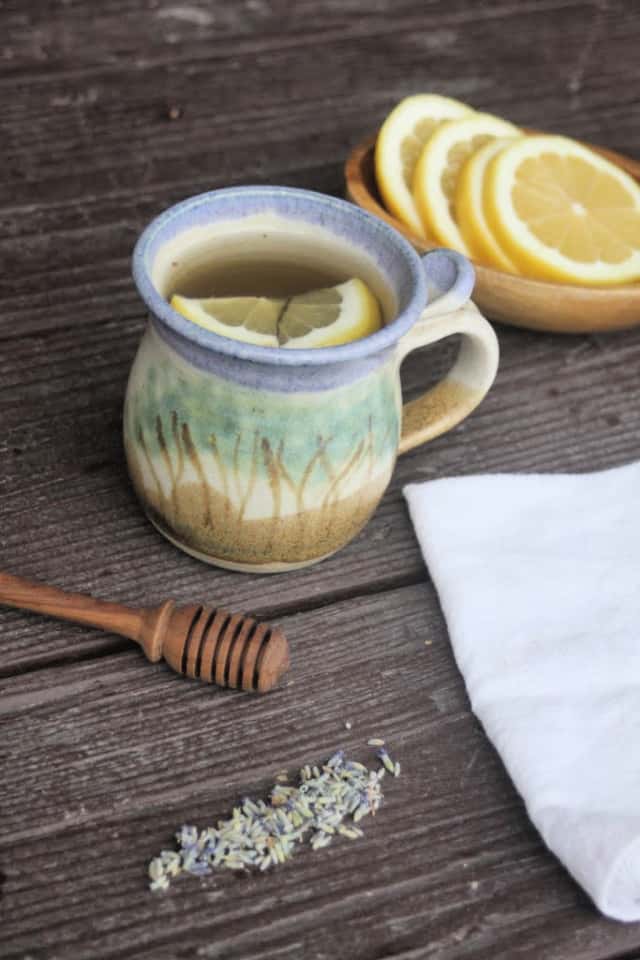 Drink Slowly
The best way to take and use a hot toddy is to drink slowly. Inhale the steam and let the medicine slowly get into your body. This will also help the body slow down.
Drink the toddy before bed for most effective sleep and healing.
Yield: 1 Cup
Lavender Hot Toddy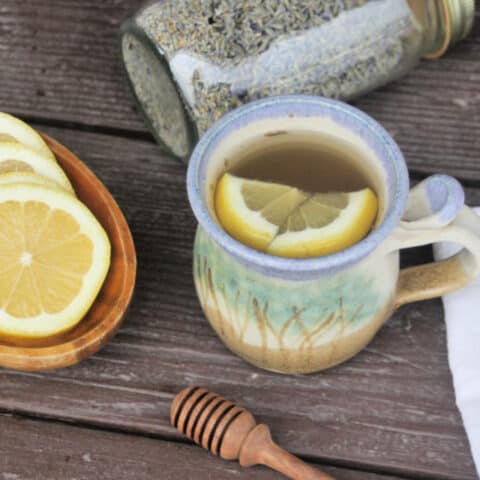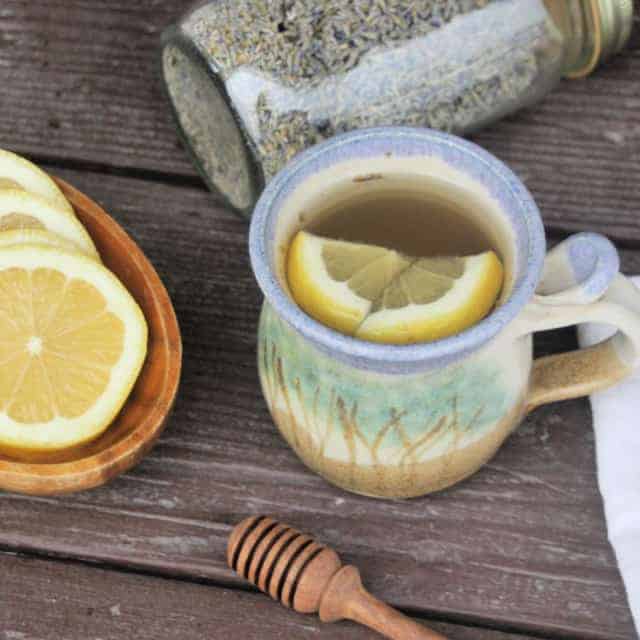 Use these healing and flavorful hot toddy ingredients for a cold or flu.
Ingredients
1 Cup Hot Water
2 Tablespoons Whiskey
1 Tablespoon Honey
1 teaspoon Lemon Juice
Instructions
In a cup, add the honey, lemon juice, and whiskey.
Put the lavender in a tea ball. Place tea ball in cup.
Pour hot water into the cup and stir gently.
Let the lavender steep for 5 to 10 minutes.
Sip slowly.
Recommended Products
As an Amazon Associate and member of other affiliate programs, I earn from qualifying purchases.
Nutrition Information:
Yield:
1
Serving Size:
1
Amount Per Serving:
Calories:

115
Total Fat:

0g
Saturated Fat:

0g
Trans Fat:

0g
Unsaturated Fat:

0g
Cholesterol:

0mg
Sodium:

12mg
Carbohydrates:

18g
Fiber:

0g
Sugar:

17g
Protein:

0g
We try our best but cannot guarantee that nutrition information is 100% accurate.
About the Author