Lavender is an amazing plant in the home herb garden. It's gorgeous, smells incredible, and is very attractive to bees and other pollinator insects. Lavender is more than just a pretty garden face, however; it's also incredibly useful. Thankfully drying & using lavender is quite easy.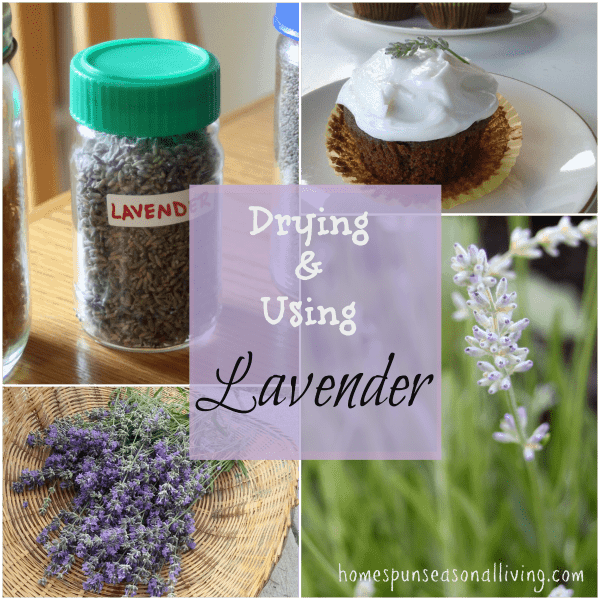 Drying:
It really doesn't get any easier than this: Hang your lavender in a place out of direct sunlight and dry until good and crispy. Once dried, remove the flower buds from the stalks. I do over this over a large bowl for ease. Store the dried buds in an airtight container until ready to use. Now that you have all that aromatic, delicious, and medicinal herb in your pantry here are some ideas to use it up.
Culinary Uses:
Pesto, seriously. In The Herbal Kitchen, the author uses it in several different pesto recipes including one she calls Anti Plague Pesto because of all the immune building and anti-bacterial herbs like lavender, basil, parsley, and more.
Lavender works well in many meat marinades and tastes super amazing with honey glazes.
Use a teaspoon of dried lavender in cupcakes or cookies for a totally different take but incredibly yummy dessert.
Lavender lemonade served with lavender cookies makes for a delightful afternoon break.
Medicinal Uses:
Lavender has many medicinal properties and can be used in a variety of applications:
In The Essential Herbal for Natural Health, the author suggests combining it with catnip in a dream pillow to help children sleep.
It makes a delightful and calming salve that is anti-inflammatory and soothing to dry skin.
Rosemary Gladstar uses it in a variety of ways including baths and teas to help calm nerves and anxiety.
As you put that garden to bed, think about keeping some lavender on your spice rack and in your medicine cabinet for internal and external health this coming winter.
What's your favorite way to use lavender?
[sc:Useadsenselarge ]