Fall is a great time to harvest medicinal roots. Autumn is the time of year when the plant's energies are focused back into the roots instead of the leaves and flowers, especially after a frost. Dandelion and Valerian are the two I'm going to be focused on this week as we get our first hard frosts.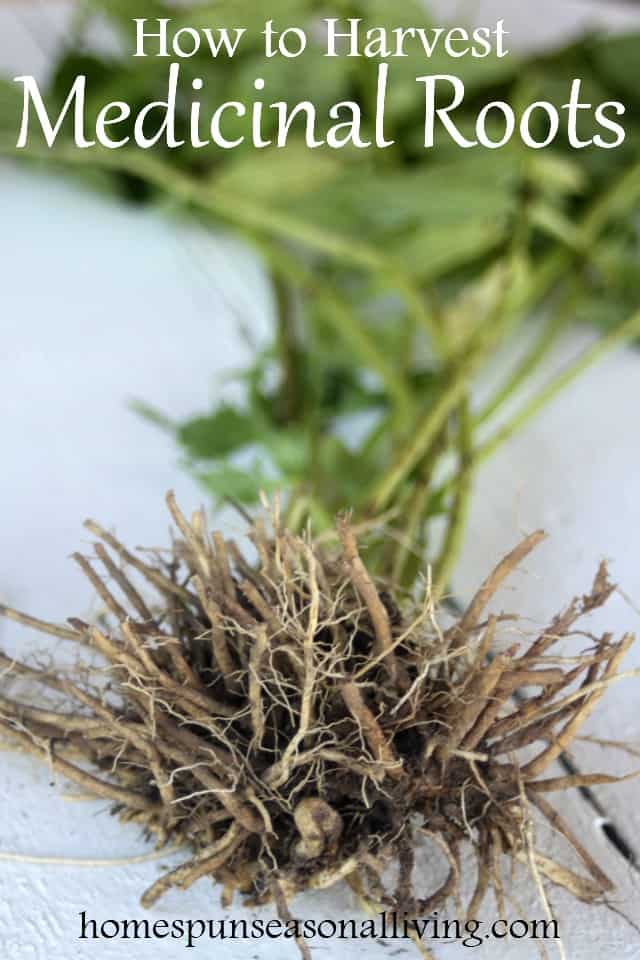 Dandelion Root
As any gardener knows, dandelion can be a bugger of a root to dig up. Generally, speaking I get small little nubs of roots but plenty of them for drying. It's always easiest to dig them up in a softer garden bed than it is out of a lawn. Do the best you can to get a spade underneath and pull up what you can.
Once the root is harvested, it can be used fresh, after a good scrubbing. For long-term storage, it's easy to dry: simply scrub, chop into pieces, and dry in a dehydrator until crisp. Store in airtight container until ready to use.
Dandelion Root Uses
Dandelion is often considered a liver cleanser and helps rid the body of inflammation. Make a tincture by simply covering the dried root with vodka (or grain alcohol) in a jar and letting sit for 6 weeks (shaking when you remember) and then strain. Keep the tincture stored in a tightly sealed glass container until needed (I use beer bottles with the swing tops to store tinctures).
A tea is simply made by simmering the roots in water for 20-30 minutes before straining.
Overeat at the holiday buffet? Take 10 drops of the tincture in water every hour until that sluggish feeling passes.
It's even good for your pets and barnyard animals for the same reasons it's good for us – helps with digestion and cleanses the liver.
Cautions: Dandelion should be avoided by folks with ulcers and bowel & gallstone issues. Also, avoid when taking antibiotics.
Valerian Root
I purposely grow valerian in my garden and only dig up a small portion each year so that it regenerates for next year. If you harvest from the wild, please do so responsibly. Like dandelion, give the roots a scrub and use fresh or dry.
Valerian Root Uses
Valerian can be used as a tea and tincture made in the same manner as dandelion and is most often used as a way to soothe anxiety and promote sleep. It's exactly how we use it in our home medicine chest – to promote sleep during bouts of insomnia. We keep a bottle of tincture handy and when insomnia strikes, simply put a few drops under the tongue and it usually doesn't take long before sleep comes.
Cautions: Valerian is generally considered safe but can cause stomach upset in some people. However, it is recommended that pregnant & nursing women avoid Valerian.
Harvesting medicinal roots is easy and a great way to build up the home herbal medicine chest. What roots are you harvesting and using this fall?