Homemade muffins are just the easiest and tastiest breakfast for busy days in my opinion. I'm always experimenting with quick and easy recipes that are flavorful and filling. These pumpkin maple muffins don't disappoint in any of those departments.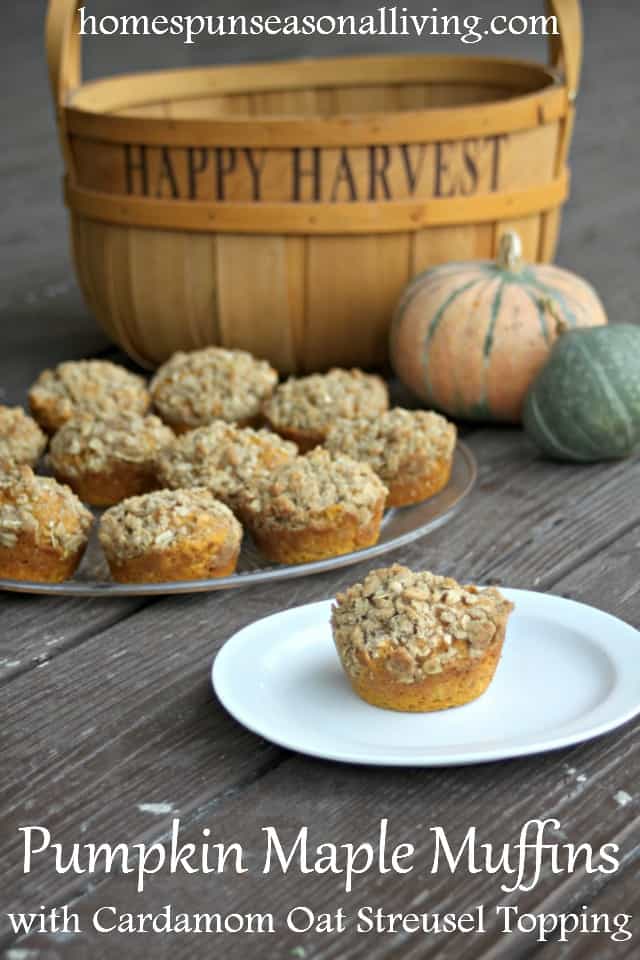 Warming Spice
There's just a hint of spice in the muffin itself, leaving the biggest hit of spice for the streusel topping. The spice isn't overpowering in any way – the biggest flavor here is pumpkin – but the spice is delightful to the tongue and the spirit on a chilly fall day. If cardamom isn't your thing use more cinnamon or substitute some nutmeg, clove, or pumpkin pie spice.
Any Winter Squash Will Do
Feel free to use any winter squash here.  If you've got some leftover roasted buttercup, hubbard, butternut, etc. just mash or puree and use it.  Canned pumpkin will work great, but if you have something else on hand go with that.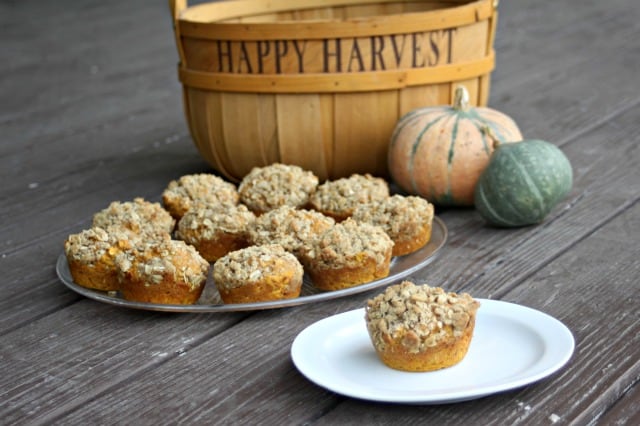 Moist with a Crunchy Topping
The streusel topping is the bit that takes the longest in this recipe. It could be skipped in a pinch. However, that bit of crunchy, spicy topping gives this otherwise very moist muffin some delightful texture and flavor.
Great Keepers
Because of the amount of pumpkin, these moist muffins will keep for about 5 days in a container at room temperature. They freeze delightfully, so make a big batch and have them ready for busy days. Freeze in airtight containers for up to 6 months.
Yield: 12 Muffins
Pumpkin Maple Muffins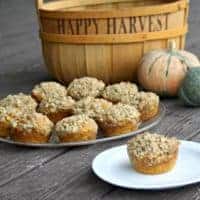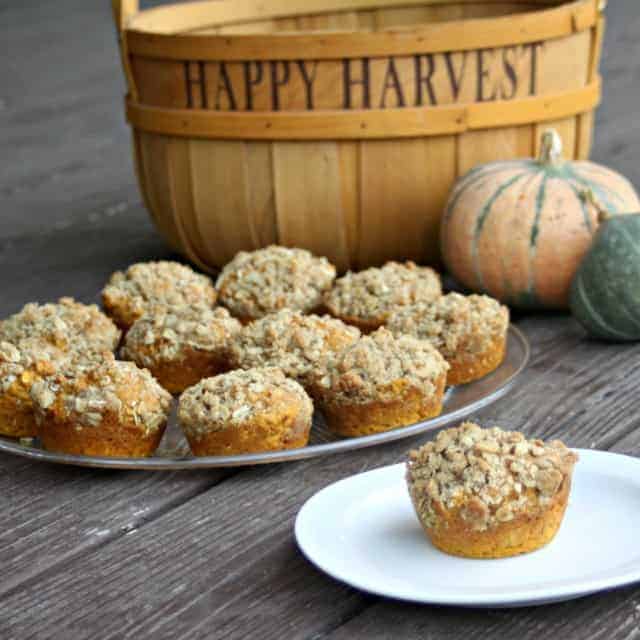 Bake up some fall flavor with these moist pumpkin maple muffins topped with a crunchy and spiced cardamom oat streusel topping.
Ingredients
Streusel Topping
3 Tablespoons Cold Butter
3 Tablespoons Brown Sugar, Packed
⅓ Cup Flour
⅓ Cup Oats
¾ teaspoon Ground Cardamom
Muffins
1 Cup Flour
1 Cup Oats
1 teaspoon Ground Cinnamon
½ teaspoon Salt
1 Tablespoon Baking Powder
1 ¼ Cup Pumpkin (or other cooked, pureed winter squash)
1 Egg
⅓ Cup Maple Syrup
Instructions
Make the Muffins
Preheat the oven to 400 degrees. Grease a muffin tin.
Combine the flour, oats, cinnamon, salt, and baking powder in a large bowl.
In a small bowl, whisk together the pumpkin, egg, and maple syrup.
Pour the wet ingredients into the dry and mix until combined.
Divide the batter among the muffin cups, filling about half full. Set aside.
Make the Streusel Topping
Combine the oats, brown sugar, flour and cardamom in a small bowl. Cut in the cold butter using a pastry blender , your fingers, or two butter knives until it becomes a crumbly, pea-sized mixture.
Sprinkle the topping over the muffin batter in the pan.
Bake the Muffins
Bake in the preheated oven for 15 minutes or until an inserted toothpick comes out clean.
Cool in the pan for 5 minutes before removing to cool on a wire rack completely. Serve warm or at room temperature.